Organisers said 'the show goes on' despite travel disruption and stormy conditions.
The weather "won't be stopping us" as Brighton and Hove Pride parade gets under way amid wet and rainy conditions, organisers have said.
Revellers turned out to cheer on the much-celebrated Pride event along the seafront, despite yellow weather warnings from the Met Office.
Saturday's parade was expected to draw 300,000 people to the city's streets, among them community groups, small businesses and NHS services, as they march to the official Pride community fundraiser Fabuloso in the Park at Preston Park.
Brighton Pride's managing director Paul Kemp said: "We've encouraged people to wear ponchos so it might be a little bit Glastonbury.
"That wouldn't stop us from having a great celebration and a great Pride in our city."
The annual celebration is the city's largest single event, expected to boost the economy by more than £20 million over the weekend.
However Govia Thameslink Railway will not be running any trains between London and Brighton on Saturday, blaming an overtime ban by the drivers' union Aslef.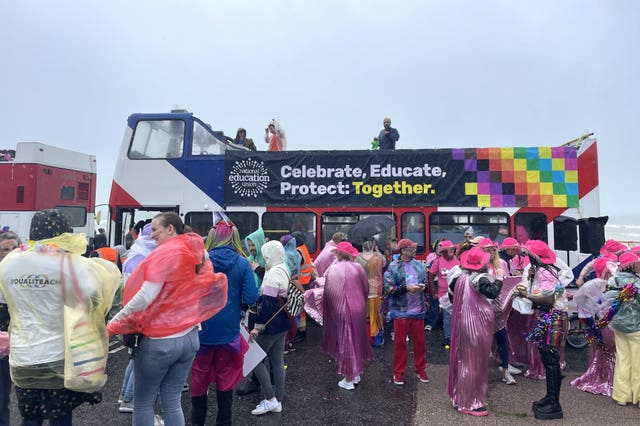 Mr Kemp said organisers were disappointed a compromise could not be found.
He said: "It will affect turnout absolutely because people will be cut off from the rest of the country.
"I'm sorry for people who booked hotels and paid for accommodation and now can't get in."
However he said it "won't derail us" and "the show goes on".
Jamie Sanders, 36, travelled from Hastings, East Sussex, as one of the organisers for Sainsbury's parade group.
While he was able to book a hotel overnight, out of 100 colleagues expecting to take part in the company's parade, only 60 were able to make it due to the travel disruption.
But he said the "buses were brilliant", picking people up across other locations to help them get there.
This year's event, with the theme Dare To Be Different, marks the 50th anniversary of the first Brighton Pride march, organised by the Sussex Gay Liberation Front in July 1973.