A crowd, including MLAs from all political parties, gathered at Parliament Building for a vigil and minutes' silence on Thursday.
05 January 2023
A vigil at Stormont for murder victim Natalie McNally heard a call for an end to violence against women and girls.
Ms McNally, 32, who was 15 weeks pregnant, was killed in her home in Lurgan, Co Armagh last month.
Police have so far made two arrests but no-one has been charged.
Her three brothers were among those who attended a vigil on the steps of Parliament Buildings in her memory on Thursday afternoon.
The brothers held on to each other as a minute of silence was held outside the landmark building in Belfast.
The silence was observed for Ms McNally as well as Bruna Fonesca, who was found dead in an apartment in Cork on New Year's Day.
Pictures of both women were displayed as a crowd including MLAs from all parties and relatives of other women who were murdered attended.
Declan McNally thanked all who have supported his family as they seek justice for his sister.
"Whatever differences of opinions there are in this country we know there is no difference of opinion and everybody wants to see an end to violence against women and girls," he said.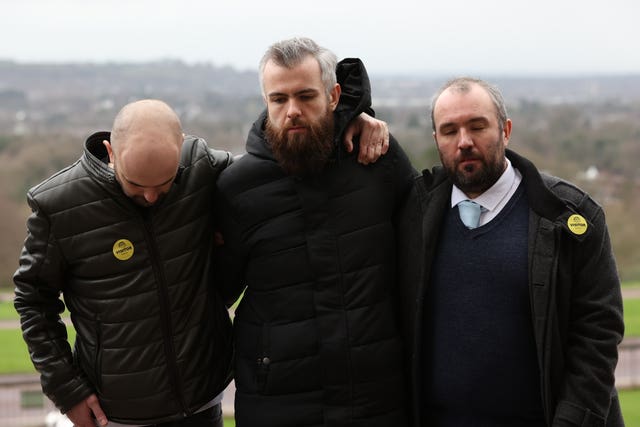 "And everybody in society has to redouble our efforts to end violence against women and girls in memory of our sister Natalie."
Sinn Fein vice president Michelle O'Neill organised the vigil at Stormont.
"We are very conscious today that we need to remember all victims of gender-based violence, all those who have lost their lives," she told the gathering.
Ms O'Neill added: "We have a problem in our society with misogyny and we need to tackle it and I know this is the strong message that we are here today to send to the families of all those who have lost loved ones to show them that support and say enough is enough and that we're not going to tolerate this in our society."
The Sinn Fein Stormont leader visited Ms McNally's parents at the family home on Wednesday evening.
"What they crucially want today is that we actually make that direct appeal, a universal appeal from all of us again to the public that anybody that has the slightest bit of information, no matter how insignificant you may think it is, please bring it forward because it so important that they get justice for Natalie and the family are allowed the opportunity to be able to grieve in knowing what actually happened to her," she said.
"So today we want to reinforce that strong message – please come forward, if anybody has information please get in touch with police or Crimestoppers."
The relatives of other women who have died in violent circumstances who attended included Claire Doran, whose sister Jennifer Doran, 30, was killed at her home in west Belfast in 2019, and Joanne Dorrian, whose sister Lisa has been missing since 2005 and is believed to have been murdered.