Nottingham Trent University said Sir Michael was taken by its 'mission' to transform the lives of students from disadvantaged backgrounds.
Sir Michael Parkinson's legacy as the former chancellor of Nottingham Trent University (NTU) was his "down to earth" rapport with students and staff, as well as his celebrity contribution at graduation ceremonies, the vice-chancellor has said.
The veteran broadcaster, who has died age 88 following a "brief illness", retired from the role of chancellor in 2014 after six years at the teaching institution.
Among other things, he has been remembered for inviting the likes of Sir David Attenborough, Dame Judi Dench, and Sir Billy Connolly to collect honorary degrees at graduation ceremonies.
NTU vice-chancellor Edward Peck told the PA news agency: "His major contribution to the university was his presence officiating at these graduation ceremonies where there could be 2,500 people in the audience, they are big events in the concert hall and because he has such experience of speaking, and being in front of an audience, he just carried it off with great aplomb.
"People remembered the events as being special because of his presence and the people he invited along like Judi Dench, David Attenborough and Billy Connolly are the three that stick in people's mind particularly."
He continued: "They would appear at our graduation ceremonies and of course, that made it a really special occasion for the families and the graduates.
"He also had a real interest in students. So he'd spend time after ceremonies, talking to students, talking about their futures.
"For somebody who was such a major star of his day, one of the biggest media stars that we had, he was just, in my experience and the experience of others, just really down to earth, and really interested in other people and their lives.
"That's not a combination you routinely see in people who have his degree of celebrity."
Mr Peck recalled meeting Sir Michael and going for lunch at his son's restaurant near where he lived in the home counties.
He said: "When I met him, I was just really taken with just what a good raconteur he was, but he did it in such a way that it really felt he was talking to you and telling you something because this was a relationship you were having with him, not because he was recounting some stories.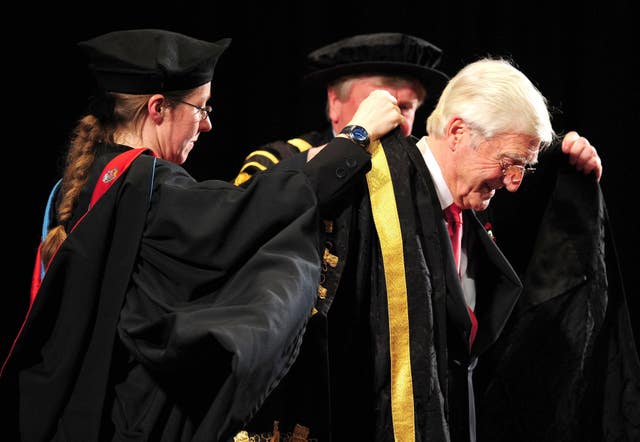 "He's just got a great rapport with people and that comes across, obviously. If you think about his television show back in the '70s and '80s, he was in people's front rooms every week.
"You can see how he got people to talk because he had this genuine interest in people and yet could be immensely entertaining in the stories he told.
"So I think people remember Michael Parkinson immensely fondly and all my colleagues here remember him and speak about him with immense affection."
Sir Michael was said to be taken by the university's "mission and purpose" to transform the lives of those typically from a disadvantaged background, Mr Peck said.
"I think that must have caught his imagination, given his own background," he told PA.
He continued: "I think he gave the place a sense of confidence and belief that people like him, and indeed the people who he brought with him … wanted to be involved with our university and I think that gave people a great sense of confidence and belief in other people's view of the institution, and how they should view the institution.
"I think that was his legacy, he was part of the process of NTU becoming, I think now, one of the best-known and most-respected universities in the country – I think it started back in Michael's day with his willingness to be engaged and to make that contribution to our university community."
The vice-chancellor said Sir Michael's death came on the "busiest day of our year" as the university had received more than 4,000 calls "in the last five hours" from prospective students going through clearing following A-level results day.
He said the university would be marking Sir Michael's contribution "in an appropriate way when we can step back and take a breath".
"I think people were just quite surprised somebody of his status and profile was engaged with the university and was just so energetic and generous in his time that he gave us … I think that's how I remember Michael," the vice-chancellor added.