Junior doctors staged a rally outside Downing Street amid fresh NHS strikes.
A junior doctors' union leader has urged the Prime Minister to "come back to the real world" from his Disneyland holiday to break the deadlock amid the latest strikes in the NHS.
Dr Robert Laurenson, co-chairman of the the British Medical Association's junior doctors committee, spoke as protesters rallied outside Downing Street on Friday, while Rishi Sunak was thought to be on a family holiday in California still.
The demonstration comes as junior doctors from the British Medical Association (BMA) embarked on a fresh four-day walkout from Friday amid a bitter dispute with the Government over pay.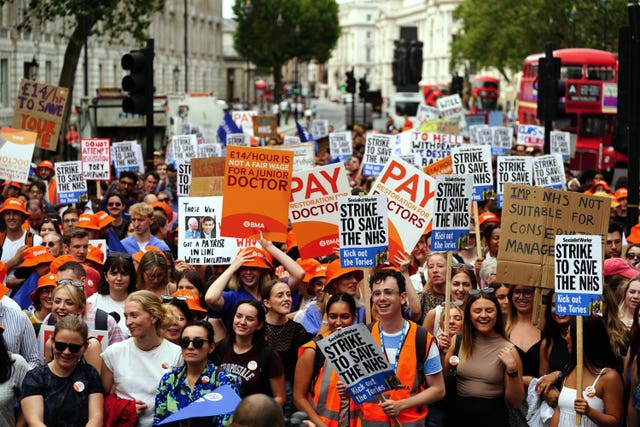 Mr Sunak departed for a family summer holiday to the United States on Wednesday and said his daughters, Krishna and Anoushka, were "very excited" about heading to Disneyland.
Asked by the PA news agency about a senior health boss's claim that junior doctor strikes had cost the NHS about £1 billion, Dr Laurenson said: "What I would say is it cost the Government £1 billion to cover 15 days of strike action and back last October, when we started our trade dispute, the cost of full pay restoration is £1 billion, so now the Government is just wasting money rather than settling.
"And it doesn't make sense, because if Rishi Sunak believes that this is fuelling inflation, does that not mean Rishi Sunak is now the leading cause of inflation?
"He's not at home, he's in Disneyland, Disneyworld, and to be honest he needs to come back to the real world to sort out the real issues."
Sir Julian Hartley, chief executive of NHS Providers, said earlier that hospital trusts were having to "pay premium rates to consultants" to cover the roles of junior doctors while they were on picket lines, as a fifth round of industrial action threatens further disruption to patient care.
Scores of placard-wielding junior doctors staged the rally outside Downing Street and speeches were delivered from a stage.
The song Vossi Bop by Stormzy – which features the lyrics "f*** the Government and f*** Boris" – was one of the tracks played over the speakers.
Protesters held signs with messages including "strike to save the NHS" and "14/hr to save your life".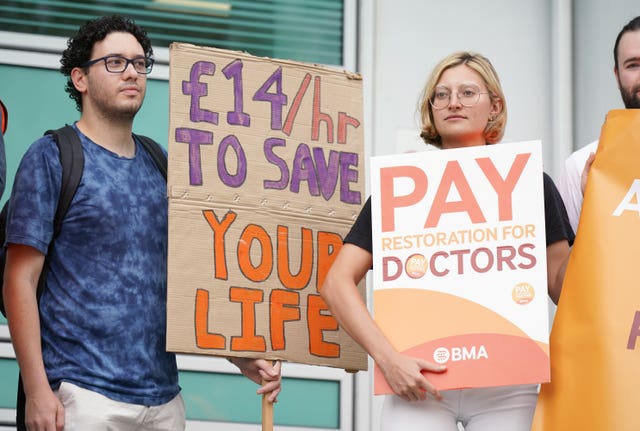 An ambulance driver beeped their horn as they drove past to cheers from those assembled.
Asked if he felt bad for ill or injured people who might not get the care they needed during the four-day strike, Dr Robert Laurenson told PA: "Of course, always, and that's precisely why this strike is happening.
"Doctors are patients too, are families, are patients too. We see behind the curtain. We know how bad care is on a normal working day and we're not going to put up with it any more. No-one is holding this Government to account, so we will."
On the rise in cancelled appointments, he said: "You can't deliver care without doctors. We've seen it over the last 13 years with waiting lists ballooning, and it's because the Government are cutting our pay and driving doctors away – that needs to come to a stop now.
"These strikes don't have to happen. The Government needs to recognise all of its decisions over the last 10 years have led to this moment, they have eradicated any sense of relationship between doctors and government and they need to start building steps to build back that relationship."
The latest round of strike action from BMA junior doctors in England will end at 7am on Tuesday August 15.
Health Secretary Steve Barclay has claimed strike action by doctors "serves only to harm patients" and puts "further pressure" on their colleagues.
He told broadcasters on Friday: "I am concerned about the impact strikes are having on patients and that is why I call on the BMA to end their industrial action.
"Junior doctors will receive up to 10.3%, an average of 8.8%, in terms of their pay deal. We have accepted in full the recommendations of the independent pay review body, but we are also investing more widely.
"The first ever workforce long-term plan, to expand workforce training, the biggest ever investment in the NHS estate, over £20 billion of work, investing record sums in the NHS.
"We have accepted in full the recommendations of the independent pay review body process, and it is also right that we balance that with our wider commitment to bring inflation down, because that matters to NHS staff just as it does to the community."