The Ukrainian president and Prime Minister Rishi Sunak discussed 'further cooperation' on defence in a call on Friday.
Volodymyr Zelensky has said the UK's donation of Storm Shadow cruise missiles is a "significant enhancement" of Ukraine's efforts in the fight against Russia.
After a call with Prime Minister Rishi Sunak on Friday, the Ukrainian president said the two leaders had discussed "further cooperation" on defence.
It came after Defence Secretary Ben Wallace confirmed to MPs that he and Mr Sunak had agreed to authorise the donation of long-range cruise missiles after continued Russian attacks on Ukraine.
Mr Zelensky, in a tweet, thanked Mr Sunak "for the significant enhancement of our capabilities with long-range Storm Shadow missiles and other irreplaceable military assistance".
"We discussed further defense cooperation and coordinated our positions on the eve of upcoming international events. In particular, we need clear signals about Ukraine's future with Nato."
Manufacturer MBDA says the Storm Shadow has a range of more than 150 miles, giving Kyiv the ability to strike behind the Russian front line.
Britain is understood to have received assurances that the missiles will only be used defensively against targets in Ukrainian territory being occupied by Vladimir Putin's forces.
The Government has not provided detail on the number of missiles to be provided to Kyiv.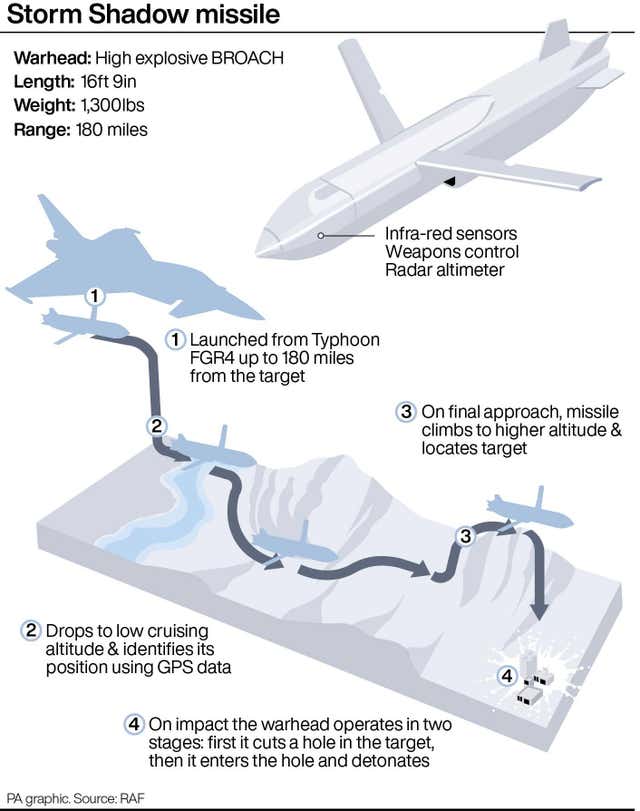 A Downing Street spokesperson said Mr Sunak told the Ukrainian leader "he was pleased to deliver on the commitment he made in February to provide Ukraine with the long-range capabilities they need to defend themselves".
"The leaders discussed the importance of the international community sustaining the level of support it has provided so far to Ukraine, particularly as the country prepares to intensify its military operations.
"The Prime Minister restated the UK's commitment to ensuring Ukraine prevails and secures a just and lasting peace."
The call came ahead of the Eurovision Song Contest final in Liverpool, after the UK was chosen to host on behalf of Ukraine.