Meg Parsons and Liz Gardner carried pictures of their brother Robert Gibbs as they joined the protest outside the Infected Blood Inquiry.
Twin sisters who cared for their brother before he died at the age of 21 were among dozens of protesters at the Infected Blood Inquiry lobbying Rishi Sunak to authorise full compensation payments when he gave evidence.
Campaigners were calling on the Prime Minister to pay full compensation to those infected and affected by contaminated blood and blood products, as recommended by Sir Brian Langstaff, chairman of the inquiry, in April.
Mr Sunak has previously said the Government will wait for the full report into the infected blood scandal before considering whether to extend the compensation scheme for victims.
Meg Parsons and Liz Gardner carried pictures of their brother Robert Gibbs as they joined the protest on Wednesday.
The twins, aged 50 and originally from Sidmouth, said Mr Gibbs had haemophilia and was infected with HIV.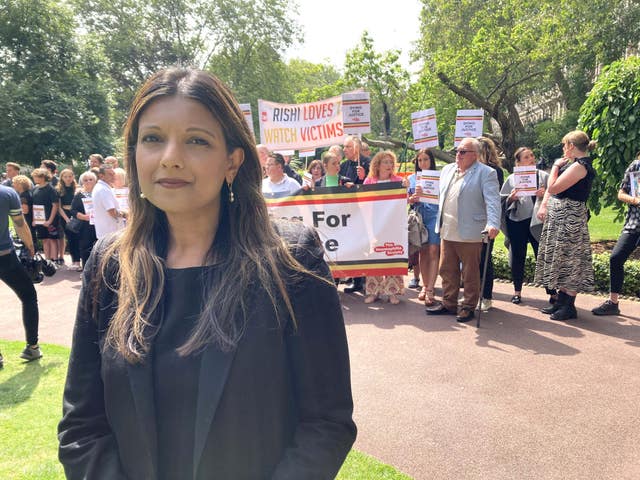 He was cared for by his sisters during the last weeks of his life.
Mrs Parsons said when their brother died it "destroyed" the family, their parents divorced and both moved to other countries.
Mrs Gardner said the family were told their brother's case was "isolated" and they "never imagined the scale of what was happening".
"So many families suffered in the way we suffered," she added.
Mrs Gardner said: "As a family we didn't really question it, we trusted the doctors who said it was a dreadful mistake. We weren't really angry, we thought it couldn't have been helped. It was only in the last 10 years we realised it wasn't."
Mrs Parsons said they have "quite a high level of angst" against the Government for not carrying out Sir Brian's recommendations.
Mrs Gardner added: "Our mother died last summer, she didn't get to see justice served, our dad is now 78."
The sisters both said it is more important to them to get justice than to get compensation.
Mrs Parsons added: "This isn't going to destroy us, whether we get compensation or not, it's more important to us to get justice, the words that conclude the inquiry are far more important.
"I want admissions from the Government and an apology. We want them to accept what went wrong."
The twins paid tribute to Mr Gibbs saying he was "very calm, very brave" after his diagnosis.
Mrs Parsons said: "Out of our immediate family Robert was the only one who accepted what happened to him. He confided in a small group of friends who were amazing.
"He wanted to cram as much as he could into his life. He wanted to live as full a life as he could in the short time that he had.
"We've gained a lot of our strength through him."
Also among the campaigners was Susan Lee, from Greenwich, south-east London, who has von Willebrand disease and was infected by hepatitis C.
The 44-year-old said her marriage broke down and her young children had to help care for her during years that she was unwell.
Miss Lee, who is also vice-chair of the Haemophilia Society board of trustees, said: "I was receiving regular clotting agent, it started off with safe medication then I was changed to Factor VIII, at some point during my childhood I received contaminated blood product.
"I've had multiple health problems over many, many years, had to go through gruelling treatment.
"I had very young children at the time, two under five. I had a marriage breakdown and my children became carers at a very young age.
"It had huge emotional distress and caused a break-up of the family.
"And it was all unnecessary because this never needed to happen.
"People are dying at a rate of one every four days, the Government has got to put right the wrongs of the past.
"There are lots of people that have been infected that are getting absolutely nothing (in compensation) and they are dying. It's a really big problem."
The Infected Blood Inquiry was established in 2017 to examine how thousands of patients in the UK developed HIV and hepatitis C through contaminated blood products given in the 1970s and 1980s.
About 2,900 people died in what has been labelled the worst treatment disaster in the history of the NHS.
Sir Brian has said an interim compensation scheme should be widened so more people – including orphaned children and parents who lost children – could be compensated.
He said in April he was taking the unusual step of making the recommendation ahead of the publication of the full report into the scandal so that victims would not face any more delays.
Under the initial scheme, only victims themselves or bereaved partners can receive an interim payment of around £100,000.