RTE's director general accepted there were 'risks' over ending negotiations with former presenter Ryan Tubridy.
Ryan Tubridy tried to explain to the Irish national broadcaster that he did not intend to "cause difficulty" for RTE when he made a contentious statement about a highly-anticipated report into his earnings, which ultimately led to his axing from the station, sources close to the presenter said.
On Thursday, RTE director general Kevin Bakhurst said he had made the decision that Mr Tubridy would not return to his radio programme because trust had "broken down" in the wake of the former presenter's statement.
At issue were the publicly published figures for Mr Tubridy's earnings in 2020 and 2021 which were published in February, and upwardly revised in June, as part of information relating to a range of understated payments that has pushed the national broadcaster into an expanding crisis.
In the restated figures RTE included payments relating to a commercial arrangement with Renault which involved the presenter being directly paid by the car company.
It also included payments to Mr Tubridy from a UK barter company used by RTE after Renault pulled out of the deal as the national broadcaster had chosen to underwrite the arrangement.
In his response to Wednesday's report, Mr Tubridy said that the figure included in the initial publication of his earnings was correct.
"It is also clear that my actual income from RTE in 2020 and 2021 matches what was originally published as my earnings for those years," he said.
It is understood his position is that the payments were from Renault and the UK barter company rather than RTE and were related to work distinct from his RTE work.
However, Mr Bakhurst said he was "particularly disappointed" with this statement and that Mr Tubridy had to accept the restated figures were correct.
He sought clarification from Mr Tubridy's lawyers, who are understood to have told him that their client was not "in any way inferring that RTE was incorrect in relation to its restatements".
The lawyers are understood to have told Mr Bakhurst that Mr Tubridy had "no intention of causing any difficulty" for RTE.
Ultimately, Mr Bakhurst ended negotiations about Mr Tubridy's return over the matter.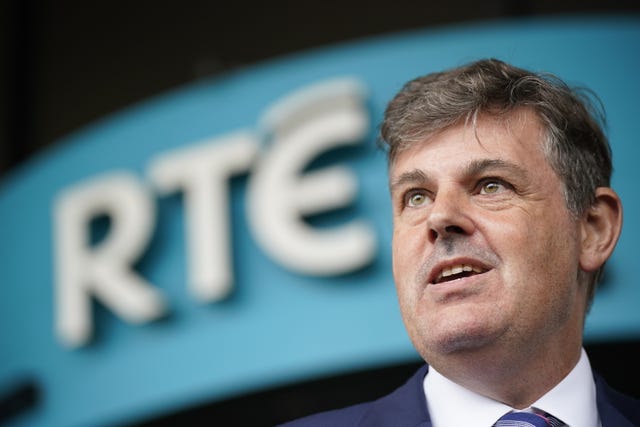 Asked why the decision had been taken to end the talks, Mr Bakhurst said he did not believe that Mr Tubridy, formerly RTE's highest-paid star, had "owned his mistakes" in relation to RTE's under-declaration of the presenter's salary.
Following that decision, the director general accepted there is "a danger" and "a risk" of legal action after the abrupt end of the talks.
Mr Bakhurst said he had received internal and external legal advice before making the decision and said he hoped it does not come to legal action between RTE and Mr Tubridy.
"I don't think it will be a good thing for anybody. Clearly, there's always a risk, but we factored that in and considered that risk, and I still feel convinced it was the right decision for RTE and for audiences," he said.
Mr Bakhurst said that it had been agreed that Mr Tubridy would return to his weekly RTE Radio show on a 170,000 euro fee, while also presenting a new podcast series.
It is the latest development in the controversy over RTE's under-declaration of his salary, which has widened to investigations into RTE's financial affairs, accounting practices, governance and spending on advertising clients.
The crisis has led to a significant drop-off in the number of people buying TV licences, an obligatory 160-euro fee for people with televisions, which goes towards funding operations at the broadcaster.
In his third interview with RTE in 12 hours, Mr Bakhurst said Mr Tubridy was "shocked and disappointed" at the decision not to continue negotiations, adding he did not think Mr Tubridy saw the decision coming.
He said that RTE staff "were strongly divided" about whether Mr Tubridy should return, but added that he is a "hugely talented broadcaster" and he felt it was the right thing to try to bring him back.
"However, I feel there was an issue throughout about the need to accept your role in what has been a hugely damaging scandal for everybody involved, and particularly for RTE, who need to take the vast majority blame," he said.
"But there are others, including Ryan and his team, who should take some of the blame and take some responsibility," he said, adding that he did not believe he was aware of some "significant resistance" to his return.
He said the interim leadership team was consulted over the decision to end the talks and they agreed.
"They realised, like I did, it was a tough decision but they also realise we've got a job to do."