Some 73,000 fewer top A-level grades were awarded in England, Wales and Northern Ireland than last year, exams boards said.
Tens of thousands fewer top A-level grades were handed out to students this year following efforts to bring results back down to pre-pandemic levels.
Students across the country received their A-level results two years after they were given teacher-assessed grades for GCSEs instead of sitting exams.
Some 73,000 fewer top A-level grades were awarded in England, Wales and Northern Ireland than last year – but there were around 32,000 more top grades awarded this year than in 2019, exam boards said.
As A-level results were published, separate Ucas figures showed that the number of applicants accepted on to UK degree courses has fallen this year but it is up on 2019 – the year before the pandemic.
Ucas said 79% of 18-year-old applicants from the UK have secured their first choice, which is down from 81% last year but up from 74% in 2019.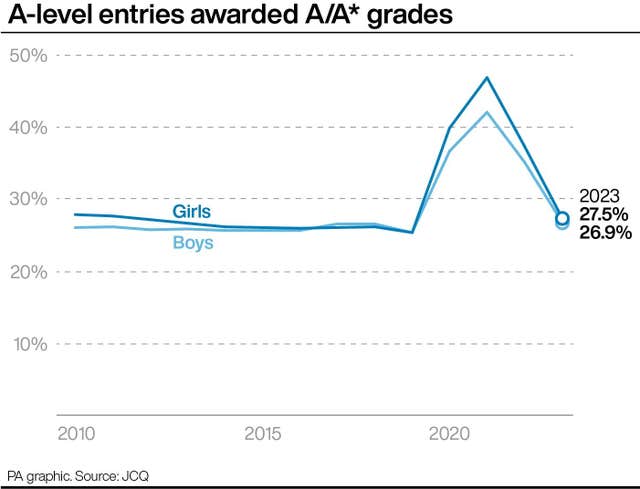 Overall, more than a quarter (27.2%) of UK A-level entries were awarded an A or A* grade, down by 9.2 percentage points on last year when 36.4% achieved the top grades.
However, this was still higher than in 2019 – the last year that summer exams were taken before the pandemic – when 25.4% of entries were awarded A or A* grades.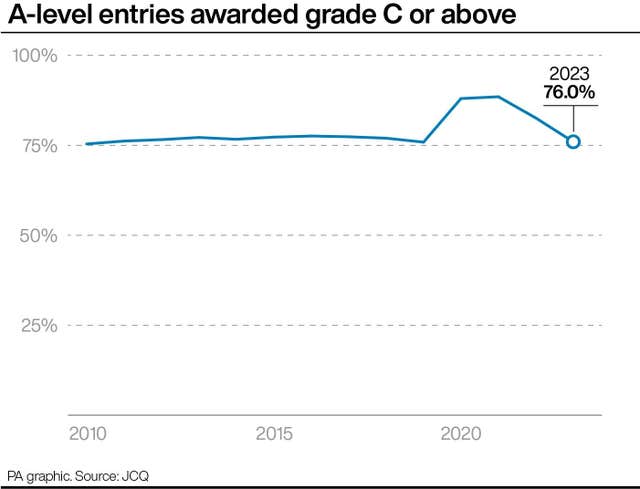 But the results showed regional differences in attainment, which prompted concerns from social mobility experts that certain cohorts of students have faced greater challenges as a result of the pandemic.
The overall pass rate – the proportion of entries graded A* to E – dropped to 97.3% this year, which is lower than 2022 (98.4%) and the pre-pandemic year of 2019 (97.6%).
The A*-E pass rate is at its lowest level since 2008 when it stood at 97.2%, according to the figures published by the Joint Council for Qualifications (JCQ) which cover England, Wales and Northern Ireland.
Speaking on A-level results day, Education Secretary Gillian Keegan said the pupils receiving their grades on Thursday are unlikely to be asked for the results by employers in 10 years' time.
Labour's shadow education secretary Bridget Phillipson called the comments "incredibly rude and dismissive" on a "nerve-racking day" for young people.
She said: "It really does add insult to injury coming a Government that completely failed to put in place the kind of support that our young people needed coming out of the pandemic, after all of the disruption they'd experienced."
Ms Keegan rejected the suggestion that the comments were insensitive, adding: "It's an important step to get to your next destination, but when you're a couple of destinations further on there'll be other things that they look at."
In England, exams regulator Ofqual had said this year's A-level results would be lower than last year and they would be similar to those in 2019 as part of its efforts to return to pre-pandemic grading this year.
It comes after Covid-19 led to an increase in top grades in 2020 and 2021, with results based on teacher assessments instead of exams.
In Wales and Northern Ireland, results are expected to return to pre-pandemic levels next year.
Many A-level students in both countries were given advance information about topics to expect in their exam papers this summer, but pupils in England were not given the same support.
In Wales, 34.0% of entries were awarded an A or A* grade, compared to 26.5% in 2019, and in Northern Ireland 37.5% of entries were awarded the top grades, compared to 29.4% in 2019.
Overall, in England, 26.5% of entries were awarded an A or A* grade, compared to 25.2% in 2019.
A total of 3,820 students in England scored three A* grades, figures from Ofqual show. This is down from 8,570 last year, but up from 2,785 in 2019.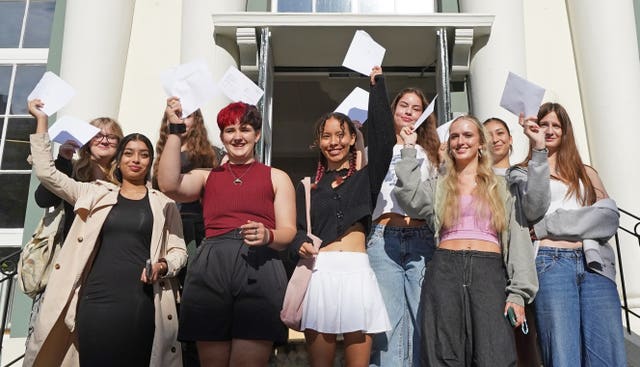 Ofqual said it built protection into the grading process in England this year to recognise the disruption that students have faced, which should have enabled a pupil to get the grade they would have received before the pandemic even if the quality of their work is a little bit weaker due to disruption.
Geoff Barton, general secretary of the Association of School and College Leaders (ASCL), said the return to pre-pandemic grading in England will "feel like a bruising experience" for many students, schools and colleges who will have seen "a sharp dip" in top grades compared to the past three years.
He said: "It is important to remember that these students also suffered the disruption of the pandemic, and this will have impacted particularly on those from disadvantaged backgrounds."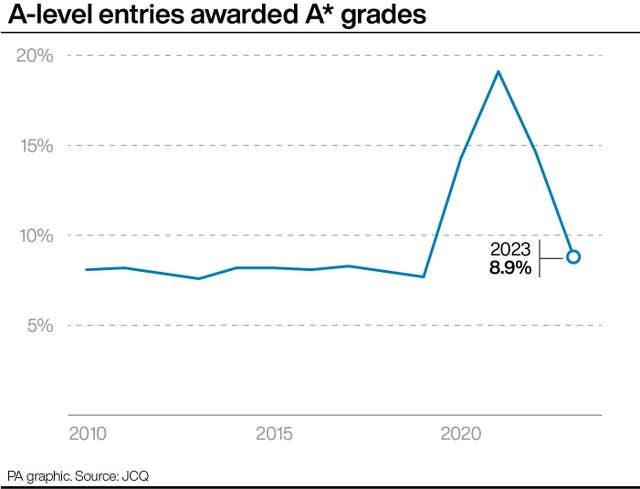 Speaking about this year's results, Jo Saxton, chief regulator of Ofqual, said they had "absolutely dealt with grade inflation" which she argued had "not worked in the interests of students".
She told the PA news agency: "Whilst there are higher top grades than there were in 2019, it's a narrow margin.
"We're looking at around a percentage point on 2019 in the top grades. So there's no doubt that we have reinstated 2019 arrangements.
"There's also proof in that percentage point of higher top grades that protection, which I promised the young people, has been delivered."
An analysis by PA showed that the North East and Yorkshire & the Humber are the only two regions of England where the proportion of A-level entries awarded the top grades is lower this year than in 2019.
Dr Saxton added that it was important to recognise there were "long-standing differences" in outcomes between regions in England which "predate the pandemic by a country mile".
Boys leapfrogged girls to score more of the very top A-level grades this year.
Overall, 9.1% of boys' entries scored an A* grade, compared with 8.8% of girls' entries – a 0.3 percentage point gap.
This reverses a recent trend as girls were ahead in the top result for the previous three years.
But despite boys taking over at A* grades, girls continue to outperform their male counterparts in terms of A*-A.
Economics gained a spot in the top 10 most popular A-level subjects in the UK for the first time this year – taking ninth place overall, ahead of physics and pushing geography out of the list.
The rise in popularity could be because students feel it is relevant to modern challenges and issues such as climate change and the increased use of artificial intelligence, it has been suggested.
The figures also showed a surge in popularity for computing at A-level- it has seen the biggest increase in take-up this year compared to other subjects.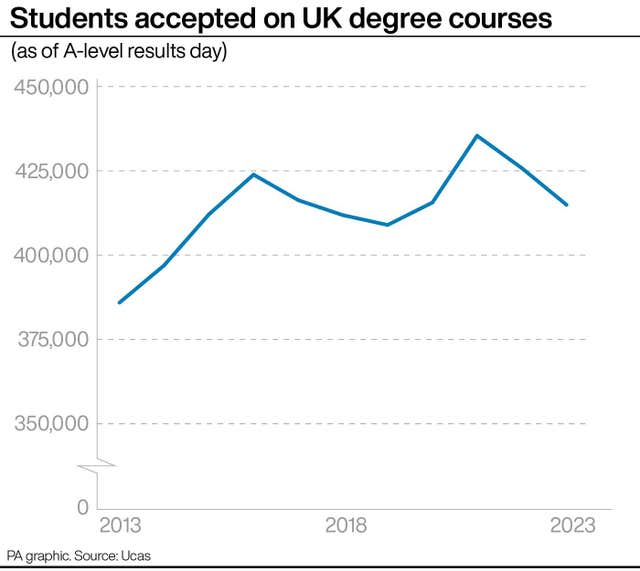 In England, more than 3,400 students received their T-level results in the second year that the Government's flagship qualification has been awarded – and 90.5% achieved at least a pass.
More than 378,000 results were also issued to students who took vocational and technical qualifications (VTQs).
Pupils in Scotland received their results last week and the Scottish Qualifications Authority (SQA) figures showed that the Higher pass rate was down from last year, but it remained above 2019 levels.