The Met Office has forecast a bright day on Sunday as weather warnings were lifted at about 10am on Saturday.
Lionesses' fans could host BBQs or watch from beer gardens as sunny spells are forecast for the Women's World Cup final as Storm Betty continues to ease.
The Met Office has predicted a bright day on Sunday as weather warnings ended at about 10am on Saturday.
A warning for strong winds was in place on Saturday for western parts of England and Wales as well as the eastern area of Northern Ireland.
A separate weather warning for rain was also in place for Central Scotland, Tayside and Fife, Grampian, south-west Scotland, Lothian Borders and Strathclyde.
Met Office meteorologist Greg Dewhurst told the PA news agency the strongest winds hit the UK during the early hours of Saturday.
The forecaster said winds of 66mph were recorded at Capel Curig in north Wales, with many western parts of the UK being hit with gusts of wind between 45 and 55mph.
Mr Dewhurst said: "It's going to be a bright day for most of tomorrow. Sunny spells across the whole country.
"A few showers are possible but most places will stay dry. I think there could be one or two heavy showers perhaps across Scotland and Northern Ireland, but even here lots of places will stay dry.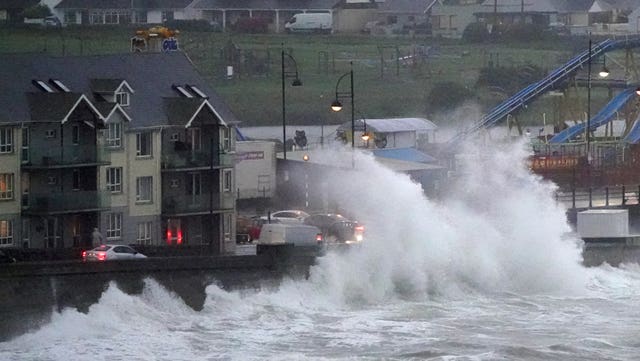 "Still a little bit breezy across the northwest of the UK tomorrow. We could see gusts during the day, say the Western Isles, around about 35 to 40 miles an hour but in most places the winds will be lighter than this.
"Temperature wise it will be similar to today with most places getting up to around about 20 to 23C and in the southeast of the UK around about 25."
Mr Dewhurst said "unsettled" weather is expected to return towards the end of next week but there will be plenty of sunny spells and warm temperatures until at least Wednesday or Thursday.
The strongest impact of Storm Betty has been in the Republic of Ireland and storm force winds caused damage to the power network on Friday, affecting just over 70,000 homes, farms and businesses.
As of early Saturday evening, ESB networks said that 30,000 of their customers remain without electricity and the severity of the damage means that some will remain without power overnight.
Betty is the second storm named in August, following Storm Antoni earlier this month.
This is the second time since storm naming was introduced in 2015 that two storms have been named in August, following Ellen and Francis in August 2020.