Labour mayor Sadiq Khan said that under his leadership more homes had been completed in the capital than at any time since the 1930s.
Rishi Sunak has sparked a row with the Mayor of London, accusing him of failing to build enough homes and threatening to intervene if delivery is not increased.
Sadiq Khan described the criticism as "desperate nonsense" and said his tenure as mayor has seen the most homes built since the 1930s.
Earlier this week, Mr Sunak hit out at "top-down targets" for housebuilding, but in recent days his Government has also set out a range of reforms and proposals intended to boost the number of new homes being built in England.
Number 10 announced it will launch a review of the multi-decade London plan, which is intended to guide the development of the city over the next 20-25 years.
The Government said it would look at the prioritisation of sites chosen for housebuilding in London, with the aim of putting more focus on central sites close to Tube stations.
Michael Gove will work with the Labour mayor to accelerate residential development on inner city brownfield sites, the Government said, with the Housing Secretary reserving the right to directly intervene if progress has not been made by the autumn.
Downing Street also announced an additional £200 million for development of brownfield areas in the capital, of which £150 million will go directly to boroughs, bypassing the mayor's office.
As part of a set of measures announced on Thursday, rules on how £1 billion already allocated for affordable housing in London will be relaxed to support the regeneration of older social housing estates.
The Prime Minister said: "Labour's Sadiq Khan has failed to deliver the homes London needs, driving up prices and making it harder for families to get on the housing ladder.
"So I'm stepping in to boost housebuilding and make home ownership a reality again for Londoners."
Responding on Twitter, Mr Khan said: "Are you the same guy who dropped his house building targets?
"Because I'm the guy who started building more council homes than the rest of England combined, exceeded your affordable homes targets and built more homes of any kind than since the 1930s. This is desperate nonsense."
Mr Sunak was speaking on a visit to a housing development in Hayes, west London, where he met residents and developers.
The Prime Minister told broadcasters he wanted "everyone to be able to own their own home", but that it would mean "building homes in the right places and not concreting over the countryside".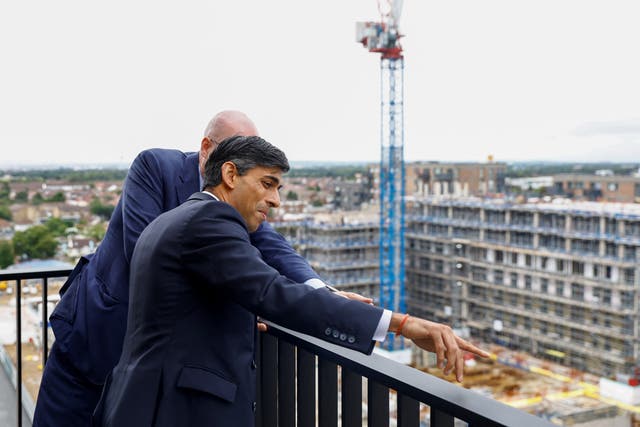 As part of the measures announced, the Government will also consider options for improving transport links for a "Docklands 2.0" scheme, which it said has the potential to create up to 65,000 homes in the capital across sites including Thamesmead, Beckton and Silvertown.
And an additional £53 million worth of investment will be made for the Old Oak West development site in west London.
Mr Gove said: "I want to use the regeneration of the Docklands as an inspiration for more regeneration across the capital, a Docklands 2.0, transforming more unwanted and underused land into beautiful and thriving neighbourhoods.
"Our vision will only work if we make use of all the tools at our disposal to deliver homes in the capital.
"That is why I will continue to closely monitor the Greater London Authority to ensure it is delivering the housing London so desperately needs and I will not hesitate to intervene further if needed."
It comes after the Housing Secretary used a speech in London this week to set out a range of planning reforms, including on leasehold reform, simplifying planning procedures, expanding planning capacity and regenerating and reviving inner cities.
The proposals include developing a new urban quarter in Cambridge with space for homes, art facilities, laboratories and green areas.
Housing is seen as an issue likely to resonate on the doorsteps come a general election, expected next year.
It is also a topic that has provoked concern from Conservative backbenchers in the past, with the Prime Minister this week seeking to assure Tory MPs that his plan was not about "uncontrolled development".
Mr Khan in May hailed his record on housing delivery, as he pointed to progress in surpassing the target of starting 116,000 affordable homes in London between 2015 and 2023.
A spokesperson for the Mayor of London said: "These disappointing and disingenuous claims appear to show a fundamental lack of understanding of housebuilding in London.
"The mayor delivered record numbers of affordable homes over the last six years, consistently exceeding Government targets despite the impact of the pandemic and Brexit. This has included starting more council homes than at any time since the 1970s.
"The mayor's London Plan was approved by the Government in 2021 and the ministers should know that the housing figures included within it are reliant on sufficient Government investment being made in infrastructure, particularly transport."