Prime Minister Rishi Sunak has announced Government support for future rounds of oil and gas licensing.
Rishi Sunak has insisted that granting more than a hundred new licences for oil and gas extraction in the North Sea was "entirely consistent" with the UK's net-zero commitments – despite climate campaigners branding the move "wrongheaded".
The Prime Minister flew to Aberdeenshire to announce Government support for future oil and gas licensing rounds, though he refused to say if the controversial Rosebank field to the west of Shetland would get the green light for development.
Mr Sunak also confirmed backing for two further carbon capture and storage (CCS) projects, including the Acorn project in Aberdeenshire.
This, and the Viking project in the Humber, will become the third and fourth such schemes to get Government backing, with Mr Sunak saying these would help see the UK "speeding our path to net zero".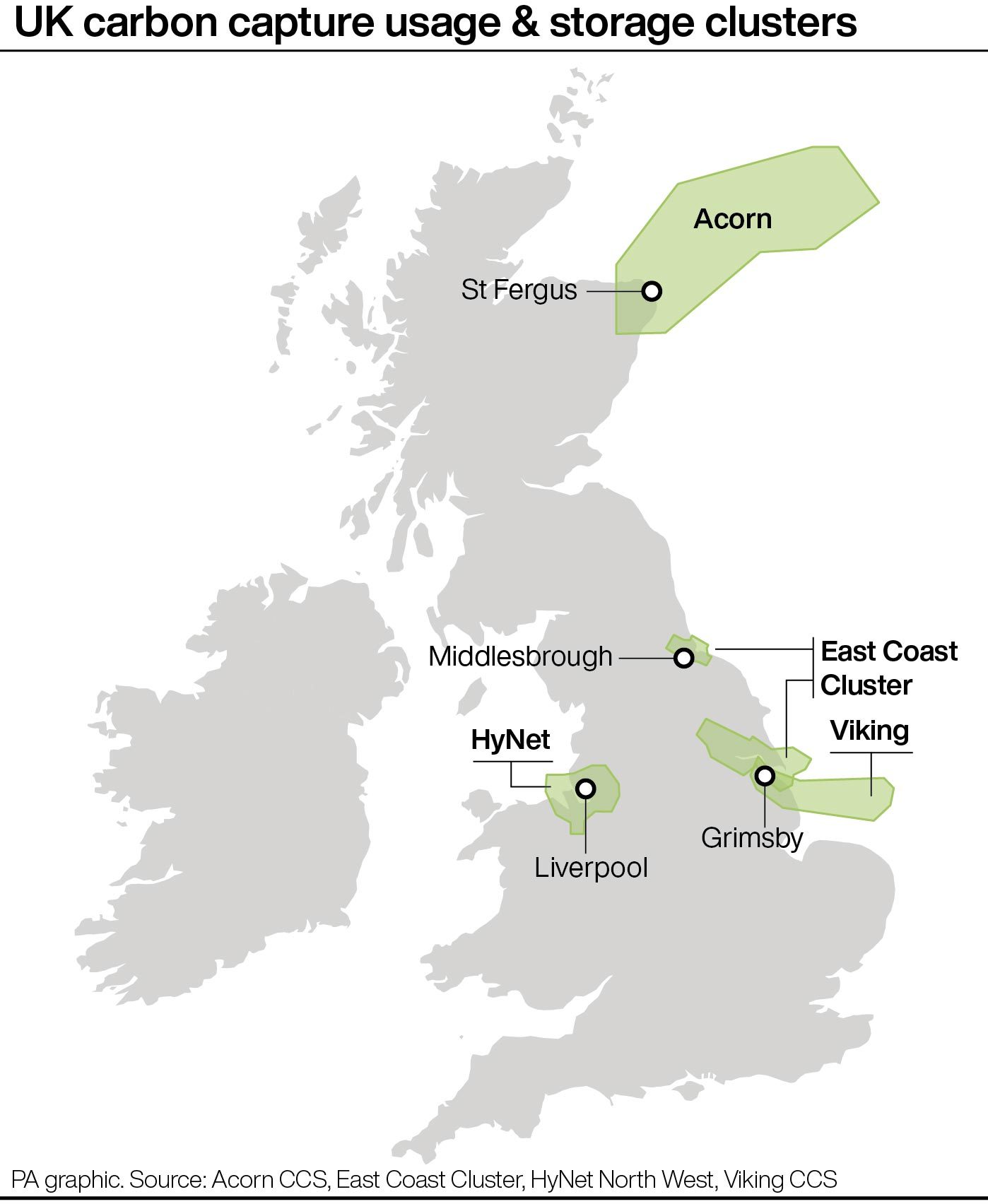 With the Government providing up to £20 billion of funding for early deployment of CCS, the Prime Minister told how this was "new technology that Britain can lead the world in", and he was "incredibly excited" about it.
His comments came as he insisted granting new oil and gas licences for the UK was "entirely consistent" with the UK commitment to reach net zero emissions by 2050.
Mr Sunak said even then the UK would still need oil and gas for 25% of its energy needs, with the PM saying he was seeking to "power Britain from Britain" rather than the UK "relying on foreign dictators" for its energy supplies.
Speaking about the need for oil and gas, the Prime Minister said: "If we're going to need it, far better to have it here at home rather than shipping it here from half way around the world with two, three, four times, the amount of carbon emissions versus the oil and gas we have here at home.
"So, it is entirely consistent with our plans to get to net zero."
With regulators at the North Sea Transition Authority (NSTA) currently running the 33rd round of offshore oil and gas licensing, more than 100 licences in total are expected to be awarded from this autumn onward.
However, the PM would not say if that meant the UK Government would give the green light to Rosebank oil field, despite concerns raised by environmental activists, including Greta Thunberg, about the impact it could have.
Mr Sunak would only say that "licensing decisions are obviously made in the normal way", as Labour's Ed Miliband claimed his "weak and confused" energy policy "will not take a penny off bills" for ordinary households.
Mr Miliband, the shadow climate and net-zero secretary, said: "Every family and business in Britain has paid the price of the Conservatives' failed energy policy which has left Britain as the worst hit country in Western Europe during the energy crisis – and Rishi Sunak is making the same mistake all over again.
"Rishi Sunak's weak and confused policy will not take a penny off bills – as his own party chair has admitted – will do nothing for our energy security, and drive a coach and horses through our climate commitments, while continuing to leave us at the mercy of fossil fuel dictators like Putin."
The PM also came under fire from environmental groups with Oxfam climate change policy advisor, Lyndsay Walsh, stating: "Today's wrongheaded decision is yet another example of the Government's hypocritical and dangerously inconsistent climate policy.
"Extracting more fossil fuels from the North Sea will send a wrecking ball through the UK's climate commitments at a time when we should be investing in a just transition to a low carbon economy and our own abundant renewables."
Mike Childs, head of policy at environmental charity Friends of the Earth, said the Government needed to "focus on energy efficiency and the UK's vast home-grown renewable resources, rather than championing more costly and dirty fossil fuels".
He stated: "Climate change is already battering the planet with unprecedented wildfires and heatwaves across the globe.
"Granting hundreds of new oil and gas licences will simply pour more fuel on the flames, while doing nothing for energy security as these fossil fuels will be sold on international markets and not reserved for UK use."
The campaigner went on: "Talking up carbon capture and storage is an obvious attempt to put a green gloss on the Prime Minister's announcement.
"Even if it ever worked, which is unlikely in the near term, CCS won't capture all the climate pollution caused by burning fossil fuels or address the significant emissions that are created when gas and oil is extracted."
However, energy giant Shell welcomed backing for the Acorn project, with Simon Roddy, senior vice president of UK upstream business, describing it as "an important step forward for one of the UK's leading CCS clusters".