The Prime Minister repeated promises that his Government would 'stop the boats'.
04 January 2023
New laws are the "most important thing" the Government needs to introduce to curb Channel crossings, Rishi Sunak said as he vowed once again to "stop the boats".
The Prime Minister said legislation would be introduced "as soon as practically possible" but stopped short of setting a target date on his promise to end crossings altogether.
Listing the plan as one of his five priorities during a speech in east London, Mr Sunak stressed that several measures were needed to solve the complex problem and reiterated that it would take time to tackle.
His comments came as Government figures showed a record 45,756 migrants crossed the Channel to the UK in 2022 and more arrived on Monday, marking the first crossings in 2023.
The Prime Minister said on Wednesday: "We will pass new laws to stop small boats, making sure that if you come to this country illegally, you are detained and swiftly removed…
"Those are the people's priorities. They are your Government's priorities. And we will either have achieved them or not.
"No trick… no ambiguity… we're either delivering for you or we're not. We will rebuild trust in politics through action, or not at all. So, I ask you to judge us on the effort we put in and the results we achieve."
Answering questions from reporters, Mr Sunak said he deliberately decided not to set target dates for achieving his pledges because he did not think that was the "responsible or the right thing to do with goals that are so complicated, where many of the forces that will impact our ability to hit them are out of my control as well".
But he told the audience the Government wants to introduce new legislation to crack down on Channel crossings "as soon as practically possible", adding: "Ultimately Parliament decides how long it takes to pass that legislation."
Asked what he meant by stopping the boats and if that meant there would be no crossings by the next election or just fewer taking place, Mr Sunak replied: "Ultimately the country will judge… the country will be the judge of whether we as a Government are straining every sinew to focus on their priorities and deliver meaningful progress and change on them.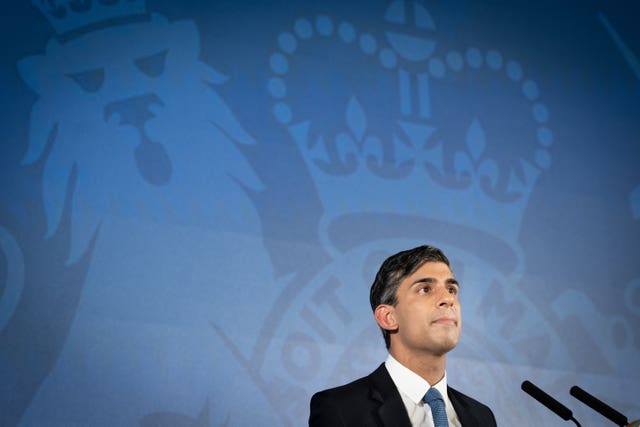 "Now, when I made a statement in Parliament last month about small boats, you know I went out of my way to say this is not an easy problem to fix, and it's not one that we can fix overnight and it requires lots of different things to be changed."
"Now we've made progress on that already," he said, mentioning deals with France and Albania, adding: "But the most important thing we need to do is pass new legislation, and we want to make sure that that new legislation means that if you come here illegally to our country you will not be able to stay.
"I am working day and night to deliver that system, and the next step on that journey is to introduce new laws that will allow us to put that system in place, but that is not going to happen overnight. But that is what people will see us working very hard on in the coming weeks and months."