The Prime Minister insisted Scotland is 'at the heart' of his priorities.
Rishi Sunak has condemned the SNP for its "record of failure", as he insisted the Conservatives will deliver for Scotland.
The Prime Minister said he is confident he will meet five key aims he set out earlier this year, adding that "Scotland is at the heart of my plans for delivery".
Mr Sunak addressed the Scottish Tory conference in Glasgow on Friday morning.
He said: "I think that is where all of us can demonstrate to the people of Scotland what we are doing to help people.
"At the beginning of the year I set out five priorities: to half inflation; grow the economy; reduce debt; cut waiting lists; and to stop the boats.
"I know we can move forward and make sure those things happen.
"I am confident that that is what we will do.
"I know that because I only promise what I can deliver and I will deliver what I promise.
"And Scotland is at the heart of my plans for delivery."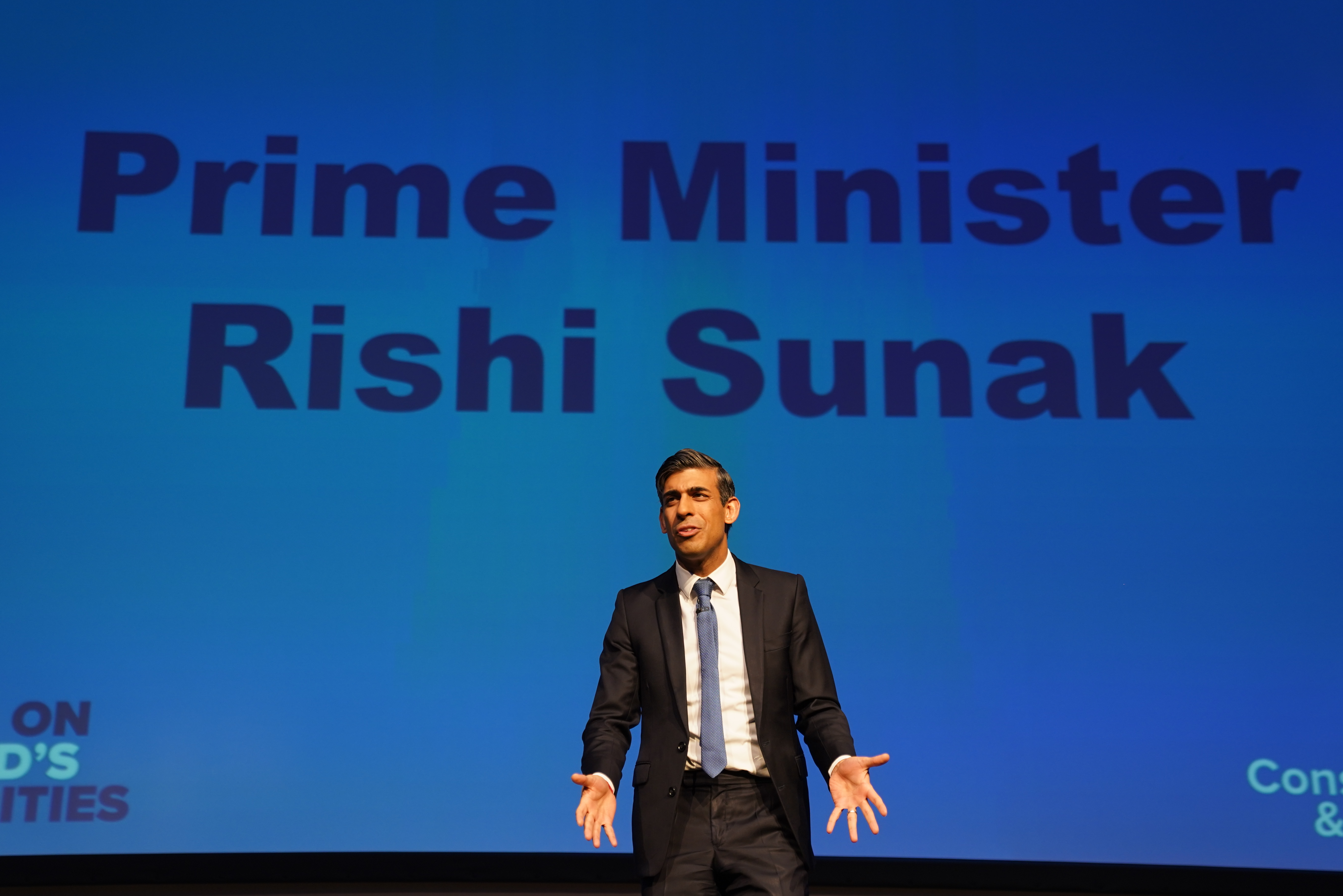 The Prime Minister highlighted £1 billion being spent in Scotland as part of his Government's levelling up agenda, and plans to create two new freeports north of the border where it is hoped tax breaks will attract investment, increase trade and create jobs.
He told party members: "Under my leadership we will never, ever forget we are the Conservative and Unionist Party, and working together, all of us proudly as Conservatives, we will deliver for each and every part of our precious union."
He contrasted the actions of his party with the SNP Scottish Government and its "record of failure".
Nicola Sturgeon stepped down as first minister and SNP leader last month, and since then the party has been rocked by a police investigation into its finances which saw her husband – and former party chief executive – Peter Murrell arrested, before being released without charge.
As part of the investigation, police were seen removing a luxury campervan said to be owned by the SNP, with Mr Sunak quipping that Ms Sturgeon is currently learning to drive "because someone's got to drive that motorhome after all".
Mr Sunak said: "If the SNP can't sort out the mess Nicola Sturgeon left their party, how on earth can they sort out the mess Nicola Sturgeon has left Scotland's public services in?
"What we need is a government in Holyrood that is focused on Scottish people's real priorities, not constitutional abstractions.
"The SNP may not be able to find some auditors for their party, but we can certainly audit their record in government.
"Just take a look at the education attainment gap, the very thing Nicola Sturgeon said they should be judged on, a gap widening.
"Violent crime rising, and they can't even deliver the ferries they promised the islanders. It is a record of failure."