A restoration project in south-east Asia is restoring a reef that had previously bleached and died.
British Paralympian swimmer Ellie Simmonds has joined with conservationists in warning of the perilous state of the world's coral reefs in the face of climate change but said there is still time to protect them.
Visiting the Hope Reef in Indonesia, which is being restored by the luxury cat food brand Sheba, Simmonds said it is still possible to save coral reefs despite the imminent threats identified by scientists.
These ecosystems are among the most biodiverse on the planet and hundreds of millions of people depend on them for their livelihoods.
They also act as barriers against storm surges and so protect low-lying tropical islands vulnerable to the rising seas.
But rising temperatures, ocean acidification, changing currents and more frequent and severe storms are pushing reefs beyond their capacity to survive.
Coral reefs thrive in specific climatic conditions – near the surface with lots of sunlight and warm, but not too warm water.
It is the algae on which they depend for food that gives them their distinctive blend of colours while also providing the nutrients to support the rest of the food chain.
When the water gets too hot, the coral expels this algae in a process known as bleaching as they turn white into skeletal forests devoid of any other life.
Professor David Smith, chief marine scientist at Mars, the parent company of Sheba, said coral reefs are "on the edge of the cliff".
He said Mars is looking to protect the most resilient reefs by physically building them up while working with local communities to encourage them to abandon destructive practices such as dynamite fishing and showing them the rich diversity of life the reefs can bring.
Hope Reef, off the island of Sulawesi, is the largest of the company's restoration projects.
There, conservationists have placed hexagonal structures coated with coral sand onto the seabed, which encourages the reef to grow back naturally.
Spelling out the letters H-O-P-E among what was previously a coral dead zone, the reef has seen huge numbers fish return since the project began in 2021, the Sheba Hope Grows programme said, with the increased coral growth bringing a 64% rise in the number of fish species.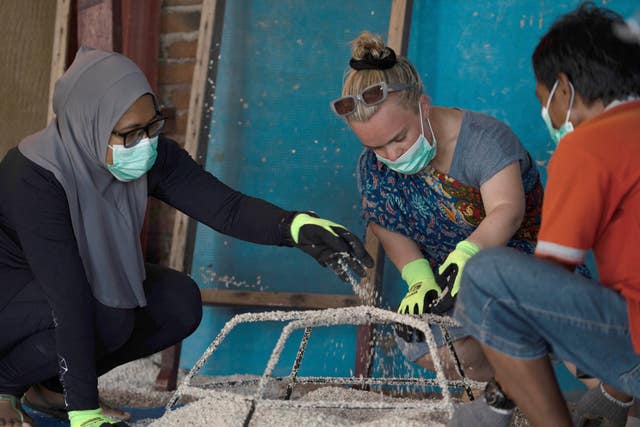 Simmonds said: "I've always been passionate about ocean health with the water being such a big part of my life for many years.
"It was truly inspiring to learn and see coral reef restoration in action, from the damaged coral which is lifeless and barren, to the sites where the Sheba Hope Grows programme work is complete – and marine life is flourishing."
Sheba Hope Grows has between 35-50 sites around the world where it wants to restore 185,000 square metres of coral reef by 2029.
Prof Smith said Hope Reef is a nucleus for the worldwide project where other researchers can learn techniques in how to rebuild and protect one of the Earth's most fragile ecosystems.
He added: "We're not saying that this is the answer to the world's loss of coral reefs, but we have to get off and we have to do something otherwise we will lose reefs – that's predicted to be in the next two decades – and then they're gone forever, so we've got to crack on with the job."
Simmonds said: "I've learnt why coral restoration is so important, not only to ensure marine life flourishes, but also for the millions of people that rely on them for food, income and protection against climatic events.
"This is why it is so important for me to support the Sheba Hope Grows movement and urge people that, with action, there really is hope for us restoring the beauty of our oceans."