Total crossings so far this year are 19% below the equivalent period in 2022.
Here are some of the key statistics and trends for small boat crossings of the English Channel.
– How many people have arrived each year?
In 2018, the first year for which official figures are available, just 299 people were detected making the crossing.
The total then increased steadily each year, rising to 1,843 in 2019, 8,466 in 2020, 28,526 in 2021 and 45,755 in 2022, according to Home Office data.
Some 15,071 crossings have been detected so far this year, based on figures reported up to August 9.
This is 19% lower than the number of arrivals in the equivalent period in 2022, which was 18,678.
If this trend continues to the end of the year, 2023 could see the first annual drop in crossings since official figures began.
– How many have made the crossing per boat?
The average number of people on each boat was seven in 2018, increasingly only slightly in 2019 (11) and 2020 (13).
There was a sharp rise in 2021, when the average rose to 28 people per boat, followed by another jump in 2022 to 41 people per boat.
So far in 2023 the average is running at 46 per boat, though the latest monthly figures put the figure even higher, at 48 per boat in June and a record 52 per boat in July.
– Who has arrived?
The mix of nationalities of people arriving on small boats has varied from year to year.
In 2018 and 2019, when comparatively few crossings were recorded, most arrivals were Iranian nationals (80% and 66% respectively).
A change came in 2020, with Iranian still the leading nationality but accounting for just 28% of arrivals, followed by Iraqis (19%), Sudanese (11%) and Syrians (9%).
Iranians and Iraqis together accounted for more than half of arrivals in 2021 (30% and 22% respectively), with a mix of countries once again making up the rest.
There was another change in 2022: Iranian and Iraqi nationals dropped to 13% and 10% respectively, with Albanian (28%) and Afghan (20%) the leading nationalities.
Provisional data for January to July 2023 suggests a new trend might be emerging, with Albanians dropping back to just 3% of arrivals, Afghans remaining at 20%, but people of Turkish (10%) and Indian nationality (7%) almost level with Iranians (11%) and Iraqis (9%).
All figures are based on the total number of arrivals where nationality has been recorded by the Home Office.
– What age and sex are the people who have made the crossing?
Males accounted for 88% of small boat arrivals in the first three months of 2023 – similar to the proportion each year from 2018 to 2022.
Some 13% of all arrivals in January to March this year were males under the age of 18, broadly similar to the figure for the whole of 2022 (12%).
A further 32% were males aged 18-24 (34% in 2022), while 36% were males aged 25-39 (35% in 2022) and 8% were males aged 40 and over (6% in 2022).
These figures are based on the total number of arrivals where age and sex has been recorded.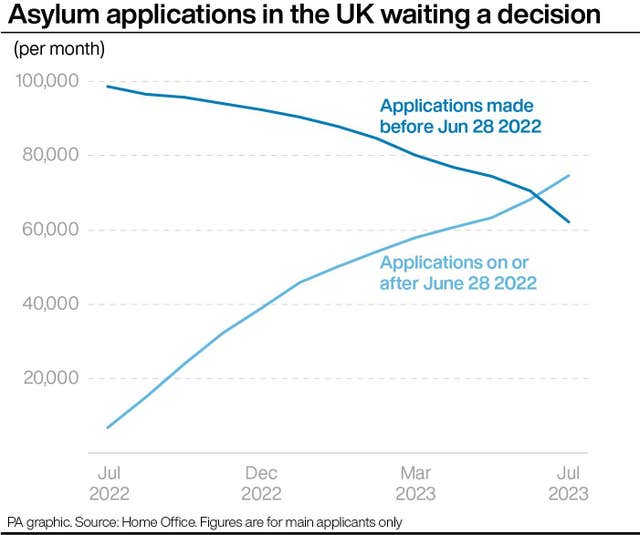 – How many have applied for asylum?
Some 90% of arrivals on small boats in the 12 months to March 2023 claimed asylum or were recorded as a dependant on an asylum application.
A total of 93% of small boat asylum applications made in this period, along with 78% of all applications since the start of 2018, were still waiting for an initial decision as of this May.
Just 1% of arrivals applying for asylum in the 12 months to March 2023 received an initial decision within the same year.
Small boat arrivals accounted for 44% of the total number of people who claimed asylum in the UK in the year to March.