The first episode of Parkinson aired on June 19 1971.
Sir Michael Parkinson once revealed he had "no idea" how the first episode of his hit BBC show had gone, but there had been "something in it that I wanted to pursue".
The veteran broadcaster said he had been happy to get through the show without "falling down the stairs or forgetting the name of the guest sitting opposite".
The first episode of Parkinson aired on June 19 1971.
Seen as a temporary 10-week filler programme, it recorded over 650 episodes featuring interviews with over 2,000 guests and was voted by the BFI one of the top 10 UK television programmes of all time.
In 2021, to mark the programme's 50th anniversary, Sir Michael was interviewed by his son and producer Michael Parkinson Jr, as part of a BBC documentary: Parkinson At 50.
Asked if he had ever imagined he would present so many episodes of the show, he said: "I was just happy to get through the first show without falling down the stairs or forgetting the name of the guest sitting opposite.
"I had no idea how it had gone.
"I knew there was something in it that I wanted to pursue but I had no idea how it would turn out."
Sir Michael's first guests on the show in 1971 were celebrity snapper Ray Bellasario and comedy actor Terry-Thomas, as well as US singer Marion Montgomery.
The signature tune was played by the Harry Stoneham Five.
Over the next three decades he would interview some of the biggest names in Hollywood, including Jimmy Cagney, Fred Astaire, Lauren Bacall and Ingrid Bergmann.
Sir Michael admitted that in the early days of the show it had been "difficult not to get tongue tied" when faced with the likes of Bergmann and Bacall.
"I used to imagine getting married to (them) when I was child watching them from the back row of the Rock Cinema in Barnsley," he said.
However, despite the vast array of actors, musicians, and other high profilers, the interview Sir Michael was most proud of was with scientist and humanist Dr Jacob Bronowski.
Part of the interview featured in Parkinson At 50, during which Dr Bronowski recounts "in a simple, compassionate and articulate way" a visit to the Auschwitz death camp.
"It's an excerpt I can barely watch and as you will see in the programme it brings me to tears," Sir Michael said, ahead of the documentary's airing.
"But it is the interview I am most proud of, not because of any role I played in it but because Bronowski was such an extraordinary man, possessed of a mind like a Swiss watch."
Other infamous interviews including those with Dame Helen Mirren, Meg Ryan and Rod Hull and Emu.
The puppet famously attacked Sir Michael on the chat show sofa, and wrestled him to the ground. He later joked that his career would be remembered for "that bloody bird".
In an interview with the Radio Times in 2007, shortly before his final show, Sir Michael said that his initial fear of forgetting guests' names had occasionally come true – including with Hollywood legend John Wayne.
"I simply couldn't think of his name, so I stared at my crib sheet and it said 'Duke', which was his nickname, of course, but that didn't do me much good," he said.
He also revealed the questions his guests have told him they would rather not be asked, including requests from comedian Woody Allen and actor Rex Harrison.
After premiering in 1971, Parkinson enjoyed a successful run until 1982. In 1998, the chat show was revived on the BBC and proved an instant hit.
It switched from the BBC to ITV1 in 2004 due to a clash with football highlight show Match Of The Day.
Sir Michael told the Guardian at the time that the BBC was "shocked" at his decision but said the broadcaster had "sold my playing field".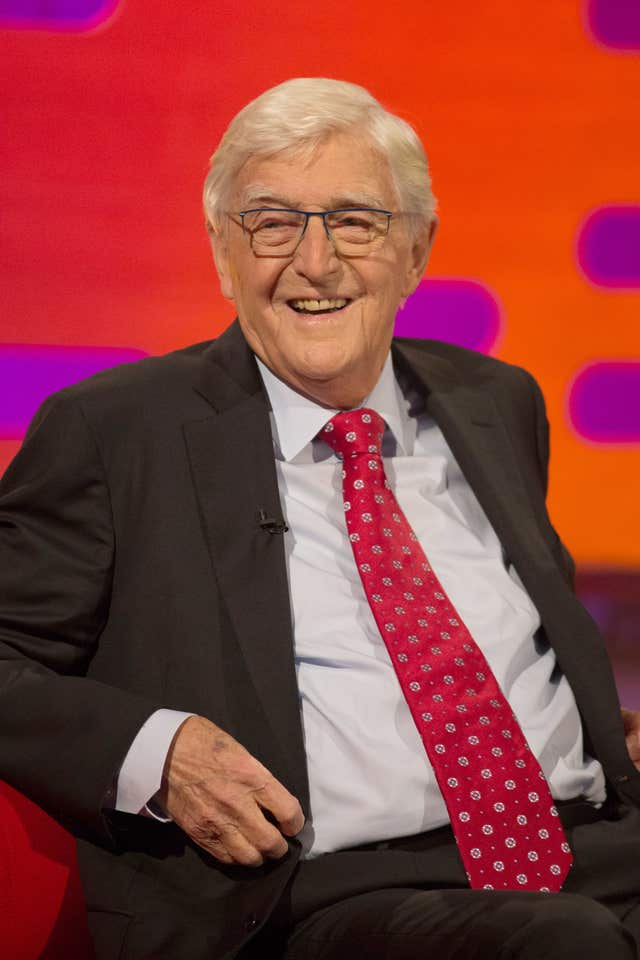 Parkinson ran on ITV until 2007 – the same year Sir Michael retired from his Sunday morning Radio 2 programme.
For one of his final episodes Sir Michael put together a "wish-list" of stars to join him.
Sir Michael Caine, Sir David Attenborough, Dame Judi Dench, Dame Edna Everage, Billy Connolly, David Beckham, Peter Kay and Jamie Cullum appeared on the two-hour special.
Jazz star Cullum played the classic track Please Don't Talk About Me When I'm Gone in tribute to the host, who had helped launch his career by featuring him on his show when he was an unknown.
The final show did not have any guests but was a lifetime retrospective and was broadcast on Saturday December 22 2007.
Speaking in 2021 ahead of Parkinson At 50, Sir Michael said: "I did a talk show at the best time, without the constraints of social media that turn many celebrities into people as mysterious as our next-door neighbour.
"I had the best of it and I wouldn't change a thing, except perhaps Emu."