A vandal also scratched the name 'Dave' into the stonework of a corridor in the House of Lords in 2022.
01 January 2023
The name "Dave" scratched into stonework in the Peer's Corridor and "sexually explicit graffiti" etched on a toilet door near a House of Commons bar are some of the incidents of vandalism dealt with by Parliamentary authorities during the last 12 months.
Clean-ups were also required when eco-protesters made a mess with glue and "ketchup" in the House of Commons.
The Commons and Lords have disclosed records of reported security incidents and requests for maintenance jobs that mention "vandalism" or "graffiti", after a Freedom of Information request from the PA news agency.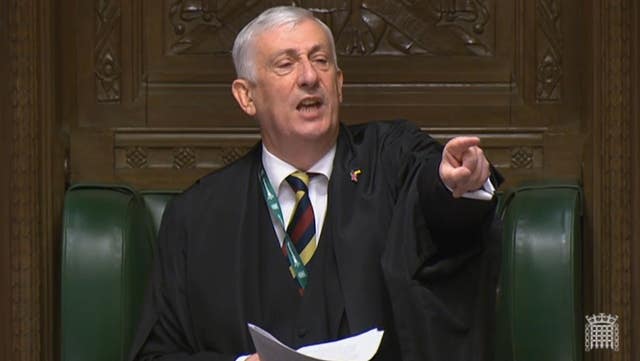 There were 13 recorded reports of security incidents mentioning these phrases from January this year to November 17, up from two in the whole of 2021 and six in 2020.
In contrast, 29 maintenance jobs were flagged over the same stretch this year, up from 20 in 2021 and 31 the year before.
This year's security incidents included one logged on November 12 as: "Protesters gluing themselves to items in Members' lobby and squirting a red substance (tomato ketchup?) in the area."
A corresponding maintenance note dated November 13 states: "Could you please repair green sofa in HOC Members' lobby due to vandalism with glue. Please remove defects on sofa."
This is likely to relate to an incident on September 2 involving the Extinction Rebellion (XR) group.
On September 5, Commons Speaker Lindsay Hoyle told the Commons that XR environmental activists had "superglued themselves to one another around the Speaker's chair" after gaining entrance to the estate as "ticketholders on paid tours" during the incident.
At the time, the Speaker said: "Steps are being taken to minimise the risk of a reoccurrence."
Another security incident reported on August 18 this year flagged "criminal damage in (the) Peer's corridor", adding: "Someone has scratched their name 'Dave' into the stonework."
However, most of the reported vandalism did not occur inside the Palace of Westminster, instead affecting the wider estate.
On October 19, a male was seen "spray-painting the north wall at the bottom of Elizabeth Tower", the records note.
And on September 7, it was alleged that Animal Rebellion protesters had "sprayed white paint at base of wall and railings by Elizabeth Tower".
On December 1 2021, it was flagged that someone had scrawled "sexually explicit graffiti" on a toilet door in the men's toilet opposite the Strangers' Bar, inside Parliament.
The note said: "Men's toilet opposite the Strangers' Bar, left cubicle (as you look at them). Someone has carved sexually explicit graffiti into the back of the cubicle door.
"As this is area is used by members of the public there's reputational risk. Can something be done urgently to remove/sand down the offending graffiti please? Could we lock the cubicle in the meantime?"