Prime Minister called on doctors to end strikes and join 'national mission' to cut waiting lists.
Prime Minister Rishi Sunak has insisted the Government's pay offer to doctors is "fair" and "final".
Writing in the Daily Express, Mr Sunak said "there will be no more talks on this year's pay" as he urged doctors to call off their strikes.
He called the NHS "an institution the UK is rightly proud of" thanks to the "extraordinary men and women who work so hard to protect our nation's health".
Mr Sunak wrote: "For that reliable, high-quality service to continue, we need our brilliant doctors to be on the front-line treating patients."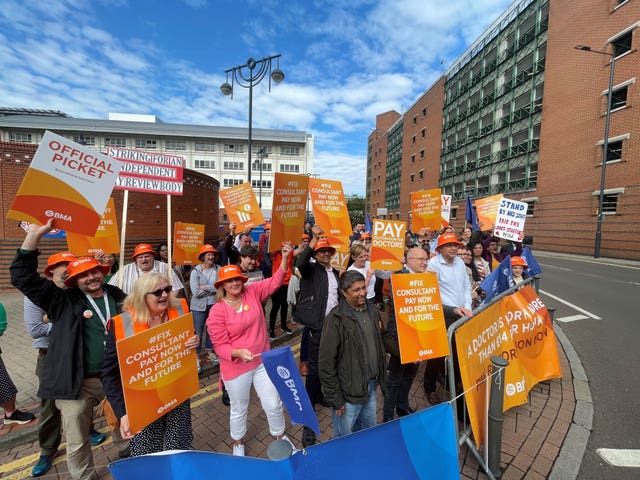 He called the Government's pay offer to doctors "very generous", saying a first-year junior doctor would see pay rise by 10.3%.
"Our pay deal is fair, so I urge all doctors to know when to say yes and call off their strikes," he wrote. "That's the right thing to do.
"Because on every day of industrial action, tens of thousands of appointments are cancelled.
"And at a time when millions of people are already waiting for treatment, that's causing waiting lists to go up, not down."
Mr Sunak said he made tackling waiting lists one of his priorities and it should be a "national mission".
"I know that most doctors just want to get on with their life's work of caring for patients," he said.
"And in the end, no amount of strikes will change our decision. This offer is final."
Mr Sunak faced heavy criticism on Wednesday from a junior doctor for insisting striking doctors are to blame for record high NHS waiting lists.
A&E doctor Olivia hit out at his "amazing" claim and reminded the Prime Minister during a radio phone-in that "a happy workforce is your responsibility".
Olivia, from Newcastle, who did not give her second name, told him live on LBC: "I think it's amazing we're blaming the increase in waiting lists on doctors going on strike.
"You're losing staff because we are undervalued and it's not just doctors, it's everyone, we're all leaving.
"You're the Prime Minister, you're the Government, your staff aren't happy – that's your fault. And ultimately that's not good for patients because retaining staff is one of the bedrocks of making sure you have good patient safety."