Simon Byrne told the Catholic Police Guild he was 'committed to supporting everyone affected'.
Northern Ireland's Chief Constable Simon Byrne has sought to reassure staff and officer representative groups after a major data breach earlier this week.
The Police Service of Northern Ireland's leadership was earlier pressed for a full response after details of more than 10,000 officers and staff were published online for a number of hours on Tuesday.
Mr Byrne cut short a family holiday to return to Belfast to answer questions about the data breach, and details of another incident emerged on Wednesday after the theft of documents and a laptop from a car in Newtownabbey in July.
Scores of officers have expressed concern for their safety in Northern Ireland, where police are under threat from terrorists, with the current level of threat assessed as severe, meaning an attack is highly likely.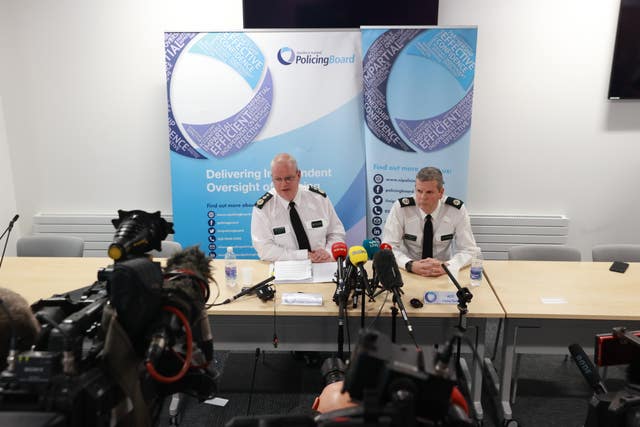 Mr Byrne answered questions from politicians in a closed session of the Northern Ireland Policing Board on Thursday before making a brief statement to media.
He revealed that dissident republican terrorists had claimed to have some of the data, but that claim had not been verified.
A Threat Management Assessment Group has been set up by the PSNI for those concerned about risk. It had had 600 referrals by Thursday evening.
Mr Byrne met the Nipsa trade union, which represents staff support officers, on Friday morning.
Speaking after the meeting, Nipsa official Tracy Godfrey said she was alarmed to hear the number of requests for support from the group had risen to 900 overnight.
"I believe that number will climb, but they have got processes in place to deal with it. It's just an awful lot of people with a lot of concerns," she told the BBC.
In a statement on Friday evening, the PSNI said the Chief Constable had held a number of meetings with organisations that represent staff and officers.
These included a meeting with the head of the Catholic Police Guild, which represents a significant number of Catholic members of the service.
Superintendent Gerry Murray spoke of particular difficulties faced by Catholic members of the PSNI, and expressed concern the data breaches could impact on future recruitment.
Catholics have historically been underrepresented in police numbers in Northern Ireland. When former police force the RUC transitioned to become the PSNI in 2001, a temporary recruitment measure was used to welcome even numbers of Catholic and Protestant officers, referred to as 50/50 recruitment.
Catholic officers are often targeted by dissidents who want to intimidate those from a similar background from joining the PSNI.
"Our guild was formed to provide a support service within the PSNI for Catholic members, and to raise issues which impact on their work within the PSNI," Mr Murray said.
"It is hard to think of a more pressing issue for Catholic officers and staff than the data breaches which have come to light this week.
"Everyone understands the particular difficulties faced by Catholic members of the PSNI and indeed the implications of this for potential new recruits from the Catholic community."
Mr Murray said guild members had expressed genuine concerns over the release of the information.
"They are worried for themselves and in many cases for their family members," he said.
"As chairman of the guild I am also concerned about the impact on future recruitment of young Catholics into the Police Service.
"We want to be assured that the data breach will be fully and quickly investigated and procedures put in place to ensure it cannot happen again.
"Catholic officers and staff who feel vulnerable need to be supported in protecting themselves, their families and their homes.
"The Police Service must acknowledge and take account of the particular sensitivities of the Catholic members of the force.
"The community background of police officers and staff has to be given the proportionate weight when considering the implications of this data breach on serving officers.
"It is important that the Police Service acts quickly and comprehensively to win back and retain the confidence of serving officers and staff. This applies particularly to colleagues from the Catholic community."
A PSNI spokesperson said the Chief Constable "listened to any issues or concerns and reiterated his priority is the welfare and safety of all officers and staff".
He also "reassured the guild that he was committed to supporting everyone affected by the recent data breach".