The Crooked House was heavily damaged by fire on Saturday evening.
Police have said they are "reviewing all of the available evidence" on the cause of a fire that gutted a historic pub.
The Crooked House in Himley, West Midlands, was extensively damaged by the blaze on Saturday evening.
The fire, which required 30 firefighters to extinguish, came just two weeks after the building was sold by brewer Marston's to a private buyer.
On Monday, Staffordshire Police said that investigations into the cause of the fire at the 18th-century pub were ongoing, with a cordon still in place around the site.
Detective Inspector Richard Dancey, from CID, said: "This incident has caused a great deal of speculation locally and we understand the significance of the building within the local community.
"We would like to remind the public that our investigation is ongoing and we are reviewing all of the available evidence alongside fire investigators to determine the cause of the incident.
"Due to the excess damage caused to the structure of the building, the cordon remains in place today and we're asking people to avoid the area.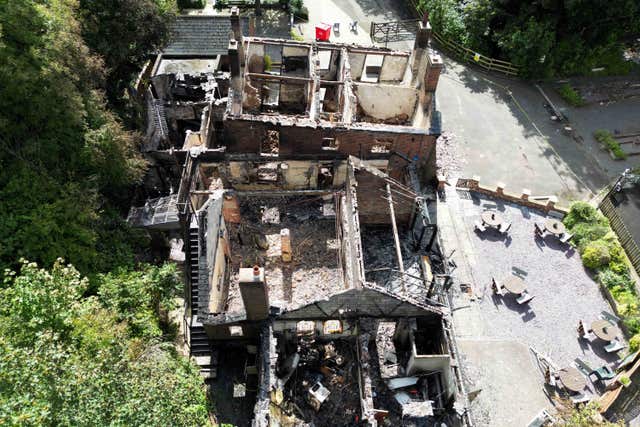 "Those who may have any useful information are urged to get in touch with us whilst we continue to complete our lines of enquiry alongside the fire service."
The pub became a popular local landmark due to one side being significantly lower than the other, caused by the effects of nearby mining.
It was put on the market by Marston's in January this year, a company spokesperson said.
Six fire crews from Staffordshire Fire and Rescue Service (SFRS) and the West Midlands Fire Service (WMFS) needed a high-volume pump and several jets to extinguish the flames after emergency services were called at 9.58pm on Saturday.
While no one was inside the building at the time of the fire or injured in the blaze, the building remains unsafe and its future is unknown.
Station Manager Liam Hickey, of SFRS, who attended the scene, said: "Crews have worked diligently to safely extinguish the fire and make sure damage was minimised as much as possible.
"We know the significance that the building has within the local community and we are working alongside our colleagues in the police to investigate what happened.
"The building has since been assessed as unsafe and the cordon remains in the area to ensure the safety of the public whilst we continue to carry out our investigation."
Anyone with information that may help the investigation is urged to contact Staffordshire Police quoting incident 761 of August 5.