Gary Lineker, Stephen Fry and Matt Lucas have also paid tribute to Sir Michael Parkinson.
Sir David Attenborough has said that Sir Michael Parkinson's northern accent was "a very refreshing voice in those days" as the late chat show host was hailed as "king of the intelligent interview".
Some of the celebrities whom the Yorkshire-born presenter interviewed have paid tribute after his family announced he died "peacefully at home" at the age of 88 on Wednesday.
In a pre-recorded interview for BBC Radio 4's The World At One, Sir David said he thought when he was controller of BBC Two that Sir Michael was the "best freelance interviewer in the business".
The naturalist added: "He was always knowledgeable, he was absolutely classless.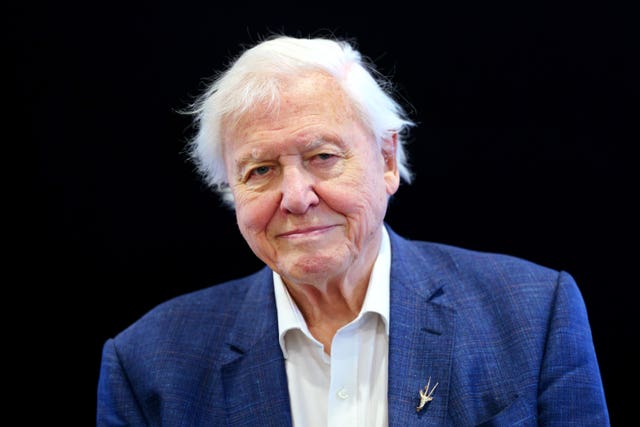 "That's not quite true, you knew he was not a southerner, you knew he was a northerner and that was a very refreshing voice in those days and you knew that he would do his homework and that he would ask questions that didn't occur to you.
"(Michael was) extremely professional, you knew that he would know all the background and you didn't have to fill in anything.
"He was extremely generous, he wanted you to shine and would always laugh at your jokes and give you an opportunity to make them sound funnier than in fact they were."
The 97-year-old also said that being interviewed by him "was like meeting a friend" and "you knew he was on your side".
When Sir David said that Sir Michael was interviewing comedian Sir Billy Connolly at the same time, he "looked after" him to make sure he was not forgotten.
He added: "It was always friendly, it was always thorough, it was always intelligent, it was always a pleasure to do it.
"I think that came over no matter who his interviewee was."
Sir Elton John said that he "loved" Sir Michael's company as he paid tribute to him on Instagram.
The 76-year-old Rocketman singer wrote: "Michael Parkinson was a TV legend who was one of the greats. I loved his company and his incredible knowledge of cricket and Barnsley Football Club.
"A real icon who brought out the very best in his guests."
Broadcasters Gary Lineker and Dan Walker described Sir Michael as "truly brilliant" and "a TV titan".
Former footballer Lineker tweeted: "Saddened to hear that Michael Parkinson has died. A truly brilliant broadcaster and wonderful interviewer.
"He was very much part of Saturday nights growing up: Parkinson then Match Of The Day. RIP Parky."
TV presenter Walker posted: "Michael Parkinson was a TV titan. It was always a pleasure to talk to him, on & off camera, about cricket, football, politics & TV.
"He was full of advice, picked up over his remarkable career, & always brought the best out in others.
"A proper gent who will be missed be many."
Comedian Stephen Fry said being interviewed by Sir Michael was "impossibly thrilling".
On Instagram, Fry wrote: "The genius of Parky was that unlike most people (and most of his guests, me included) he was always 100% himself. On camera and off. 'Authentic' is the word I suppose.
"For one of the shows I was on with Robin Williams, a genius of unimaginable comic speed and brilliance. Now they're both gone.
"One should get used to the parade of people constantly falling off the edge, but frankly one doesn't. So long #parky."
Sir Michael became a familiar face on both the BBC and ITV with his intimate celebrity interviews, most notably on the BBC show Parkinson.
Comedian and actor Matt Lucas described him as a "titan of television" and the "ultimate chat show host".
Recalling his most memorable interviews, the 49-year-old tweeted: "We'll never forget his brilliant interviews with Muhammad Ali, Dame Edna, Billy Connolly and, of course, 'that bloody emu'."
Dara O Briain recalled Sir Michael doing "the coolest thing I ever saw pre-show" and a "consummate pro on-screen, and generous and encouraging off-screen".
The comedian, who appeared three times on Sir Michael's show, tweeted: "Michael arrived, chatted away to us, not a nerve in sight, when the band starting playing the theme tune.
"Michael paused, smiled and said 'They're playing my tune' and walked straight out and started the show. Lovely."
The first episode of Parkinson aired on June 19 1971 and during his career he interviewed Muhammad Ali, Sir Elton John, Madonna, Sir David Attenborough and Dame Judi Dench.
Eamonn Holmes said that knowing Sir Michael "on and off screen" was a "privilege".
He tweeted: "They don't make them like that anymore. Rip Sir Michael Parkinson."
Comedian Eddie Izzard wrote on Twitter: "Very sad to hear that Michael Parkinson has left us. He was the king of the intelligent interview."