Work and Pensions Secretary Mel Stride said reducing the number of economically inactive people back to pre-pandemic levels could lead to a tax cut.
No 10 has refused to endorse the Work and Pensions Secretary's suggestion that getting people back into work after Covid could result in a pre-election tax giveaway for voters.
Mel Stride said cutting the number of economically inactive people back down to pre-pandemic levels could hand the Chancellor the fiscal room he requires for a 2p cut to the basic level of tax.
A Downing Street spokesman said Prime Minister Rishi Sunak recognised that increasing the UK's labour market numbers could help boost the economy, but it was for the Chancellor to decide on tax matters.
"Of course it is the case that if more people come back into the workplace, it would grow the economy," the spokesman said.
"That is obviously a given and remains a Government priority.
"But the impact of that on taxation policy and the impact that might have on future Budgets and fiscal events is rightly a matter for the Chancellor."
Former chancellor Mr Sunak pledged during his failed Conservative leadership contest against Liz Truss last year to cut the basic rate of income tax from 20p to 16p by the end of the next parliament — set to be 2029 — if he won the race for Downing Street.
Asked whether the Tory leader stood by that pledge, the No 10 spokesman said Mr Sunak remained committed to reducing the overall tax burden and "we will look to bring down taxes where we can".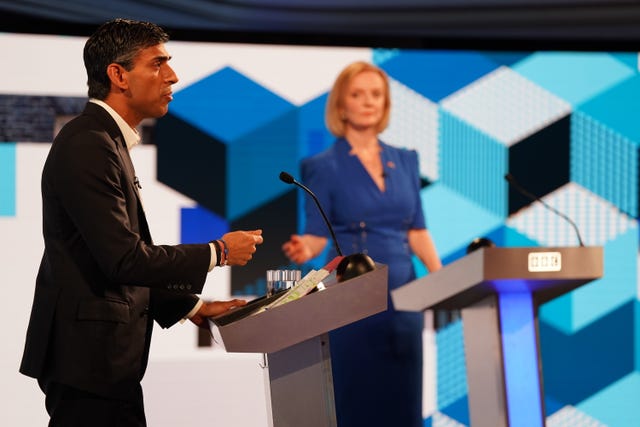 The questions came after Mr Stride — seen as a key ally of Mr Sunak, having helped run his campaign for the leadership – said encouraging people who left employment during coronavirus, especially those aged over 50, could help boost the economy and reduce borrowing.
He told a political correspondents' lunch in Parliament on Thursday that 650,000 people had become economically inactive after Covid, with a little over a third having since returned to work.
"If we can get all of those people back into work, it will increase the size of the economy by about 0.2%, which will reduce the borrowing requirement by £11 billion, which will be enough to take 2p off the basic rate of tax," Mr Stride said.
The former Treasury minister said his back-to-work plan was offering Chancellor Jeremy Hunt the "greatest possible flexibility when it comes to setting out his stall" in the next Budget and fiscal statements ahead of the next general election, which is widely expected next year.
Mr Stride suggested the money freed up by getting people back into work would be one of the "most important" factors if the Tories managed to pull of an against-the-odds victory at the polls.