Chants of 'come on England' could be heard at fan screenings across the country.
Nervous but excited England fans gathered on Saturday in the hopes of cheering the Lionesses to victory in the World Cup quarter-finals.
Chants of "come on England" could be heard as fans ignored the summer drizzle to watch the big screen in St Albans, Hertfordshire, as manager Sarina Wiegman's team kicked off against Colombia in Sydney's Stadium Australia.
Football fan Joanna King said "the best is yet to come" for England, despite a run of injuries to top players ahead of the tournament and top scorer Lauren James, 21, being sent off in the last-16 penalty shootout victory over Nigeria earlier in the week.
Speaking at the McDonald's big screen in St Albans, the 31-year-old sales advisor from Oxford, said: "I think we have been playing OK. The last game was a bit nerve-racking to be honest. I am not going to lie.
"I personally feel they can do it. I think Sarina is playing mind games – she is not making us play bad but she is not making us play our best at the moment."
The winner of England v Colombia will play Australia in last four after the tournament's joint hosts scored a dramatic win over France on penalties in Brisbane earlier on Saturday.
Ms King added: "I would have preferred to have Australia rather than France, I know that. I think that the Matilda's are very good.
"It is good to be here among everyone who is supporting at the same time – there is an atmosphere and it is better than sitting at home."
England arrived at the tournament as one of the favourites after being crowned European champions last year.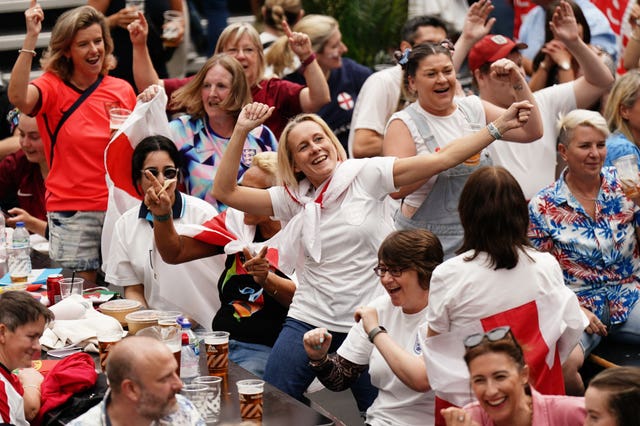 While the Lionesses have struggled to find top form so far, fans in St Albans said they can draw confidence that some of the biggest teams in women's football, including the US, Germany, Canada and Brazil all failed to make later stages of this tournament.
Bella Oglethorpe, 16, took her father Chris to watch the match on the big screen in their hometown, and said she would be pleased if England faced Australia in the semi-final.
She described England's World Cup performance so far as "mixed", adding: "If we make it to the semi-finals I feel we have a good chance, although Australia do have the advantage of a home crowd.
"I think that Colombia are quite a physical team and England struggled with that against Nigeria – hopefully they have learned from that."
Her father added: "Bella really wanted to come. It is fantastic to watch it on the big screens and to have the atmosphere.
"Women's football has really grown in popularity and recognition since the Euros last year."