Supporters gathered at pubs, bars and fan parks up and down the nation ahead of kick-off.
England fans have admitted to being nervous ahead of kick-off in the Lionesses' first ever World Cup final.
Supporters gathered at pubs, bars and fan parks across the nation before the crunch game against Spain in Sydney on Sunday.
In London, scores of fans gathered for a public screening of the Women's World Cup final in the shadow of the former Olympic Stadium.
Fans in England shirts, many wearing St George's Cross face paint, were sitting on deck chairs and bean bags at the McDonald's screening in Newham.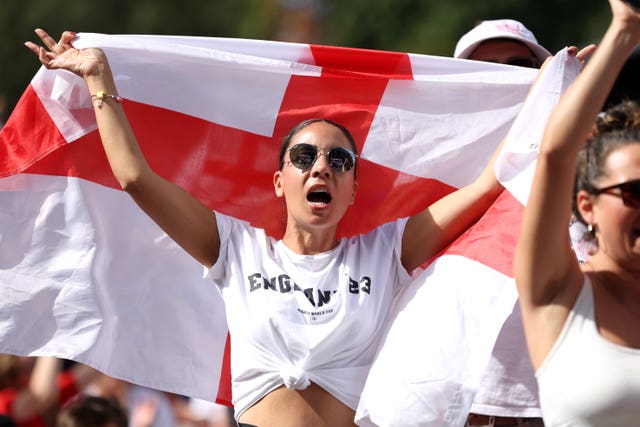 Jade Chau, 36, and her baby daughter were watching the final at the Olympic Park.
Ms Chau, with seven-month-old Evelyn on her lap, told the PA news agency "it's definitely coming home", as she predicted a 3-1 victory for the Lionesses.
She said: "I'm now on mat leave and I can watch every game at home with my daughter.
"It's so important (for young girls to have the Lionesses to look up to) and I can't stop smiling when I see all these girls lining up to meet their footballing idols.
"I'm a fan for a long time so it's nice to see it continue to grow."
On why this Lionesses team is so special, she said: "There is no ego, there is just unity amongst all of them and they're all talented, they've got a very amazing coach and they take it one game at a time, and that's the right mindset."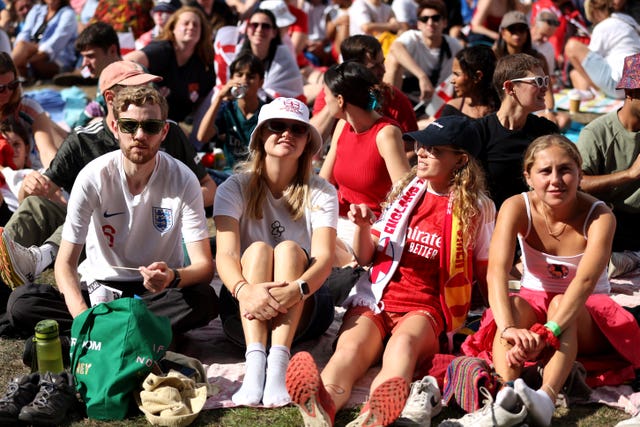 They cheered as a cyclist zipped past shouting "come on England".
Manchester United forward Nikita Parris posed for photos with female fans and signed autographs.
Hundreds also took their place in a fan zone at Victoria Park in Tower Hamlets.
One fan, Elliot Wing, 27, also follows the England men's games and tries to go to their matches, but he believes the atmosphere is "much better" at Lionesses games.
Dressed in his England shirt, Mr Wing, from Sheffield, told PA: "I watched the semi-final and a bit of the group stages.
"It feels completely different (from the Women's Euros) just because it's not here.
"I think they have got a better chance than the men."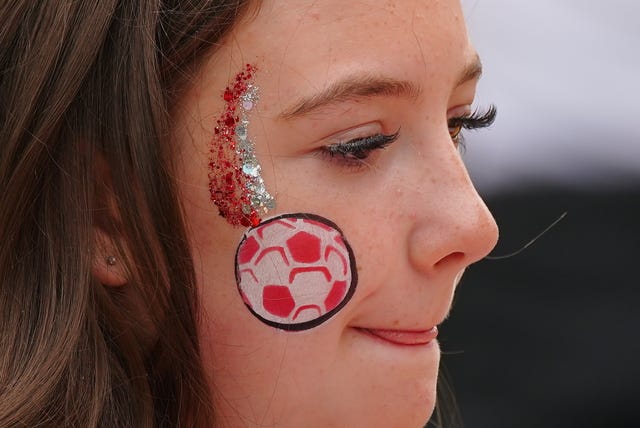 Elsewhere, dozens of football fans gathered to watch the game at a clubhouse in the home town of the Lionesses' forward Lauren Hemp.
Pre-match commentary blared out as young girls in England shirts took their seats at North Walsham Town FC in Norfolk ahead of kick-off.
Also present was Angela Fitter, 71, of Norwich, who said: "I'm excited, really excited.
"I've got a feeling they're going to win."
She then started to sing England fans' favourite "It's coming home".
She said she has four girls and "they're all football mad".
Kelly Hearne, 50, of North Walsham, said: "I can't wait, I'm really excited.
"It's such an inspiration for all girls."
She said they are backing "our girl" Hemp.
At Ashton Gate Stadium in Bristol, dozens of excited and nervous England fans packed in ahead of kick-off.
Some dressed in England shirts, or red and white clothing, and waved giant England flags in the sports bar of the stadium which hosted the Lionesses in February.
Twin sisters Ashley and Leah Taylor, 26, from south Bristol, said they are confident the team will lift the trophy.
"I'm definitely nervous but we have full faith that they are going to win," Ashley said.
"It was a bit rocky for them at the start but I always knew they were going to get to the final."
Leah added: "The atmosphere when they win is going to be incredible."
Courtney Chaplin, 18, watched the Lionesses defend their Arnold Clark Cup title with a 6-1 win over Belgium at Ashton Gate Stadium in February.
Speaking at the stadium on Sunday, she said: "It is going to be a very tough game, they are not going to be a walkover, definitely not.
"I'm quite nervous at the moment but I am so proud of this team. They have inspired so many young people, and young girls – not just as footballers but as women as well.
"They just make me smile if I'm having a bad day. At the end of the day, we're one country and we are proud of all teams, we support both teams.
"But at the moment, the women are doing better."