The well-known 18th century pub was extensively damaged by a fire on Saturday evening, before the remains were then demolished by a digger.
More than 100 people gathered near the rubble of the Crooked House in Dudley to lament the historic pub's destruction.
The well-known 18th-century pub was extensively damaged by a fire on Saturday evening before footage emerged on social media of what remained of the building being demolished by a mechanical digger.
Police and fire service experts are investigating the cause of the fire, which took place two weeks after the pub was sold by brewer Marston's to a firm based in Warwickshire.
South Staffordshire Council, meanwhile, is investigating potential breaches of the law over the total demolition of the pub.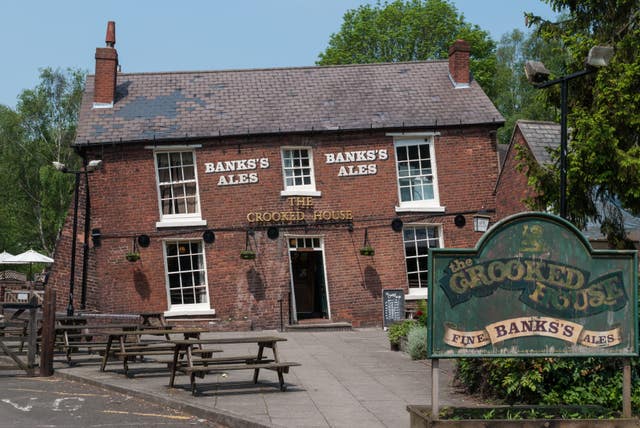 Speaking to the PA news agency at the rubble on Tuesday, Tom and Laura Catton, who ran the pub between 2006 and 2008, said their lives would have been very different without the Crooked House.
Tom, who drank a can of Banks's mild amid the rubble as a final farewell to the building, said: "It means so much to us this place. This is where I met Laura. I proposed to her here.
"It held a lot of memories. Even after 15 years away it means a lot to us."
Laura said the "crazy" subsidence-hit pub was "wonkier upstairs than downstairs", with Tom adding: "A lot of people thought they were drunk when they walked in because everything was all over the place.
"It doesn't do it justice, the name Crooked House. It had to be seen to be believed and it can't be, unfortunately, any more."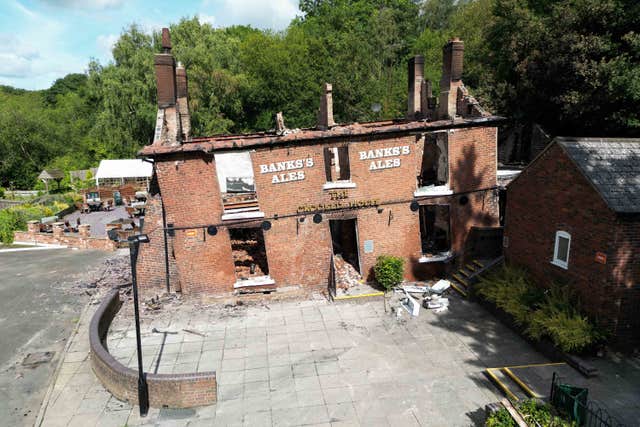 Campaigner Stuart Hall – who set up a Facebook group to campaign for the preservation of the Crooked House as a pub when it was put up for sale by Marston's – was also at the protest and hailed the turnout as brilliant.
He said of the last few days: "It was just a shock on Saturday to find out it was on fire – absolutely devastating. I could get emotional, it's terrible.
"My parents used to have a pub in Dudley in the late 60s and early 70s, and they used to bring us here 50 years ago. To see what it's like today is gut-wrenching, it really is."
The 59-year-old, whose Facebook group has swelled to more than 6,000 people from around the world since the fire, added: "Pubs – that's a big, passionate thing for Black Country people.
"Yesterday I was at home and people were messaging me on Facebook. About five o'clock last night they just completely destroyed it. Anger was there and I am not an angry person."
Paul Turner, whose online Save The Crooked House petition has attracted more than 12,000 signatures, said the pub was a tourist attraction and particularly popular with those who visited it for the first time.
Mr Turner, from nearby Wombourne, said: "First of all there was the fire. I was absolutely devastated. We had all sorts of ideas about what we were going to try and do to make sure the place stayed as a pub.
"The next thing is it was burning down. Two days later we suddenly found out it had been flattened as well.
"We thought the shell looked reasonably secure from what we could see."
The 58-year-old continued: "I remember driving down this road with my parents when I was about six years old and laughing at this funny building. It was part of my childhood. The landlord would show us the marble rolling up the ledge on the wall. It was something we were proud of as Black Country people – it was ours."
Asked what the future might hold for the ruined pub and what he thought of calls to rebuild it, Mr Turner said: "I think the only possibility really is some sort of replica. We need to do something, we can't just lose it."