Figures show the department spent £16.6 million on hire cars for staff in the year to November.
02 January 2023
The Ministry of Defence has been accused of "blowing millions" of pounds on hire cars and taxis last year while cutting the size of the Army.
A freedom of information (FoI) request by the PA news agency revealed the MoD spent £16.6 million on hire cars for staff in the year to November, up from £12.9 million the previous year.
Spending on taxis and chauffeur driven cars increased from almost £583,000 to £967,000.
Other Government departments also spent huge amounts on hire cars and taxis for staff in 2022.
The MoD spending was through its Phoenix II vehicle contract.
The MoD replied to the FoI: "Expenditure on hire cars for MoD personnel through the Phoenix II vehicle contract for the current calendar year up to November 16, 2022 is £16,678,347. Please note that this figure includes VAT but excludes fuel and other costs.
"Expenditure on taxis/chauffeur driven cars through the Phoenix II vehicle contract for the current calendar year up to October 31, 2022 is £967,327 excluding VAT.
"This compares to £12,960,612 hire car expenditure for the previous year (calendar year up to November 30, 2021), and £582,953 for taxis/chauffeur driven cars (calendar year up to October 31, 2021)."
The FoI reply added that there may be occasions when there has been expenditure outside of the Phoenix II contract which has not been included in the figures.
Shadow defence secretary John Healey said: "The defence department has blown millions more pounds on taxis this year as it cuts the size of the Army.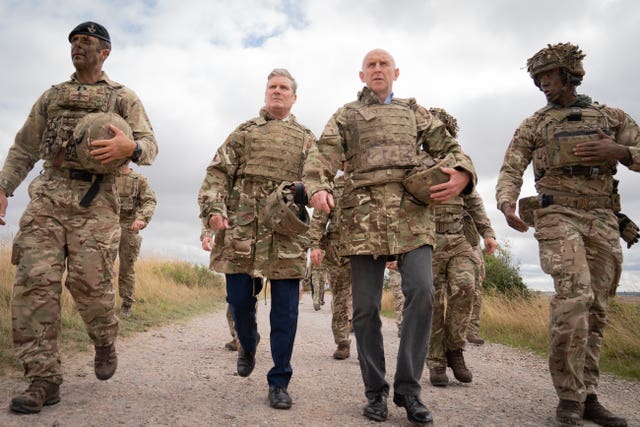 "At a time when many are cutting back, ministers have no grip on the rampant waste in their department.
"This Conservative Government is failing troops and taxpayers."
Mark Serwotka, general secretary of the Public and Commercial Services union, which is embroiled in a bitter dispute with the Government over pay, jobs and pensions, said: "The Government tells us it can't afford to give our hard-working members a pay rise, yet it manages to find almost £18 million to pay for hire cars and chauffeurs.
"The Government must come to the negotiating table with some money to help our members through the cost-of-living crisis and beyond."
An MoD spokesperson said: "We are committed to delivering value for money and our current contract for non-operational vehicles aims to deliver savings of around £152 million over six years.
"Defence travel has increased this year with fewer Covid restrictions in place, and as a large organisation with remote sites across the UK, and bases all over the world, our staff have to travel to locations that are not always accessible by public transport and therefore a hire car or taxi is the most efficient and cost-effective way to travel."
The Phoenix II contract covers all the so-called Top Level Budget areas of the MoD, including land forces, air command, defence equipment and support, joint forces command, Navy command, head offices and corporate services and defence infrastructure organisation.
The Phoenix II contract provides a mixture of leased and rental vehicles including cars, minibuses, coaches, vans and freight transport, as well as specialist vehicles ranging from dog vans and horse ambulances to mountain rescue vehicles.
Other FoI replies show that in the 2021-22 financial year, the Cabinet Office spent £1.619 million on hire cars and taxis, compared with £0.884 million in 2020-21 – which the department said was a particularly low year due to restrictions put in place relating to the Covid-19 pandemic.
The Department for Transport has spent £67,693 on hire cars in the 2022/23 financial year, compared with £60,406 in 2021/22, and £34,501 on taxis. The previous year's figures for taxis is yet to be confirmed.