The 50-year-old was detained under the Terrorism Act following a search in the Dungiven area on Friday.
A man has been arrested in Co Londonderry by detectives investigating potential criminality linked to last week's major PSNI data breach.
The 50-year-old was detained under the Terrorism Act following a search in the Dungiven area on Friday.
He is being questioned at Musgrave Serious Crime Suite in Belfast.
Detective Chief Superintendent Andy Hill said officers are investigating the sharing of information from the data breach, and will deal with any criminality identified "robustly".
"We continue to work toward establishing those who possess information relating to last week's data breach, and will take action to ensure that any criminality identified is dealt with robustly to keep communities, and our officers and staff who serve them, safe," he said.
Earlier this week, a 39-year-old man was detained following a search in Lurgan, Co Armagh as part of the same investigation.
He was questioned on suspicion of collection of information likely to be of use to terrorists, and later released on bail to allow for further police enquiries.
Last week, the Police Service of Northern Ireland (PSNI) revealed a document had mistakenly been shared online in response to a Freedom Of Information request which included the names of about 10,000 officers and staff.
Details released included the surname and first initial of every employee, their rank or grade, where they are based and the unit they work in.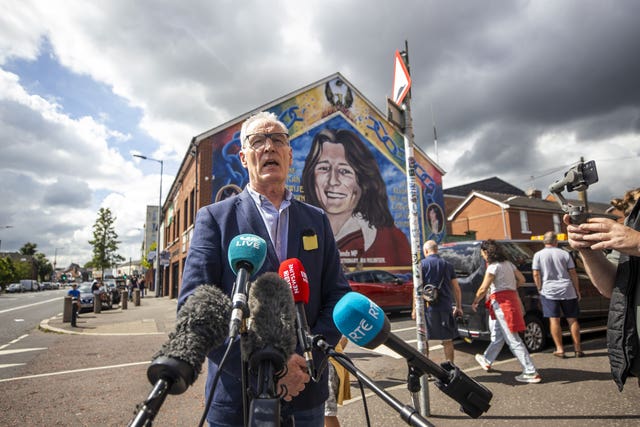 This week, PSNI Chief Constable Simon Byrne said he believed the information was in the hands of dissident republicans.
It followed the posting of documents from the leak on a wall near a Sinn Fein office in Belfast.
Many officers have expressed concern for their safety in Northern Ireland, where police are under threat from terrorists – with the current level of threat assessed as severe, meaning an attack is highly likely.
Earlier this year, dissident republicans were blamed for the attempted murder of senior PSNI detective John Caldwell.