Fifa president Gianni Infantino previously said women must 'push the door' to equality.
A lawyer who helped the US women's football team secure equal pay has said the Lionesses have "significant power" to bargain with the FA and Fifa over their own salaries and bonuses.
Nicole Saharsky told the PA news agency "the tide has turned" in the pay dispute, and footballing authorities would be "well served" in not limiting its investment in the women's game given England's success.
Her words come after Fifa president Gianni Infantino said women who "pick the right fights" can "convince us men what we have to do" – adding that women must "push the door" to equality.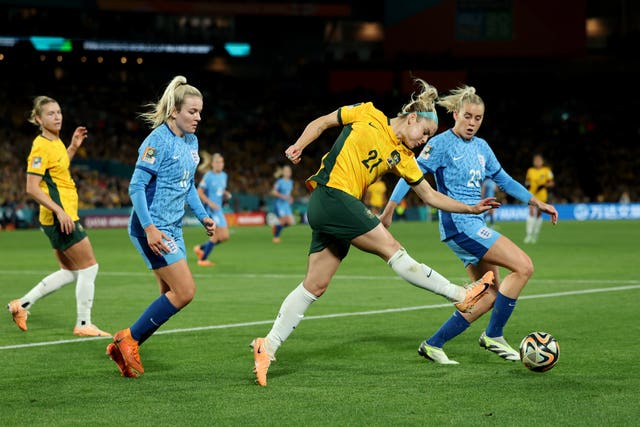 Recent reports have suggested the Lionesses are currently unhappy with their performance-related bonuses at the World Cup.
England will play Spain in the final for their share of an increased prize pot of 110 million US dollars (£86.1m) – significantly less than the 440 million USD (£346m) Fifa awarded at the 2022 men's competition in Qatar.
Asked whether the women's team had a strong argument for negotiating better pay and investment, Ms Saharsky said: "Well, I think it's strong.
"I think that the argument has gotten stronger for everyone since the World Cup in 2019.
"Now the FA is behind equal pay, I think the women's team has had has had a dispute related to bonuses right now that they wanted to wait and work out after the World Cup but definitely the tide has turned in favour of equal pay for the women's teams and I think it's only going to continue getting better from here."
Ms Saharsky, who is a partner at global law firm Mayer Brown, continued: "I think that for many years, there was a perception by the Federation's and from Fifa that the women's sport was just not going to make as much money as the men's sport or get the global attention of the men's sport.
"What has happened in the last few years has shown that that's just not true.
"The Euros got incredible viewership, got incredible ticket sales – the Lionesses have been selling out Wembley Stadium.
"When you sell out Wembley Stadium, you just have a lot more bargaining power in terms of being able to meet with the Federation and get equal pay and get good working conditions and everything else.
"So I don't think it's necessarily a comparison between the women's teams and the men's teams.
"I think it's now become clearer, through the World Cup and through many other tournaments, that people are interested in women's sports, that women's sports sell jerseys, they sell tickets, they sell broadcasting rights.
"They make money and when the public is there wanting to get involved and watch the teams, it just is going to mean more and more success in terms of the women getting equal pay and better benefits."
Despite the reported argument over bonuses, Ms Saharsky said she had no reason to believe the FA wants to "limit its investment" in the Lionesses.
She told PA: "It seems to me that you've got an entire country behind this team and excited for this team, wanting this team to succeed this weekend and continue to succeed.
"So if you're the Federation in those circumstances, I think they would be well served to help the team continue to succeed as opposed to saying 'the investment that we've done to this point is enough'.
"But I have no reason to believe that the the FA wants to limit its investment to where it is now.
"I think everyone is excited about what the team has been achieving and what it can continue to do do going forward.
"The fact that the team has been so successful in the World Cup selling jerseys, selling out stadiums… it gives those players significant power to bargain with the with the Federation."