Home Office minister Robert Jenrick said he agreed with the deputy Tory chairman over his comments on refugees complaining about accommodation.
Ministers have continued to back senior Conservative Lee Anderson after he reportedly said asylum seekers complaining about being moved to an accommodation barge should "f*** off back to France".
Immigration minister Robert Jenrick said the deputy Tory Party chairman was expressing the "deep frustration of a large body of the British public" through his remarks about those objecting to being given a bed on board the Bibby Stockholm in Portland, Dorset.
"I think everyone chooses their own language but I think the point Lee Anderson was making is a fair one which I agree with," Mr Jenrick told LBC.
Justice Secretary Alex Chalk said on Tuesday that there was "a lot of sense" in what the former Labour aide had said.
Labour criticised the comments, calling them "wrong" and accusing the Tories of using them to distract from their record on immigration.
But despite agreement on the Ashfield MP's barge comments, Mr Jenrick said he did not concur with Mr Anderson's argument that the Government had "failed" to stop migrants crossing the English Channel in small boats.
Prime Minister Rishi Sunak has made stopping the boats one of his five key pledges ahead of next year's likely general election.
Mr Anderson told GB News on Tuesday: "I'm not going to sit here and make excuses to anyone. This is out of control.
"We are in power at the moment, I'm the deputy chair of the Conservative Party. We are in Government and we have failed on this — there is no doubt about it.
"We have said we are going to fix it — it is a failure."
Mr Jenrick told BBC Breakfast he disagreed with that part of the deputy chairman's claims, arguing that "we've put in place a number of things in the course of the last few months which are already seeing dividends".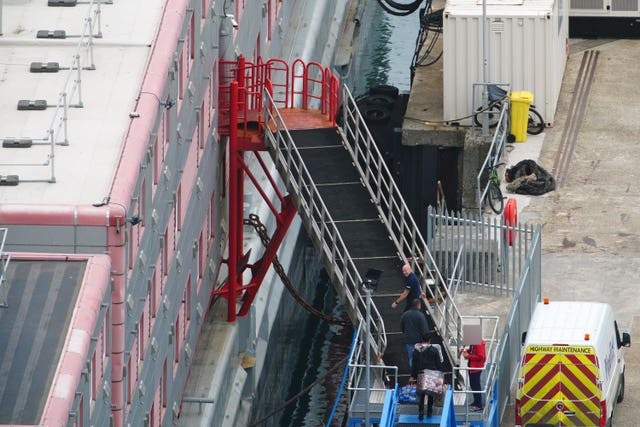 He said the migrant crisis was an "incredibly complex international challenge" and proposed that the UK had the "most comprehensive plan of any European country to tackle this".
The Home Office minister told broadcasters that, as of Wednesday, about 20 men were on board the Bibby Stockholm barge, with the plan to steadily increase that number over several weeks.
The Government has said the vessel, which was initially designed to fit about 200 people, has a 500-person capacity, with occupants due to share rooms.
While asylum seekers started boarding on Monday, around 20 migrants challenged the decision through lawyers.
On those complaining about the accommodation, Mr Anderson told Express.co.uk: "If they don't like barges then they should f*** off back to France."
Defending the comments, Mr Jenrick told BBC Radio 4's Today programme: "I think what Lee was expressing was the fact that the accommodation we are providing as a country at huge expense – billions of pounds a year – is decent, it is good quality, it meets our legal obligations.
"It doesn't need to be luxurious, we shouldn't be putting people up in four-star hotels. The barge we are using in Portland that has been the subject of some interest has been used for oil and gas workers, it has been used by other countries.
"Barges like this are used in Belgium, in the Netherlands. The Scottish Government have used a similar vessel for Ukrainian refugees. So if it is good enough for all those people then it should be good enough for the migrants."
But shadow home secretary Yvette Cooper said the Conservative Government was "promoting division" and "lashing out" due its own failures on tackling unlawful migration and the asylum backlog.
The senior Labour MP told Today: "It is clearly the wrong language to use and it is ramping up the rhetoric as a distraction from the fact the Government is failing.
"One thing Lee Anderson did say, he did admit that the Government is failing to tackle the boats crisis. What we need is grip rather than gimmicks, we need solutions rather than just this ramping up the rhetoric all of the time.
"And that is the problem — because they are failing, because they have been flailing around for years while they have just made things worse with the policies they have pursued, they have ended up now lashing out trying to promote division and trying to find someone else to blame.
"That is not what responsible governments do. They should be getting on with trying to solve the practical problems around the gangs and around the backlog."