Kiea McCann, 17, one of two best friends who died in a road crash before her school's Debs ball, was laid to rest following a funeral in Co Monaghan.
A teenager who died with her best friend on the way to their school's Debs ball has been described as a "kind, whole-hearted, genuine" girl who "respected others irrespective of race and creed".
A funeral mass for Kiea McCann, 17, who died in a road crash with her "soul friend" Dlava Mohamed, 16, was held at the Sacred Heart Chapel in Clones, Co Monaghan.
At the same time, a funeral for Dlava took place at a mosque in Dublin.
Students from Largy College and principal Sharon Magennis were among mourners who lined the steps of the church in Clones, while motorcycles revved in tribute to the racing fan ahead of the arrival of the hearse topped with floral tributes.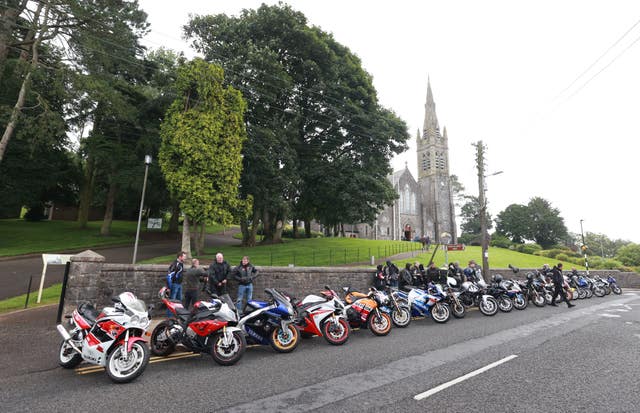 Many among Kiea's family and loved ones wore light blue T-shirts – bearing a photograph of the teenager wearing her red formal dress – as they walked behind the hearse.
Representatives for Irish president Michael D Higgins and Taoiseach Leo Varadkar joined the local community in the pews, as well as the Church of Ireland Bishop of Clogher Ian Ellis
There was a pause for silence for those who were injured in the crash.
Father John Chester said the deaths of the teenagers "shocked and saddened the nation".
Delivering his homily, Fr Chester said Kiea had been looking forward to a career in child care.
He said many had been reflecting on how popular Kiea was among her friends.
"She had a great sense of humour, pleasantly mischievous and innocent," he told mourners.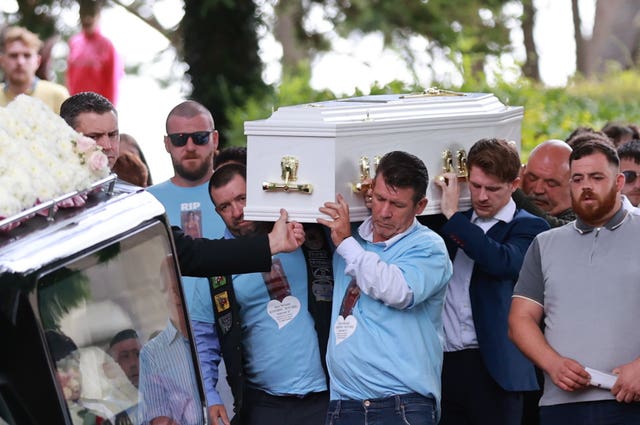 "She, like her peers, was rarely off the iPhone keeping in touch. She kicked football with her close circle of friends, played pool, enjoyed music and the weekend discos.
"Kiea was kind, whole-hearted, genuine. She respected others irrespective of race and creed."
Fr Chester said the two girls would have been "most proud" of how the "deeply united" community in Clones had come together, with streets lined by people paying their respects.
"Family was hugely important to Kiea, she was a very family oriented girl who was everybody's favourite, and our hearts are broken, not only for Kiea and Dlava, but for all of those left behind after this terrible tragedy," he added.
The priest went on to pay tribute to Dlava as a "gorgeous soul who radiated goodness".
"The college community is heartbroken. It is a tragedy that, along with their families, the management, staff and fellow students, will not get to see these amazing young women express the full potential of their kind spirits and abundance of gifts," he said.
Following the service, mourners carried single white roses as they followed the hearse to Mount St Oliver's Cemetery where Kiea was laid to rest.