Conservative MP Steve Brine expressed concern over the effectiveness of the inquiry announced by the Government.
A judge-led statutory inquiry should examine the crimes of serial killer Lucy Letby, the Conservative chair of the Health Select Committee has warned.
Steve Brine expressed concerns the non-statutory independent inquiry, announced by the Government, will not have the power to compel witnesses, and could drag on for years and "disappear down a rabbit hole".
Letby, 33, was convicted on Friday of the murder of seven babies and the attempted murder of six more during her shifts on the neonatal unit at the Countess of Chester Hospital between 2015 and 2016.
Mr Brine told BBC Radio 4's Broadcasting House: "What I want to see to be absolutely clear is not a process that drags on for years, an inquiry that can disappear down a rabbit hole … (I want) one that is effective.
"I can't actually see how it's anything but helpful to ministers, to that effectiveness, for this inquiry to have everything that it needs to conduct it, including a judge."
Mr Brine said some witnesses "may not be so willing" to co-operate with the investigation into the specific circumstances at Chester and the assessment of previous inquiry recommendations designed to prevent incidents at hospitals.
"The two things that draw them together is the need for public confidence. I can't see how anything other than a proper judge-led statutory inquiry would do that," he said.
Letby is due to be sentenced on Monday, but has indicated she does not want to take any part in the hearing.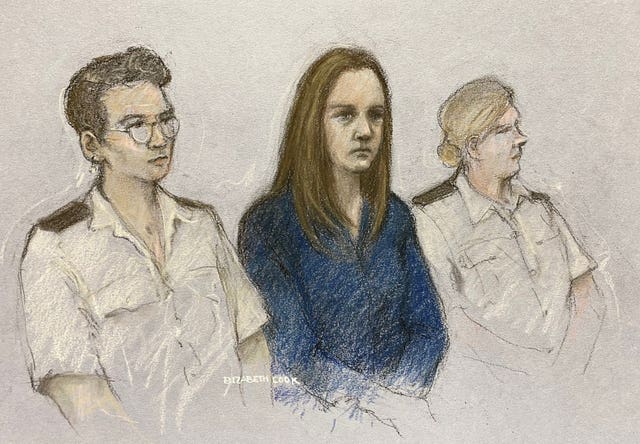 Earlier this year, Justice Secretary Alex Chalk said the Government is "committed" to changing the law so criminals are compelled to attend their sentencing hearings.
Mr Brine said: "Lucy Letby 100% should be present to face the music and Parliament should legislate to make sure that defendants do so."
Former justice secretary Robert Buckland told GB News that the sentencing should be played into Letby's cell regardless of her wishes and she should have to listen to the victim statements from the families of the babies she murdered.
"Sadly, the court's hands are tied at the moment. I mean, my suggestion would be to make sure that there was a live link beamed into the cell of the sound and/or send pictures to ensure that Letby has nowhere to hide and in fact has to listen to what the judge is saying about the case," he said.
"Most importantly, she needs to hear the victim's personal statements as impact statements that will really bring home I think, to the wider world, the appalling devastating impact of the loss of these innocent children, these innocent babies, have had upon dozens of families."
Meanwhile, police have been urged to probe hospital bosses for potential corporate manslaughter.
The prosecution's lead medical expert, retired consultant paediatrician Dewi Evans, says he will write to Cheshire Constabulary to ask it to investigate "grossly negligent" bosses for not acting on fears about Letby while she was on a killing spree, the Observer reported.
Bosses also blamed other NHS services for a number of the unexplained deaths – and in a review in May 2016 said there was "no evidence whatsoever against (Letby) other than coincidence", the newspaper reported.
Consultants who raised concerns about Letby as far back as 2015 have said babies could have been saved if hospital management had listened and acted sooner.
The Countess of Chester Hospital's neonatal unit head consultant, Dr Stephen Brearey, first raised Letby's association with an increase in baby collapses in June 2015.
He told the Guardian that deaths could arguably have been avoided from as early as February 2016 if executives had "responded appropriately" to an urgent meeting request from concerned doctors.
Police were contacted only in 2017.