Fans are waiting to pay their respects to the Irish singer outside her former home in Bray, Co Wicklow.
The imam who will be leading the Muslim funeral prayer for Sinead O'Connor said it is "an honour" to be part of the occasion.
Shaykh Dr Umar Al-Qadri, an Islamic scholar and Chief Imam at the Islamic Centre of Ireland, met the star in 2018.
He said he was "incredibly grateful" for the opportunity to celebrate her life.
Fans have been gathering outside the former home of the star in Bray, Co Wicklow, before the funeral cortege passes after a private service.
Roads have been closed so fans can pay their respects before the procession moves on to the private burial.
The imam said: "Today, I am incredibly grateful for the opportunity to lead the Muslim funeral prayer for the daughter of Ireland, Sinead O'Connor aka Shuhada Sadaqat.
"It is an honour to be part of this occasion, and I extend my heartfelt appreciation to the family for recognising and embracing her Muslim identity."
Irish president Michael Higgins said he would be attending the service.
He said in a statement: "The outpouring of grief and appreciation of the life and work of Sinead O'Connor demonstrates the profound impact which she had on the Irish people.
"The unique contribution of Sinead involved the experience of a great vulnerability combined with a superb, exceptional level of creativity that she chose to deliver through her voice, her music and her songs.
"The expression of both, without making any attempt to reduce the one for the sake of the other, made her contribution unique – phenomenal in music terms, but of immense heroism.
"However, achieving this came from the one heart and the one body and the one life, which extracted an incredible pain, perhaps one too much to bear.
"That is why all those who are seeking to make a fist of their life, combining its different dimensions in their own way, can feel so free to express their grief at her loss."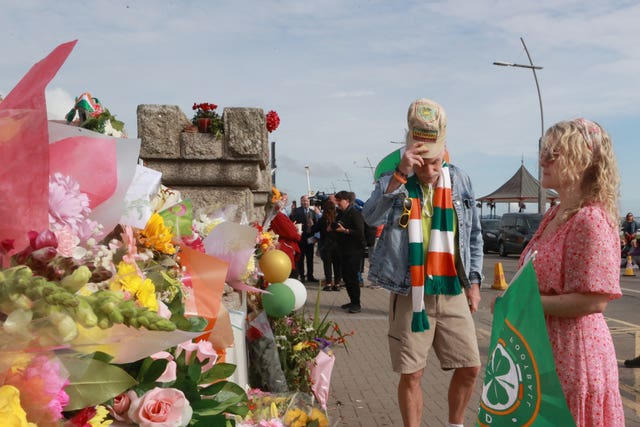 Hundreds of people are waiting to pay their respects to O'Connor when the cortege passes by, with some sitting on top of walls.
Many joined in singing along to her songs while others wiped away tears.
A statement from the gardai said: "In keeping with her family's wishes, following a private service, members of the public will be able to pay their respects and are asked to gather at the Strand Road/Promenade area between 11.30am and 12.30pm.
"It is expected the funeral procession will stop briefly in this area at some stage between these times.
"As there is limited parking on the seafront, An Garda Siochana are advising people to use public transport if possible as the Dart can bring people right to the location.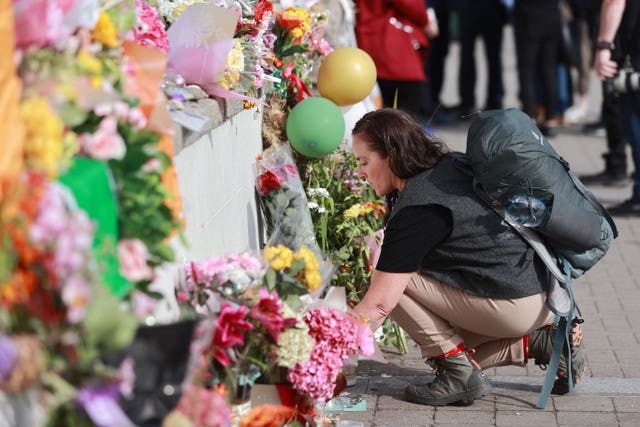 "It is expected road closures will be in place from 11.30am to 12.30pm in the Strand Road/Promenade area and all other traffic will be diverted on to the Adelaide Road.
"Gardai will be in attendance and, if needed, further rolling road closures may be put in place."
Train services into Bray in Co Wicklow are "significantly busier than normal", a spokesman for Irish Rail said in a statement to the PA news agency on Tuesday.
He added: "Our station manager advises me the last three trains arriving in particular have been quite busy, and that's expected to continue over the next hour."
Handwritten notes outside O'Connor's former home thanked her for sharing her voice and her music.
One note said: "You are forever in my heart."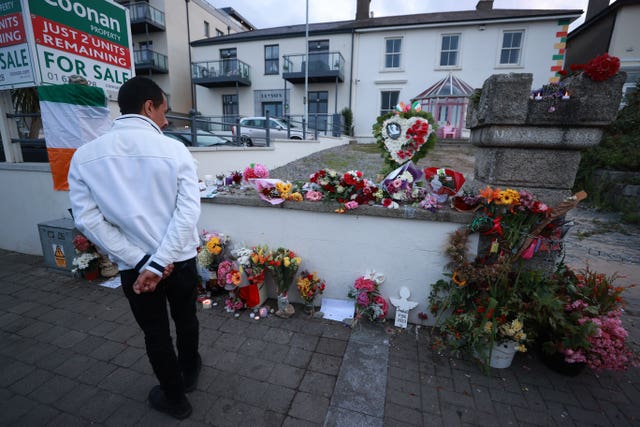 A pink chair was placed outside the pink-framed conservatory of the house, with pink flowers, candles and a photo of the singer placed at the base of the chair.
A heart-shaped floral bouquet featured a picture of the star and two Irish flags.
One sign left at the wall of the property listed causes that the singer had expressed support for, including welcoming refugees.
It read: "Where words fail, music speaks."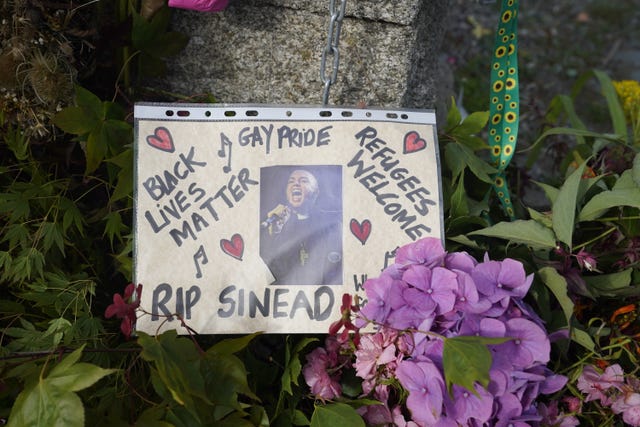 A neighbour was also seen putting candles on the wall that separated the two properties.
Decorated with flowers and Pride flags, a Volkswagen camper van arrived playing some of O'Connor's songs from speakers mounted on the roof for the gathered crowds.
O'Connor's family have asked people who wish to say a "last goodbye" to stand along Bray seafront as the cortege passes by.
The procession is expected to start at the Harbour Bar end of the Strand Road and will continue past her former home, Montebello, where she lived for 15 years.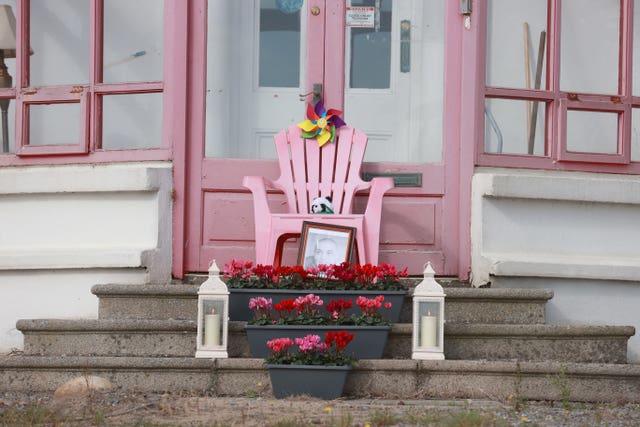 Since O'Connor's death on July 26, people have been leaving flowers and paying their respects at the house, which the singer sold in 2021 and now lies empty.
"Sinead loved living in Bray and the people in it," a statement issued by her family said.
"With this procession, her family would like to acknowledge the outpouring of love for her from the people of Co Wicklow and beyond, since she left last week to go to another place."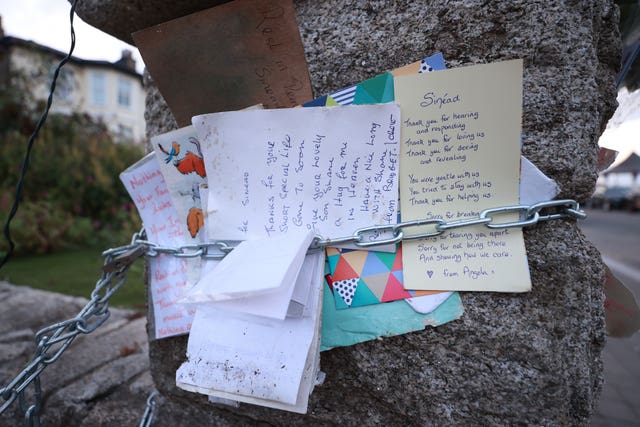 The Grammy-winning singer was found unresponsive by police at her south-east London home at the age of 56.
A host of tributes have flooded in from fans and famous artists across the world in response to her death, including Russell Crowe, Annie Lennox, Cyndi Lauper and Bob Geldof.
A councillor for Bray East said fans are "grateful" to the family for allowing them the opportunity to "say goodbye" to the singer.
Erika Doyle told BBC Breakfast: "I was a lifelong fan of Sinead. We met quite by chance when she moved to Bray. Sinead, although she was attached to Bray and very Irish, she was a global superstar, that is easy for us to forget here in Bray – she touched lives across the world."
She added: "Sinead's legacy is still being written and I think it will for some time. We are very grateful to Sinead's family for allowing the opportunity to say goodbye.
"People are taking the opportunity to connect with her in some way."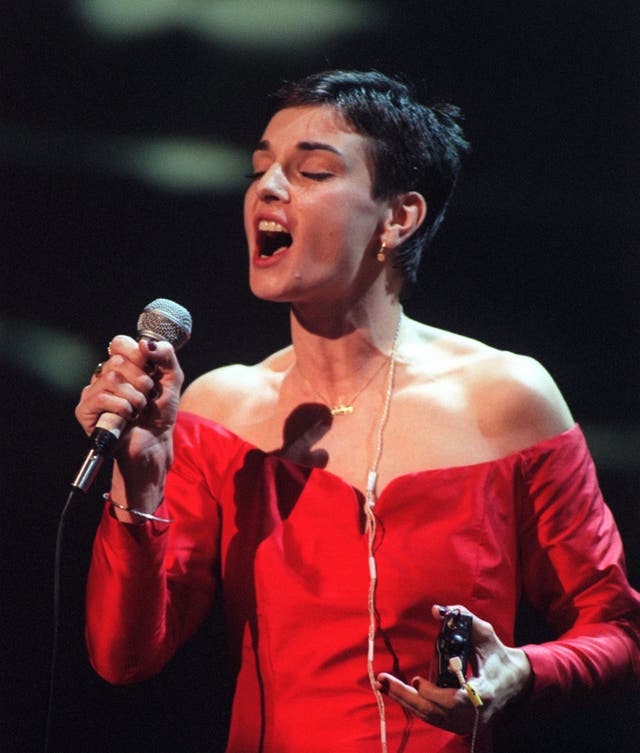 Several gatherings were held in the days after O'Connor's death, in Dublin, Belfast and London, where members of the public paid tribute to her legacy as a musician and activist.
O'Connor, who was born in Dublin in December 1966, released her first album, The Lion And The Cobra, in 1987.
Her second studio album, I Do Not Want What I Haven't Got, followed in 1990 and contained the hit single Nothing Compares 2 U, which saw O'Connor top the charts around the world.
The track earned her multiple Grammy Award nominations, including in the prestigious record of the year category, as well as best female pop vocal performance and best music video.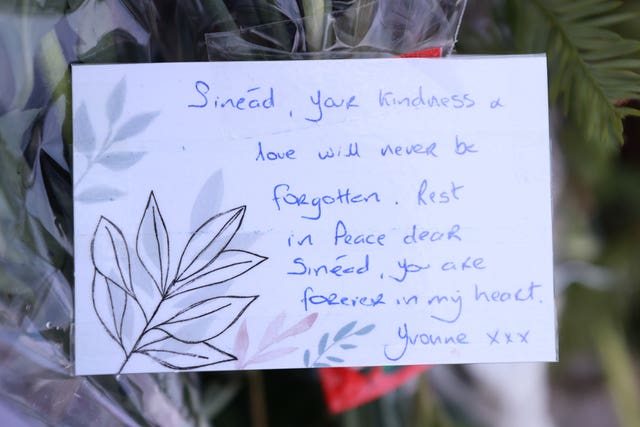 In 1991, she was named artist of the year by Rolling Stone magazine and took home the Brit Award for international female solo artist.
She released a further eight studio albums, the latest being 2014's I'm Not Bossy, I'm The Boss.
In 2018, O'Connor announced that she had converted to Islam and changed her name to Shuhada' Sadaqat.
Following her death, her music management company, 67 Management, said she had been finishing a new album, reviewing tour dates for next year, and was also considering "opportunities" around a film of her book.
O'Connor's death is not being treated as suspicious.
A London coroner did not find a medical cause of death and suggested that post-mortem examination results may take several weeks.