Northumberland Estates says its plans would help provide an income stream for conservation works to Syon House.
An attempt by the Duke of Northumberland to replace allotments with dozens of new homes on his Syon House London estate is simply an effort to "line" his "already deep pockets," a public inquiry has heard.
Ralph Percy, the 12th Duke of Northumberland, lost an application in October 2021 to build 80 flats on part of his Grade I listed Syon Park estate in west London after the council received more than 900 objections from locals to the plans.
A loss of local open space (LOS) was one reason behind Hounslow Council's planning committee decision to refuse planning permission.
Strong opposition to the proposals was aired as an appeal brought by the Northumberland Estates (NE) development company began on Monday.
Local residents, councillors and allotment holders plus the Labour MP for Brentford and Isleworth and former Hounslow councillor Ruth Cadbury were among those who spoke at an appeal hearing about why they feel the scheme should be rejected.
Northumberland Estates says its plans would help provide an income stream for conservation works to Syon House, which is privately-owned but still open to the public.
Key worker housing for the neighbouring West Middlesex University Hospital has also been promised and there would still be a place for those who use the allotments, the inquiry heard.
Isleworth councillor Salman Shaheen, who stressed the value of the Park Road allotments, stated that "its stakes for our community, for my constituents and for our environment can not be understated".
He described it as "an ill-conceived plan designed not to support a treasured historic asset, but to destroy one for private gain."
He said: "Hounslow has comfortably met its housing targets by allowing development on the ample brownfield sites in the area – that we have been able to do so without paving over our green space makes me ask what the imperative would be to change that now except to line the duke's already deep pockets?"
He added that "a man richer than the King has shown no evidence to prove that the only way to fund the repairs to one historic asset is by destroying another historic asset".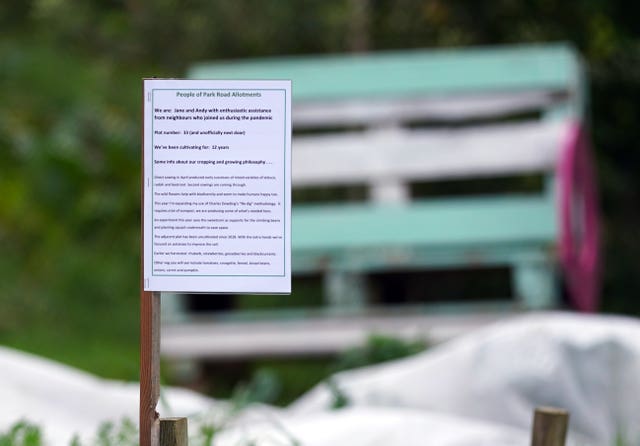 A round of applause broke out and some people rose to their feet as he finished his statement of objections.
The inquiry heard that the Isleworth site has been used as allotments since 1917 when the duke's ancestor leased the land to the council to help in the aftermath of the First World War.
Claire Niven, for the Park Road Allotment Association, said that Northumberland Estates was proposing "sacrificing 71% of allotments at the heart of a community they have served for over 100 years".
It was first used to help the local community in the aftermath of the First World War and and "over a century later, the site continues to be a haven for allotment holders, their friends and families as well the wider local community – in good as well as difficult times".
Ms Niven added: "Access to this green open space was crucial during the Covid-19 pandemic and the importance to allotment holders and their families of cultivating their own fruit and vegetables during a cost-of-living crisis is obvious.
"Importantly the benefits provided by this site extends beyond the allotment holders to the wider community which benefits from nature walks, open days, litter picking, apple and blackberry picking and donations to food banks organised by allotment holders."
Ed Grant, for the council, told the inquiry that the Northumberland Estates scheme would provide "the same or nearly the same number" of the 38 allotments which previously existed.
Mr Grant said "that is an assertion made possible by only by providing very small allotments, suitable only for beginners, rather than an appropriate range of sizes".
Ms Cadbury said she felt she needed to speak at the appeal hearing because of "the sheer weight of local public opposition, but also because I feel the planning case for the application is very weak".
She said: "In my view, given the future uncertainty over the balance of supply and demand for housing sites in the borough, this application does not warrant the loss of allotment land, the loss of an active community asset and the loss of significant ecological benefits."
She added: "This small site would make relatively little contribution to the overall housing supply.
"There are other larger sites with outstanding permissions that have not yet been built out.
"Furthermore, there will almost certainly be new sites coming available in due course as result in the change in demand for commercial premises with the change in post-Covid work patterns."
Earlier, Melissa Murphy KC, for Northumberland Estates, said "quantitative improvements are proposed" and the project would be a "well-located, well-designed scheme which delivers 40% affordable housing.
She also noted that Syon House is privately-owned but open to the public.
Period dramas such as The Madness Of King George, Emma starring Gwyneth Paltrow, and Gosford Park have been filmed there.
Ms Murphy said: "It is much visited, much loved, greatly valued.
"It is also in need of money to be spent on it.
"The works proposed – repairing the external Bath Stone, restoring the Robert Adam State Rooms, will lead to a magnificent result, a building gloriously restored, to be enjoyed for years to come."
The hearing was adjourned to Wednesday at 10am.