The docu-series will follow competitors from around the world on their journey to the Games.
The Duke of Sussex's Heart Of Invictus documentary is to finally be aired on August 30, Netflix has announced.
There had been speculation the docu-series had been cancelled by the streaming giant, but it will now be released in the run-up to next month's Invictus Games in Dusseldorf.
Harry is its executive producer and the show forms part of the Sussexes' multimillion-pound deal with Netflix – with their main output so far being last year's controversial Harry & Meghan documentary.
The six-part series in December saw the duke and duchess shed light on their troubled life within the royal family, accuse Kensington Palace of lying to protect William, and Charles, now King, of lying at the Megxit summit.
Meanwhile, the couple's other lucrative media deal – with Spotify – ended in June after one season of Meghan's podcast Archetypes.
Netflix unveiled its first trailer for the Heart Of Invictus limited series on Wednesday.
Harry is seen addressing the camera, saying: "The Games doesn't focus on what causes the injury but really about the recovery and how to be part of a community again."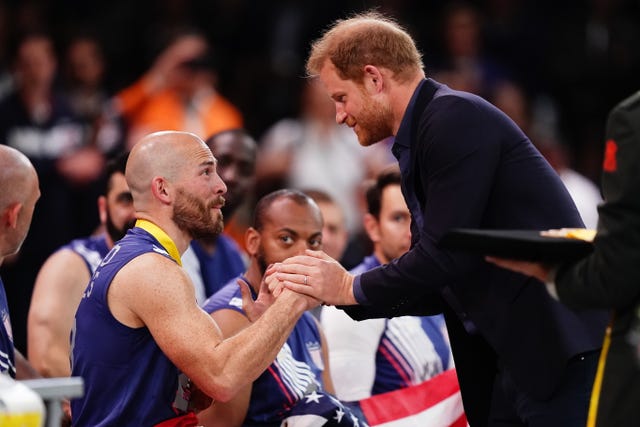 The duke is also pictured meeting competitors and saying "Everyone is going to struggle at some point".
Netlix said: "Heart Of Invictus follows a group of extraordinary competitors from around the globe: service members who have experienced life-changing injuries or illnesses on their road to the Invictus Games. Coming August 30."
Competitors discuss the challenges they have faced, and one woman says in Ukrainian: "To rehabilitate myself, I need Invictus. But war does not allow us to relax."
Another woman is seen talking on a group video call, before she stops as shelling begins nearby.
The footage includes Harry appearing on stage at the Invictus Games, which he founded in 2014 as a paralympic-style sporting competition for injured and sick military personnel and veterans.
He says: "If your goal was to make your country proud, you've done it… If your goal was to make your family happy, you've achieved it… You are people of substance, of resilience, of strength. You have the heart of Invictus."
The series, which was first announced more than two years ago, has been made by Harry and Meghan's Archewell Productions company.
It is directed by Orlando von Einsiedel and produced by Joanna Natasegara, who worked together on the Oscar-winning short The White Helmets.
A camera crew for the project joined Harry and Meghan when they visited the Games in The Hague in the Netherlands in 2022.
Harry is set to travel to Germany for the next tournament which begins on September 9.