The Duke of Sussex says in his memoir Spare that the couple 'howled' with laughter at his costume, according to US website Page Six.
05 January 2023
The Duke of Sussex has claimed the Prince and Princess of Wales encouraged him to dress up as a Nazi and "howled" with laughter when they saw him in the costume.
Harry, then 20, sparked widespread international outrage in 2005 when he was pictured on the front of The Sun wearing a swastika armband as a Nazi soldier from the Afrika Korps.
The media storm surrounding his choice of fancy dress for a "Colonials and Natives" party was a major blow to his reputation and he has described it in his Netflix documentary as "probably one of the biggest mistakes of my life".
Calls were made at the time for Harry, who was then third in line to the throne, to cancel his plans to join the Army, and the Anti-Nazi League described his actions as "grossly insensitive to the many millions of people whose family members were slaughtered in the Nazis' Holocaust".
In a statement following the incident, Harry said: "I am very sorry if I caused any offence or embarrassment to anyone. It was a poor choice of costume and I apologise."
But the US website Page Six reported on Thursday that, in his new explosive memoir Spare, Harry lays part of the blame on William and Kate.
He claims he called the couple to ask them whether he should chose a pilot's uniform or a Nazi one for the fancy dress party and William and Kate said the latter, and both howled with laughter when he went home and tried it on for them.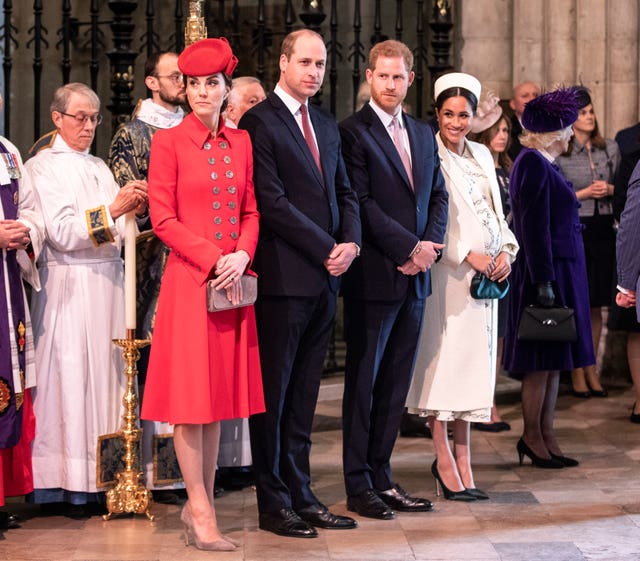 "I phoned Willy and Kate, asked what they thought. 'Nazi uniform', they said," Harry writes, adding that when he went home and tried it on for them: "They both howled. Worse than Willy's leotard outfit! Way more ridiculous! Which, again, was the point."
William went as a lion, wearing black leggings and furry paws.
Royal author Robert Lacey revealed in his Battle Of Brothers book, published in 2020, that William and Harry's first serious rift developed after the Nazi costume scandal.
Lacey wrote that Harry "chose his costume in conjunction with his elder brother" and that William "had laughed all the way back to Highgrove with the younger sibling he was supposed to be mentoring".
Harry was left feeling resentful and alienated and the response to the incident prompted him to reconsider his older brother's involvement and the differing treatments of the pair.
In a 21st birthday interview with the PA news agency, Harry said of the Nazi costume fiasco: "Looking back on it now, and at the time as well, it was a very stupid thing to do and I've learnt my lesson, simple as that really.
"I'm very sorry if I offended anybody. I'd like to put it in the past now. What's done is done. I regret it."
He also spoke in 2005 of his closeness to William.
"I mean, ever since our mother died… obviously we were close, but he is the one person on this earth who I can actually really, you know, we can talk about anything," he said.
Kensington Palace has declined to comment.