Chris Lewis, 43, began his walk on August 1 in 2017.
A former British paratrooper who set off to walk the UK coastline six years ago has just one mile left – and will cross the finish line with his partner, dog and baby son on Saturday.
Chris Lewis, 43, has walked more than 19,000 miles since leaving Llangennith beach on the Gower Peninsula, near his home city of Swansea, South Wales, on August 1 2017.
He set off from the beach alone, with just £10 in his pocket and a few days of supplies, in a bid to raise funds for SSAFA, the Armed Forces charity.
Since then, Mr Lewis has raised more than £350,000 for the charity, adopted a dog called Jet, fallen in love and become engaged to Kate Barron, 36, who has joined his walk.
The couple welcomed their first child, a baby boy named Magnus Lewis, in May last year. They are hoping to reach £500,000 in donations for SSAFA through their walk.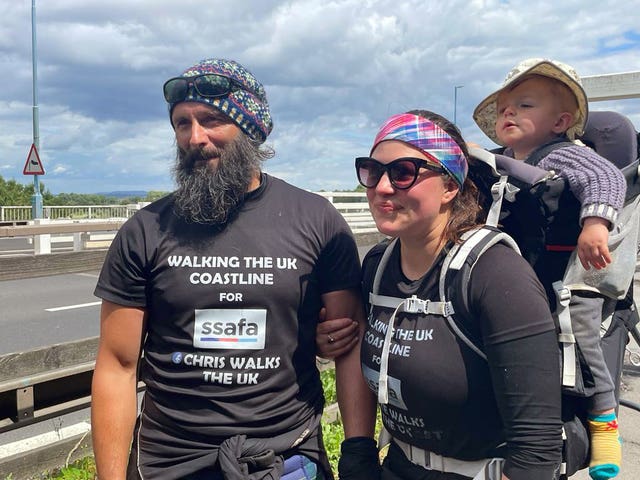 On Saturday, the family will be joined by supporters as they walk the final mile together – finishing on Llangennith beach at around 12.30pm.
Writing on Facebook, where Mr Lewis is followed by almost 150,000 people, the veteran described sitting looking down at the finish line with his family on Thursday.
He wrote: "Yesterday we sat in exactly the same spot where I stood six years ago when a voice came into my head and said 'walk the UK coastline'.
"The beautiful Rhossili looking down the cliffs towards Llangennith. It was an unbelievable and momentous moment for me to say the least.
"The man you see in this picture is a completely different man to the guy who stood here six years ago.
"The flame inside me back then was so dim it hardly had any life left in it. And now she burns stronger and brighter than ever before."
Mr Lewis said he was filled with pride for his daughter Caitlin, to whom he was a single parent, as well as Ms Barron, their son Magnus and his dog Jet.
He continued: "One mile left tomorrow and this adventure is over. What an incredible adventure it has been."
The adventure along the coast saw Mr Lewis spend the first coronavirus lockdown on an uninhabited Shetland island, Hildasay.
His bestselling book, Finding Hildasay, features a foreword by Ben Fogle who has supported Mr Lewis during his journey along with other famous faces including astronaut Tim Peake.
Mr Lewis served with 2nd Battalion, Parachute Regiment and struggled to cope after entering civilian life. He decided to walk the UK coastline after suffering with anxiety and depression.
The father-of-two was facing homelessness when he set off in August 2017, wearing an ill-fitting pair of borrowed boots with limited supplies.
Three years into the task, he met Ms Barron in Scotland and she joined his walk a few months later.
More than 147,000 people follow his Facebook page, Chris Walks the UK, while 26,000 people follow her page, Kate Walks the Coast.
Their fundraising page is https://www.justgiving.com/fundraising/chriswalks