IRA men Peter Ryan, Tony Doris and Lawrence McNally were shot dead in Coagh, Co Tyrone, in 1991.
A former British soldier has not yet complied with an order to give evidence to an inquest into the shooting of three IRA men in Co Tyrone in 1991.
The inquest into the deaths of Peter Ryan, Tony Doris and Lawrence McNally in Coagh, Co Tyrone, in June 1991, opened last year.
A review hearing at Laganside Courts in Belfast on Monday was told most of the evidence had been heard, with the exception of the testimony of a former soldier who has been granted anonymity, and is known as Soldier F in these inquest proceedings.
The former serviceman is not the same person as the Soldier F who is facing two counts of murder over the shooting of 13 civil rights protesters in Londonderry in 1972, an event known as Bloody Sunday.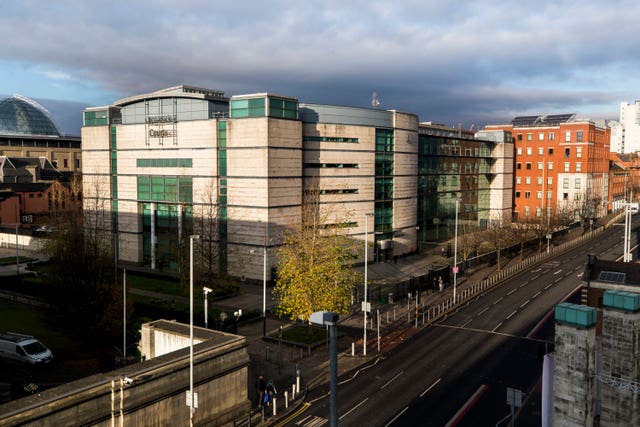 In terms of the Coagh inquest, a subpoena has been issued for the former soldier referred to as F to give evidence to Belfast Coroner's Court.
Counsel for Coroner Mr Justice Michael Humphreys told the hearing that Soldier F's representatives wrote last Friday to confirm he "did not intend to comply with this subpoena and did not intend to give evidence to the inquest sitting on Monday".
The coroner is set to apply to the High Court for a default certificate in relation to the subpoena.
Final submissions in the inquest are due by August 18.
There is set to be another review hearing on September 15 when an update will be given on how enforcement is proceeding and if Soldier F has reconsidered his position, the hearing was told.
Mr Justice Humphreys said he intends to press on with submissions "to allow the bulk of the work to be done" and allow him to begin writing his findings.
"Obviously there is and remains a live subpoena, and Soldier F could take the view at any stage that he wants to comply with the obligation imposed by that subpoena, and if he does then obviously we will accommodate that evidence as quickly as possible," he said.
"The position remains that the inquest is of course open, if the enforcement process, which has various stages to it, leads to a change of heart by Soldier F then it should be stressed that the parties won't be at any disadvantage as a result of that.
"I am reluctant to pause everything given other commitments that we all have coming up, it would be better to use the time scale that we have already provided for to do as much as we possibly can."
He added: "Everybody's interest here is best served by getting to the findings stage as quickly as possible, and I am conscious that one of the things that this slightly convoluted enforcement process will entail is that the courts of another jurisdiction will be ultimately likely to be in charge of what happens, and we have no control over how long that might take or what various stages might be engaged along any particular route."
The men at Coagh were intercepted on June 3, 1991 as they drove in a stolen car by SAS soldiers who suspected they intended to murder a member of the security forces.
All three were shot dead in a hail of gunfire.
Previous hearings were told up to 150 rounds were fired.