The Home Office had been expecting to send an initial group of people to the accommodation in Portland, Dorset, on Tuesday.
Final preparations are taking place this week to house migrants on a barge, Downing Street has said, amid reports the vessel has not received approval from local fire services.
The Home Office had been expecting to send an initial group of people to the accommodation for asylum seekers in Portland, Dorset, on Tuesday.
But The Times reported serious fire safety concerns about the facility, known as the Bibby Stockholm barge, with fire service approval pending.
One source told the paper of fears that the vessel could become a "floating Grenfell", in reference to the west London tower block tragedy in 2017.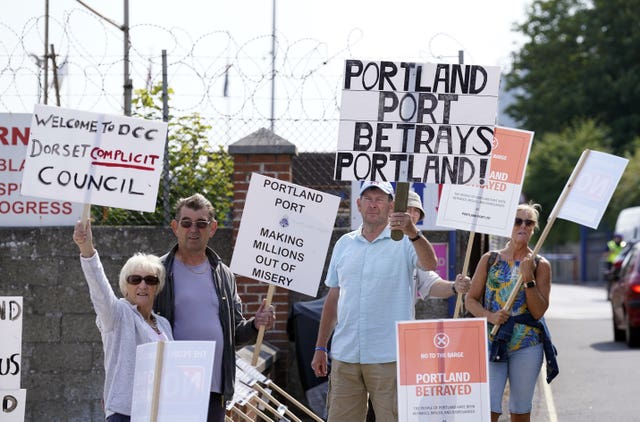 Asked about the plans, the Prime Minister's press secretary said on Monday: "The Bibby Stockholm is currently undergoing final preparations including fire safety checks.
"That's happening this week to ensure that it complies with all the appropriate regulations.
"There's been refurbishment that's been ongoing to ensure it complies with the marine industry safety regulations.
"As you'd expect, we continue to work extremely closely with the local council… to ensure the right preparations are in place before anyone boards."
Asked about reports that plans to move migrants into RAF Scampton in Lincolnshire have been delayed, the spokeswoman replied: "Work is ongoing to open (the) site at Scampton and we want that work to be done as soon as possible.
"I can't get into running commentary on expected timelines but eventually the site will accommodate almost 2,000 people."
Plans to move 2,000 migrants into the RAF camp have reportedly been delayed until October, after setbacks in conducting surveys on the 14 buildings designated for migrant accommodation.
The Times also reported the Home Office will this week move more migrants into accommodation at RAF Wethersfield, despite a number of positive results for tuberculosis being detected at the site in Braintree, Essex.
A department spokesperson said: "Delivering accommodation on surplus military sites and vessels will provide cheaper and more orderly, suitable accommodation for those arriving in small boats.
"The Bibby Stockholm is now undergoing final preparations to ensure it complies with all appropriate regulations before the arrival of the first asylum seekers in the coming weeks.
"In addition, the Home Office is working with stakeholders on a carefully structured plan to increase the number of asylum seekers at Wethersfield in a phased approach."