Munzir Salman was with his three children when Sudanese soldiers were ambushed by Rapid Support Forces officers outside his Khartoum block of flats.
A British-Sudanese father of three has said he told his children "it was like a hide-and-seek game" when his home was caught in the middle of a gunfight in Sudan.
Munzir Salman was at home in Khartoum with his three children when Sudanese armed forces soldiers were ambushed by Rapid Support Forces (RSF) officers outside his block of flats.
The 37-year-old, who has dual citizenship, spoke to the PA news agency while he and his children waited to fly to the UK via Larnaca, Cyprus.
He said: "What happened was some army soldiers were coming through and they were ambushed by the RSF.
"They then ran behind my house, and they were shooting at each other, I was in the middle.
"It was horrendous and, unfortunately, it's not the first time I've had gunshots around me. I'm a single father of three kids so I had to stay calm for them.
"I had to tell them it was like a game and told them it was like a hide-and-seek game.
"It was an experience they had never been through before, it was very scary but I tried to make it a game for them.
"I explained the danger before trying to make it like Tom and Jerry where the people outside were Tom and we were Jerry."
Mr Salman lived in Sudan until he turned 10 years old before moving to Toxteth in Liverpool, where he lived for 16 years.
He then moved to Dubai before moving back to Sudan in 2013 where he had his three children, Siddig, 11, Shaden, eight, and Yasmin, six, with his wife, who died during the coronavirus pandemic in 2020.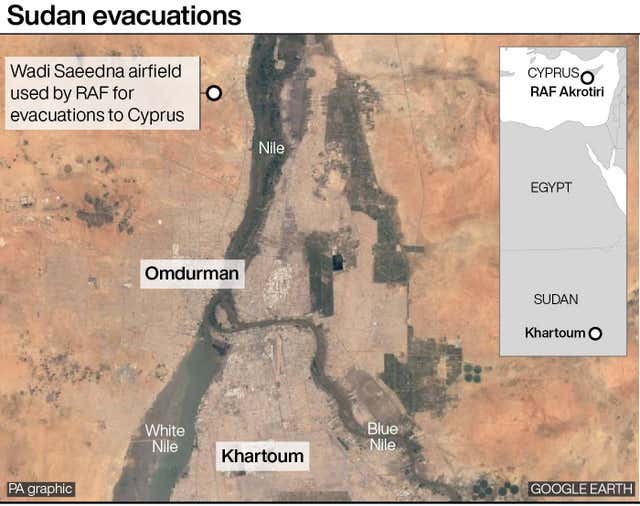 British nationals have faced dangerous journeys to the Wadi Saeedna airstrip in the hopes of being able to board an evacuation flight out of the country.
Eight flights were expected to have left by the end of Wednesday to lift people to safety as the military races against time to rescue citizens while a fragile ceasefire holds.
Foreign Secretary James Cleverly told UK nationals on Tuesday that they must make their own way to the airstrip.
Mr Salman, a builder, said: "It was hard to explain to them that it's a dangerous journey.
"The first part was that the RSF were trying to spot us as we travelled through neighbourhoods. They spotted us four times but because they saw I had children they let us go.
"In a normal situation, the journey would have been 20 miles but because of what is going on we travelled 60 miles to get here."