Around 40 fans turned up at Heathrow Airport on Tuesday morning.
The Lionesses have landed back in the UK after their World Cup final defeat as fans gathered at the airport in the hopes of welcoming them home.
Around 40 people brought England flags and handmade banners to Heathrow Airport on Tuesday morning, with one group having arrived last night, but the team are understood to have left via a private exit after touching down just after 6.30am.
Others brought flowers for head coach Sarina Wiegman, while placards featured messages saying 'you all made us proud' and 'can we have two t- shirts please?'.
Hopes were raised when Alex Scott was spotted walking through arrivals, with fans saying she hinted the team would follow, and the crowd burst out into chants of 'Sweet Caroline'.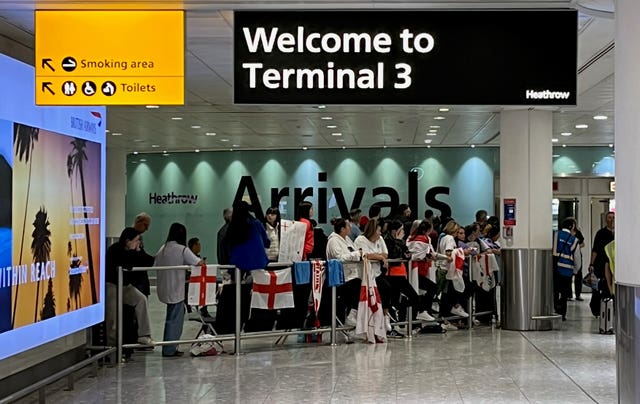 The team's bags with the squad logo were also carried through.
Hope turned to disappointment when it was later confirmed by airport staff that the Lionesses had left the airport and the crowd soon dispersed.
A small number of fans watched at arrivals for a little longer just to be sure they had not missed out on any action.
Joanne Bruce, 51, travelled from Wisbech in Cambridgeshire to the airport at 10.30pm last night with her niece and sister in the hope of thanking the team for their tournament performance.
She told the PA news agency: "We haven't slept, we have just laughed and joked.
"It was just the three of us to start with. My sister was like 'I really want to go early'."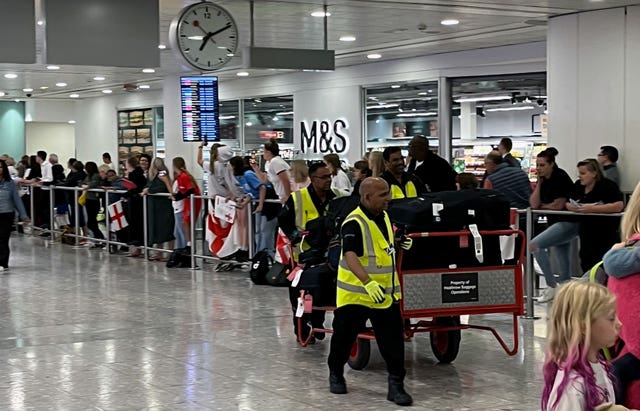 When asked if there any other fans were at the airport then she replied: "No, no, no. They didn't come until about four o'clock this morning.
"We have now got a car parking ticket of £70-80, maybe more.
"I was very, very disappointed (about the final result). Seeing Millie with tears in her eyes, it just bought tears to my eyes. I really felt for them as well.
"They have definitely done us proud, to get as far as they have."