The Law Commission announced a wide-ranging review into the appeals process.
Evidence access laws surrounding court appeals are to be reviewed, as a charity said they hampered the case of a man who spent 17 years in prison for a rape he did not commit.
The Law Commission announced a wide-ranging examination of the appeals process, including whether it is disrupted by rules governing the retention and disclosure of evidence.
Legal charity Appeal said lawyers working on potential miscarriage of justice cases are "routinely" denied access to evidence by police forces and prosecutors.
Andrew Malkinson, 57, was wrongly found guilty of raping a woman in Greater Manchester in 2003 and the next year was jailed for life with a minimum term of seven years.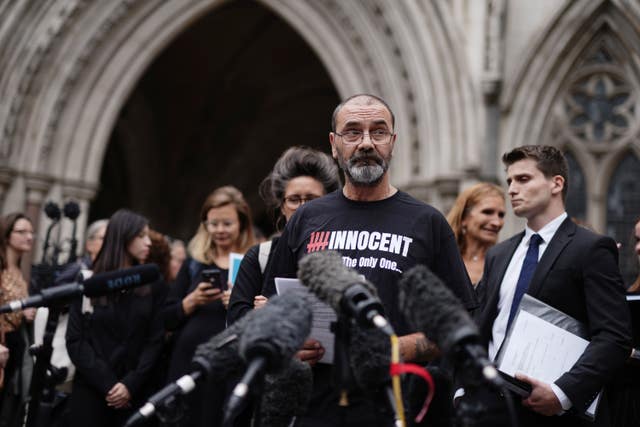 He served 10 more years because he maintained his innocence, but his conviction was quashed by senior judges at the Court of Appeal on Wednesday after DNA evidence linking another man to the crime came to light.
Appeal said it took Greater Manchester Police (GMP) to court twice to obtain evidence which had been withheld from the defence at Mr Malkinson's original trial.
It also accused the force of unlawfully destroying key evidence connected to the case.
Emma Torr, the charity's legal director, said: "We welcome the Law Commission's review of unfair disclosure reviews, which currently prevent miscarriages of justice being brought to light.
"Andy Malkinson's case is just the tip of the iceberg. We believe there are many others who have been wrongly convicted but are unable to access evidence to prove their innocence."
At the time of Mr Malkinson's trial, there was no DNA evidence linking him to the crime and the prosecution case was based only on identification evidence.
But a DNA sample held by the forensic archive was tested and found last October to link to another man, who has since been arrested. A decision on whether he will be charged is awaited.
Edward Henry KC, representing Mr Malkinson in the Court of Appeal, said GMP, which apologised after the ruling, destroyed the victim's clothing.
Assistant Chief Constable Sarah Jackson said: "We are truly sorry to Mr Malkinson that he is the victim of such a grave miscarriage of justice in being convicted of a crime he did not commit and serving a 17-year custodial sentence.
"Whilst we hope this outcome gives him a long overdue sense of justice, we acknowledge that it does not return the years he has lost. I have offered to meet with him to personally deliver this apology."
Mr Malkinson told the BBC's Newsnight programme: "The Greater Manchester Police apology… it's meaningless to me, absolutely meaningless.
"An apology without accountability, what is that? It's nothing, it's nothing, it means nothing."
Penney Lewis, criminal law commissioner, said: "The appeals process is essential for rectifying miscarriages of justice and ensuring the fair and consistent application of the criminal law. In recent years, there have been many differing views on how this process can be improved to allow for the efficient and effective resolution of appeals.
"In our comprehensive review, we will consider proposals for reform that will ensure the appeals process provides a robust safeguard against wrongful convictions and instils confidence in the criminal justice system.
"We therefore welcome a wide range of responses to our issues paper to help us identify if there are areas of the law that are not working."