Typhoons from 140 Expeditionary Air Wing have been based in Estonia as part of training and security exercises.
British military personnel working behind the scenes are the unsung heroes of the RAF mission in Estonia, according to those on the ground at the Amari Air Base.
Hundreds of RAF staff, ranging from pilots and engineers to weaponry experts; are currently deployed at the eastern European air base, tasked with upholding security as part of Nato's Baltic air police mission.
The Operation Azotize mission began in March 2023 and has seen Typhoon jets intercept unauthorised aircraft from Russia over the Baltic Sea.
While the jets cannot be missed during take-off and landing, behind the scenes a whole squad of personnel are working "tirelessly" to keep the cogs turning.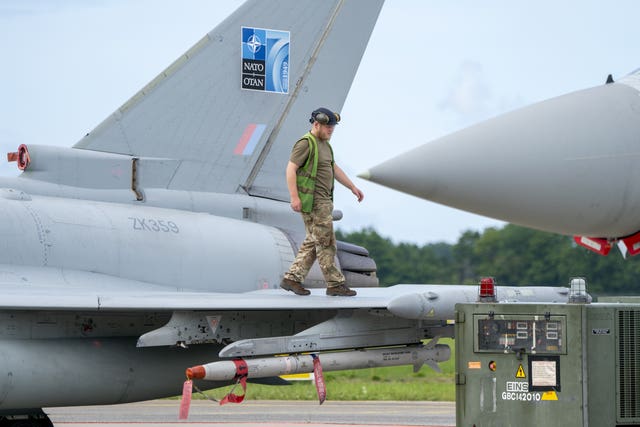 Nairn-based Sergeant Liam Maitland, unit movements officer currently deployed in Estonia, is tasked with ensuring that all of the Typhoon's kit makes it in and out of the country without delay – and without it, he said the pilots would be unable to fly their jets.
He told the PA news agency that those working behind the scenes "are incredibly important. Without everybody below the pilots they wouldn't be able to fly.
"It's a team effort across the EAW (Expeditionary Air Wing) here to ensure that we succeed. We all have our individual part to play.
"Without everybody working together as a team we wouldn't succeed."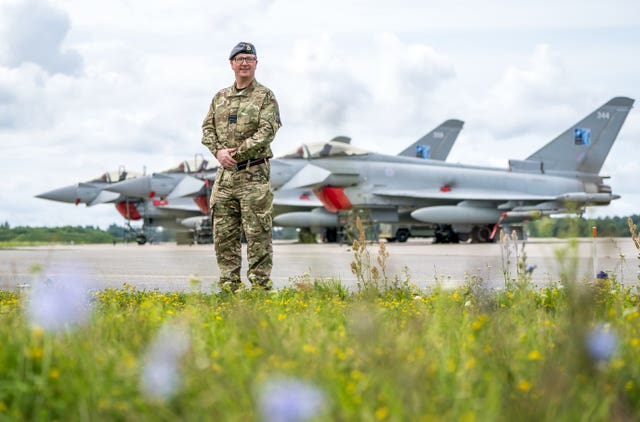 Meanwhile, Air Specialist Class One technician Will Dixon is stationed on the weapon support team, maintaining the munitions and getting them prepared for flight each day.
He explained: "I'd say our role is quite important because if we don't maintain the weapons and they are loaded and there's something wrong with the weapons, for whatever reason, if the pilots had to use them and they didn't work they could be in a lot of trouble."
Wing Commander Scottie McColl, who is the commanding officer of 140 EAW, said Operation Azotize would not be successful without every member of the RAF stationed at the Amari base.
He said: "Recent lessons lessons have shown us the importance of sustainment and adaptation in warfare and all of that is delivered by those that work tirelessly behind the scenes."
"Every single person that is here is critical in delivering the mission."
The members of the Royal Air Force have also been working closely with their Nato allies, including the latest members, Finland.
Typhoon jets have been conducting training exercises with the Finnish air force in the Joutsen Strike as part of the overall mission.