Players Maya Le Tissier and Anna Patten were among the supporters cheering on the Lionesses back in England as they progressed into the semi-finals.
England took a step closer to World Cup glory with a hard-fought win against Colombia to the delight of players and fans back home.
The 2-1 victory means the Lionesses will play Australia, the home nation, in the last four after the Matildas scored a dramatic win over France on penalties earlier on Saturday.
Congratulations for the Lionesses came from the Prince and Princess of Wales who tweeted the message: "Bring on the semi-finals! A hard-fought win, well done".
England had scrambled an equaliser in the final minutes before half-time to the cheers of Aston Villa defender Anna Patten, 24, plus Manchester United's Maya Le Tissier, 21, and Leah Galton, 29, and fans who watched the game at a McDonald's screening in St Albans, Hertfordshire.
Alessia Russo was awarded the Player of the Match after scoring England's winner in the 63rd minute, to the joy of fans who put up with long bouts of summer drizzle to watch the game on big screens back home.
Le Tissier, whose omission from England's World Cup squad was something of a surprise after an impressive debut campaign for Manchester United, told the PA news agency: "I am so confident.
"It is only two games left and hopefully we can win both of them and become world champions.
"In the second half I think they played very well – obviously a World Cup quarter-final is not going to be easy but they got the job done and I am really happy to see Alessia on the scoresheet."
Le Tisser, who said she enjoyed mingling with the fans to support the Lionesses, added: "Just to be here supporting the girls is great. I really enjoyed my time when I was with them (the England team) and I think it was really beneficial for me. Now I think I can watch it as a fan and enjoy it.
"I think it has been a really good community feeling."
Patten, 24, said: "They (England) have got the job done and that is the most imporTant thing. It has been a 2-1 victory and into the semi-finals. I think they will be happy.
"They did their jobs, stayed solid at the back and capitalised on the chances they had. I am so happy they slotted it home."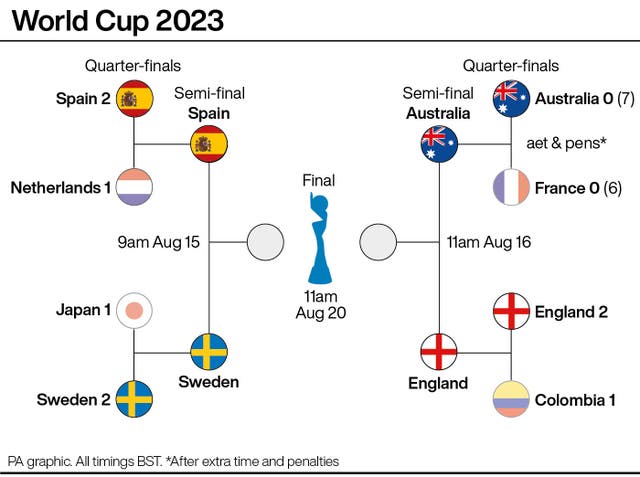 Of England's chances against Australia in the semi-final, she said: "It is going to be really tough. Obviously playing the home nation, the crowd is going to be against them and there will be a big build-up to that game.
"I am hoping the Lionesses can go on and win it all but they are obviously going to have to be ready for a competitive game in the semi-final."