Mantle also starred in BBC detective series Father Brown, and ITV soap Coronation Street as Joy Fishwick.
Doreen Mantle has been hailed as a "perfect fit" who brought "honesty" to her "bizarre" scenes as Jean Warboys, the annoying friend of Victor Meldrew's wife, in One Foot In The Grave.
The actress died "peacefully" at the age of 97 at her home, Mantle's agent said on Wednesday.
The writer of the hit BBC comedy series, David Renwick, said he was "dreadfully saddened" by the news.
In a statement to the PA news agency, he said: "She'd been in poor health for some time, but you wouldn't have bet against her soldiering on to a hundred – she was such a trouper, so stoic and resilient to the end.
"I was honoured to call her a friend, and to have kept in close touch long after we stopped working together.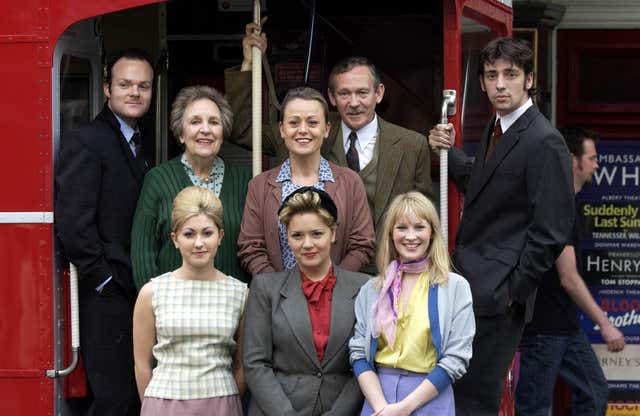 "No-one else could have played Mrs Warboys as she did, it was such a perfect fit, and the honesty that she brought to every line, however bizarre, was what made the character so funny and legitimised even the maddest of moments.
"There was never the remotest suggestion that she was playing comedy: in her hands it was all utterly real, because of course she was, at root, a superb and consummate actress. I shall miss her terribly – but thank God for all those wonderful laughs she's left us."
She would also go on to star in an episode of Jonathan Creek, also written by Renwick, called The Judas Tree, playing a housekeeper, as Alan Davies investigates as the titular magician's creative consultant turned crime solver.
Mantle also had credits in ITV soap Coronation Street as Joy Fishwick, and comedies My Family, Jam And Jerusalem and Doc Martin, detective shows Father Brown and Dirk Gently and the soap Doctors.
She would also appear as as Mrs Shaemen in the 1983 musical film Yentl opposite Barbra Streisand.
Mantle also appeared in Death Of A Salesman for the National Theatre, for which she won an Olivier Award in 1979 for actress of the year in a supporting role.
This year she appeared in Channel 5's One Foot In The Grave: 30 Years Of Laughs and recalled The Beast In The Cage episode where she was stuck in traffic with Victor (Richard Wilson) – who is upset with Jean over her crisp choice – and his long-suffering wife Margaret (Annette Crosbie).
Mantle said: "(The car) wasn't comfortable but somehow we got used to being in this car and things happening. There was some wonderful lines in it."
She also featured in her one-woman show My Truth and Reconciliation, and in 84 Charing Cross Road at The Ambassadors Theatre and classic comedy Billy Liar at the Duke of York's Theatre.
In a statement to PA, her agent said: "It is with great sadness that we announce the death of our beloved client and much-loved stage, screen, and radio actress Doreen Mantle, aged 97.
"She died peacefully at home. She is survived by her two sons, four grandchildren and one brother."