The party continues to deliberate on whether to end its ongoing blockade of devolution in Northern Ireland in protest at internal UK trade barriers.
DUP leader Sir Jeffrey Donaldson denied suggesting his party was split over the Windsor Framework in a message sent to party members earlier this month.
In an emailed message to party members at the start of August, Sir Jeffrey expressed frustration after claiming the actions of some within DUP ranks, briefing against the party, were damaging its electoral prospects and the cause of the Union.
He suggested those briefing against their own party were motivated by a desire to gain media coverage or advance their own personal agenda.
It comes as the DUP continues to deliberate on whether to end its ongoing blockade of devolution in Northern Ireland in protest at the internal UK trade barriers created by the contentious post-Brexit arrangements.
The party says the recent deal struck by the EU and UK to reform the protocol – the Windsor Framework – does not go far enough to address its concerns and has made clear that it will not countenance a return to devolution until the Government provides further assurances, by way of legislation, over Northern Ireland's place within the UK internal market.
In his first media appearance since the leaked email, Sir Jeffrey said there was "nothing in my email suggesting there was a split within the party over the Windsor Framework".
He said: "I was talking about the need for unionists to work together, and I think that is what the vast majority of unionist voters want to see: that co-operation.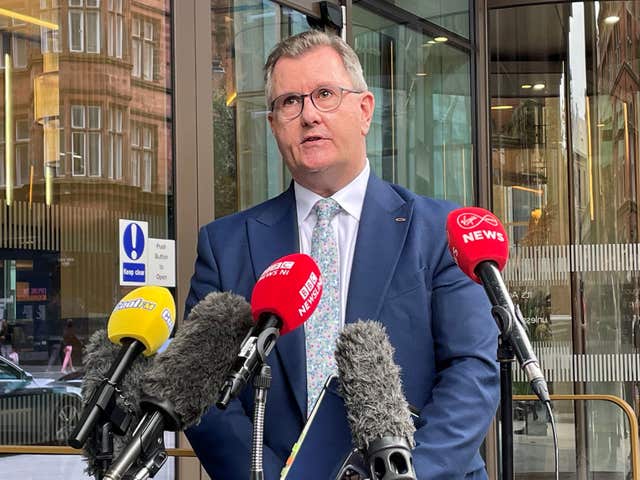 "As you know, I've been meeting with Doug Beattie and the Ulster Unionists, we've been taking forward our conversations around greater unionist co-operation, and I expect the same within my own party as well.
"It's important that we (have) good discipline, particularly at this time when our focus is on getting a solution that restores Northern Ireland's place within the United Kingdom."
He added: "But let me be clear: the propositions that we have put to the Government, the paper that went to the Government on the Windsor Framework, was collectively agreed by our party officers, and that of course includes Lord Dodds."
But Alliance Party leader Naomi Long said those who did not believe there were rifts within the DUP had been "living under a rock".
She said: "It was fairly clear that there were those who were much more hardline about leaving the Executive, for example, others who were willing to remain in the First Minister's office, and keep the institutions running whilst bargaining with the UK Government to address these issues.
"Those rifts, I don't think, are news. What is news, and it has to have been factored in before that email was written, is that the party leader is appealing for unity, quite publicly.
"As a party leader, if I wrote an email like that to my party, I would know that that was going to be reported and leaked.
"So, you do that in the full knowledge that that information is going to be in the public domain, and I think the fact that Sir Jeffrey is pleading publicly with his own colleagues to back him, I think it makes no sense unless there is a deep divide within the party, which simply confirms what I think we've all witnessed over the last 12 months."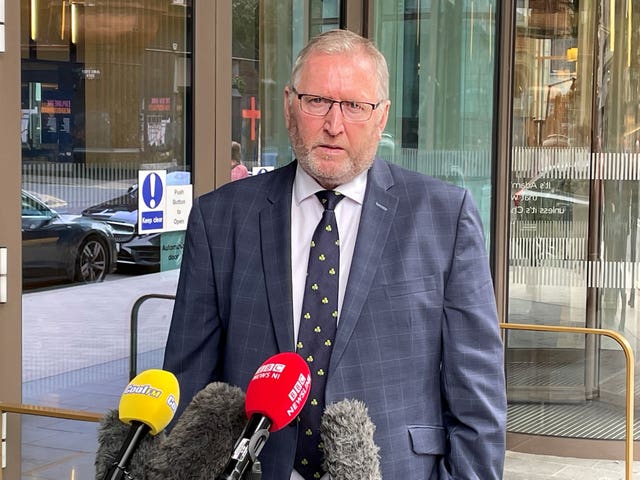 Ulster Unionist Party leader Mr Beattie also gave his view on the matter, speaking to media after the parties met with Taoiseach Leo Varadkar in Belfast.
"Every political party has differences of opinion, whether we call that a split, or whether we call that 'where people are going in different directions', it's really up to him to decide what it is," he said.
"But I suppose he's articulating the fact that every party will have disagreements. It's up to them to fix them but the bottom line is we need to deal with the issue around the Windsor Framework.
"The boycott has not worked and has not achieved any workable outcomes. So it's better to be in Stormont working to find solutions than it is standing outside complaining about it."