The creative said he did not want to continue living with constant panic attacks as a teenager but vowed to help others if he overcame his anxiety.
A digital artist has described his debut solo show in London as a "diary" of the past eight years as he found solace in art after battling up to 12 panic attacks a day.
Frederic Duquette, known professionally as Fvckrender, turned to the digital canvas during a personally turbulent time and has curated a visual and audio art exhibition titled Catch The Light on Oxford Street launching on Thursday, which embodies his journey towards mental stability and hopes to serve as a "beacon of hope" for the audience.
The 31-year-old creative from Vancouver, Canada, told the PA news agency: "The reason why I started to do art about 10 years ago, it was to feel better, because I grew up in a pretty unfamiliar strange situation.
"I lost my mum when I was really young and my dad raised me pretty much alone, so I always had to figure things out by myself and I grew up with a lot of anxiety and depression.
"So the whole show is all about self-growth… (I called it) Catch The Light because that's what we're always trying to do to feel better, catch the light is the endpoint of feeling better."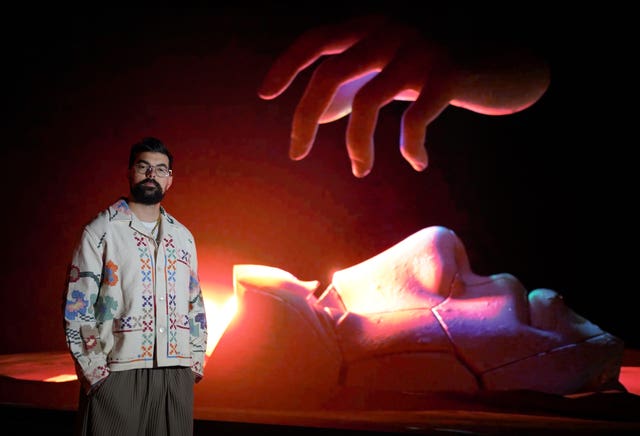 He continued: "I went from having 12 panic attacks a day to one every seven or eight months which is pretty crazy – and all thanks to art."
The artist said there were times when he did not want to continue living with constant panic attacks as a teenager, but vowed to help others if he ever overcame his anxiety.
He explained: "I remember when I was 16 years old, I don't like to talk too much about that, but I didn't want to keep living because I was having 10 panic attacks a day.
"I was like, 'there's no way I'm going to make it to 21 years old', so that's why I really wanted to start working on myself and clear how my brain worked.
"I remember when I was young I said if I ever get any sort of fame, my goal would be to just talk about anxiety. If I overcome that anxiety, I really want to help people feel better."
Fvckrender said he did not want depression and anxiety to be the main discussion of the exhibition because "not everyone has the same experiences", but there are twists to the show where you can "really immerse yourself in my story".
The artist also explained that the show, at W1 Curates on Oxford Street, took many years to curate – with some pieces eight years old and others just a few days old.
"It's a big continuation of my feelings – I treat it as a diary journal," he said.
Fvckrender also spoke about working with high-profile collaborators in the past such as musicians The Weeknd and Lil Nas X meant a lot "because it means they like my art".
He added: "There's nothing like doing your own thing, I always enjoy working with amazing artists, especially now I'm very picky with who I work with because I feel a little bit too busy.
"So it's nice to be able to choose who I can work with and work with someone who shares my vision or is interested in the same aesthetic as me.
"It's always a pleasure."