The garments were going on display over the summer period at a museum in Co Kildare.
An exhibition of dresses worn by Diana, Princess of Wales are due to go on public display for the first time in 30 years ahead of the coronation weekend.
Three dresses worn by the late princess are due to go under the hammer at a Los Angeles auction this August, but will first go on display over the summer period in Co Kildare, Ireland.
The exhibition is due to open at the Museum Of Style Icons at Newbridge Silverware this Friday and has already garnered interest.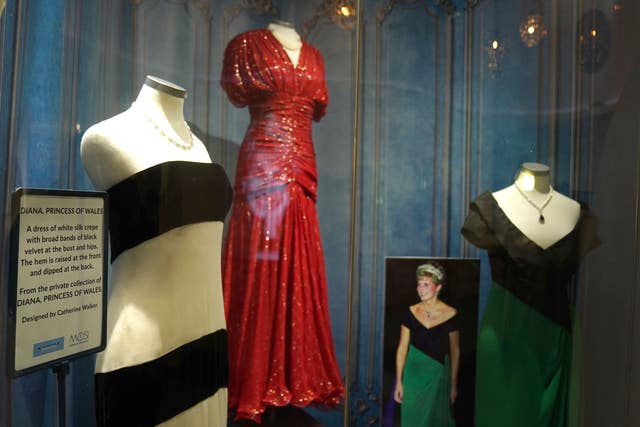 Martin Nolan, executive director of Julien's Auctions in Beverly Hills, who are selling the dresses with Turner Classic Movies as part of a collection of 1,000 items associated with famous figures, said there would be particular interest in it due to the coronation.
"It's very special because it's Princess Diana and we think about the coronation coming up this weekend and what if Diana was still with us, (what) an amazing queen she would be," he told the PA news agency.
"Her kindness, her humanity, her philanthropic endeavours – she could do so many great things."
He said that the Co Kildare museum was seen as an appropriate place to showcase the gowns as it was a permanent home to three of her garments already – including the pink blouse she wore when she announced her engagement to the King and the so-called black "revenge dress".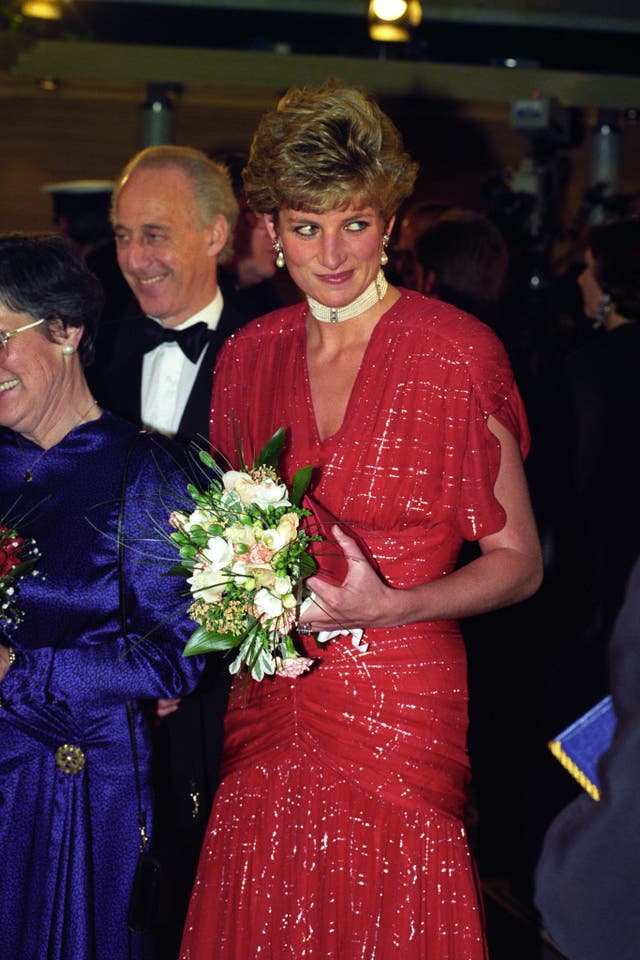 Mr Nolan said of the late princess's style: "Diana herself she wanted to be modern and in touch, fashionable and relevant and also with Catherine Walker, they came up with the idea of 'timeless' because when you looked at the royal family you can almost tell what era it was, what decade it was when you look at what they're wearing.
"Diana didn't want to be boxed into that, she wanted 'timeless' and if you look at the outfits behind, all three of these amazing garments could be worn at an event today."
Among the dresses for sale is the princess's scarlet Bruce Oldfield gown, which she wore to the film premiere of Hot Shots! at the Odeon, Leicester Square in November 1991, with president Arpad Goncz of Hungary and his wife.
The silk dress is expected to sell for between 200,000 US dollars (£160,000) and 400,000 US dollars (£320,000).
Buyers will also be bidding for two dresses by Catherine Walker, Diana's personal designer for more than 16 years, who created the black cocktail dress she was buried in and whose designs are still worn by members of the royal family.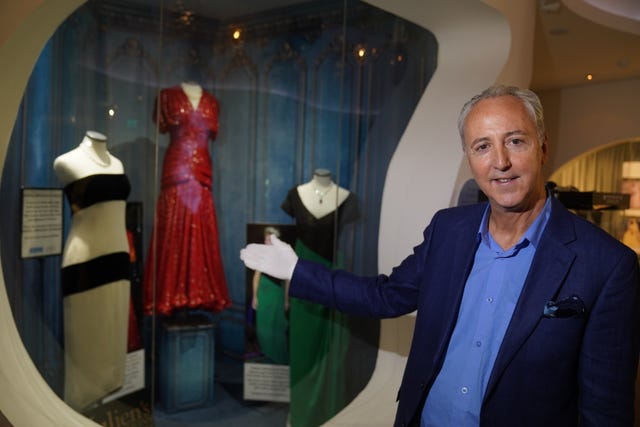 Walker's slender-fit strapless gown made of white silk crepe with bold bands of black silk velvet and silk lining, which Diana wore to a private function, is expected to fetch between 60,000 US dollars (£48,000) and 80,000 US dollars (£64,000).
Also for sale is Walker's black and jade short-sleeved gown with a draped silk skirt, which the princess wore to a gala dinner at the Royal York Hotel in Toronto, Canada, in 1986 and is expected to sell for between 100,0000 US dollars (£80,000) and 200,000 US dollars (£160,000).
Mr Nolan added: "What's important about these is that Diana sold these in June of 1997 in New York City on her son William's behest, because he wanted his mum to sell the dresses that were just hanging up there and to raise money for the charities that were important to her.
"And Diana took that on board, she sold the dresses and two months later, sadly, we lost Diana.
"But Ellen Petho, who bought five dresses at that auction, when Diana died two months later, she said: 'These dresses are going to mean something.' And she toured them to various parts of the States, charged 10 US dollars for people to come in and see the dresses.
"She raised over a million dollars for children with cancer and for Aids patients – charities that were important to Diana, so she kept Diana's legacy alive.
"Sadly, Ellen passed away earlier this year, and so the family came to us to sell the dresses now because they're going to take on a new life, they're going to a new home, very likely a museum, because museums will want to have something so iconic, beautifully documented, coming directly from Diana with photographs of Diana wearing them at various events.
"So that's what people love when they come to auction because if these items are in museums, people will come and we know that here as we will open this exhibition to the public on Friday May 5, and it will be free to the public every day we're open, and so people can come and take a trip down memory lane and reflect on Diana and remember her legacy and her kindness."
Pauline Doyle, who has been a curator at the Museum Of Style Icons for 10 years, said there had already been a "huge amount of interest" in the exhibition since it was announced on Tuesday.
"She's always a great draw and these are beautiful dresses which have not been seen for 30 years since they were auctioned in Christie's in 1997," she said.
"(There's been a) huge amount of interest. The details were only announced yesterday and we're getting reviews from everywhere. Not just Ireland, everywhere. Anything to do with Diana will always attract attention, always."
She said that they expected members of the public to attend to view the dresses.
"Particularly because royalty is so much in the news at the moment with the coronation on the Saturday. So it's on people's minds at the moment."
The free exhibition opens to the public on Friday May 5 and runs until the end of July before the three garments are sold by auction on Saturday August 26 and Sunday August 27.