Fire crews were called to the Royal Albion Hotel on Brighton's seafront at about 5.30pm on July 15.
A Brighton hotel that was "ruined" in a major fire remains "dangerously unstable" as demolition work on part of the building continues.
Fire crews were called to the Royal Albion Hotel on the East Sussex city's seafront at about 5.30pm on Saturday, July 15.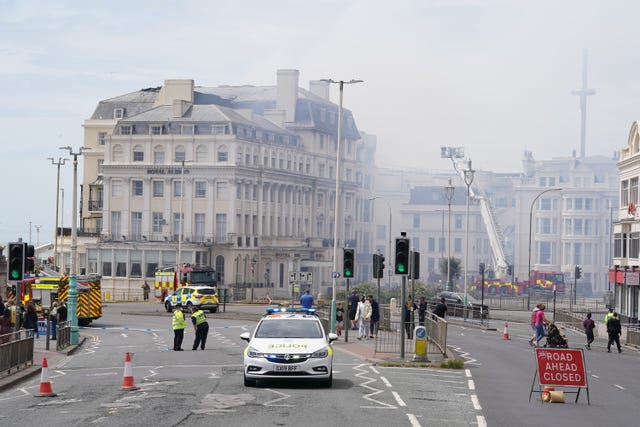 Efforts to extinguish the fire were hampered by high winds meaning the operation continued into the start of the following week with about 100 people being evacuated from the surrounding area and forced to find alternative accommodation.
Councillor Bella Sankey, the leader of Brighton and Hove City Council, said following a visit to the site: "The scale, seriousness and complexity of the huge operation was astonishing.
"The ruined section of the hotel is dangerously unstable and the team are having to demolish a structure which is already in a state of collapse.
"It's vital that people keep away from the area while the area is made safe and secure and that is also why some residents are unfortunately unable to return to their homes while the work continues.
"However, I was really impressed by the professionalism and skill shown by the team on the ground in managing the demolition.
"They have a plan in place to make sure they remove the sections that are the most vulnerable and unsafe while doing everything they can to salvage and scan heritage features."
The 219-bedroom regency-style hotel, which overlooks Brighton Pier, was built in 1826. It is run by Britannia Hotels.
Part of the building was Grade II* listed by English Heritage and suffered a previous fire in November 1998.