The 76-year-old has been released from jail due to time already served after being sentenced to two years for the manslaughter of his wife Janice.
David Hunter's former neighbours in the Cypriot village of Tremithousa have said he would be welcome back in the small community if he decides to stay on the island.
The 76-year-old has been released from jail after being sentenced to two years in prison for the manslaughter of his wife Janice, having already served 19 months in custody.
Michael Polak, director of Justice Abroad, which is representing Hunter, said that in Cyprus a defendant will spend 10 months in custody for every year that they are jailed.
Judges at Paphos District Court had previously cleared him of the more serious charge of premeditated murder after he said his spouse of 52 years begged him to end her life because she was seriously ill with blood cancer.
Hunter's daughter, Lesley Cawthorne, has said she believes that, rather than returning to the UK immediately after being released, he will stay in Cyprus so he can visit Mrs Hunter's grave and "say his goodbyes properly".
Mrs Hunter is buried a short distance away from the couple's former home in Tremithousa – a quiet village about three miles from the coastal resort town of Paphos.
The pair, from Ashington, Northumberland, visited Cyprus on holidays and bought a property there in 1999 before retiring there permanently two years later.
Fellow British expats Derek and Agnes Wickett knew the Hunters for around seven years after moving to the village themselves, and described them as a "lovely couple".
They told the PA news agency that Mrs Hunter's health got "terribly worse" in that time.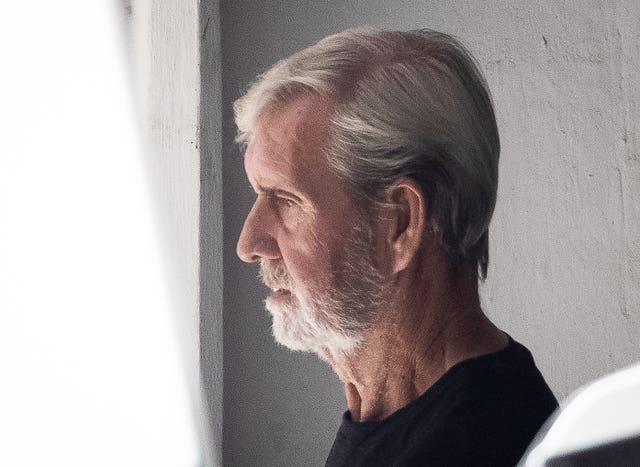 Mr Wickett, 74, said: "It didn't bother (Mr Hunter), he just carried on. He loved her to bits."
Mrs Wickett said she saw Mrs Hunter the night before her death in December 2021, when she went to their house to drop off Christmas cards and a bottle of wine.
"She was sleeping on the couch so I didn't go in, but David said how bad she was and that she had gotten worse."
Mr Hackett said he thought the verdict of manslaughter was "right" and that they would be glad to see Hunter return.
"Oh god, yes, he's a smashing bloke. I think he would be welcome here, everybody liked him," he said.
"I think everybody feels for him. It's a shame, a terrible shame.
"I understand (what he did) in a way because he's seen her deteriorate so much and I don't think he wanted to see her suffering like she was, but you've got to be in that position to know what he was feeling."
German expats Helmut and Petra Kesting, who live several doors down from the Hunters' old house, attended court regularly during the trial, and Mr Kesting gave evidence describing how Hunter cared for his wife "very well".
Mr Kesting told PA Mr Hunter was "very happy and very thankful" for his evidence, and that he credits Mr Kesting with helping the judge reach a verdict of manslaughter.
Speaking from their home ahead of Hunter's sentencing, Mr Kesting, 72, said the couple were "very helpful" to him and his wife when they moved to Tremithousa in 2019.
"We became very friendly with them. If somebody was going shopping we asked if the other party needed something and, when I had to go to Germany for medical treatment, David brought me to the airport and picked me up."
The couple described how they saw a "massive" change in Mrs Hunter's health in the last year-and-a-half of her life, and said that "every month she seemed weaker".
"In 2019 and the first half of 2020 she was optimistic and David was very keen to enjoy her life," Mr Kesting told PA.
"For example he bought a little open-topped sports car and drove with her around.
"Very often they told us they visited her most loved fish restaurant and things like this. At this time they were quite active."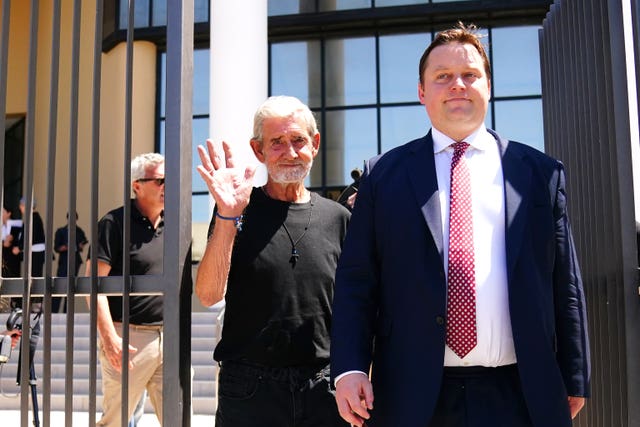 Mr Kesting said he noticed the change in Mrs Hunter when she stopped coming out on to her balcony in the morning, when the two of them would have regular chats as he was letting his cats out.
"This was a daily routine but it changed in the last year dramatically – in the last half-year she didn't show on the balcony at all
"Covid times was difficult for her, it was not easy for them to get the treatment they needed because of overall shortages in Cyprus. David tried everything to help her.
"The last half-year she was deteriorating in a brutal way, for me she looked deadly ill."
Mrs Kesting, 66, said: "Two or three days before the bad day I was outside and I saw her. I called 'Janice, hello' three times but she just looked in front, she didn't react. I think she was absent, she was not there."
The couple said Mr Hunter never complained that caring for his wife was too difficult, "quite the opposite".
"He said it was the most important thing of his life, to help her," Mr Kesting said.
"But it's clear the situation for David was more and more difficult, he had less and less contact with any person outside and stayed with her more.
"When we heard this tragedy, what has happened, we are all shocked. We asked ourselves, should we have done more, but still today I can't see how we could have done – they avoided actively any contact."
Mr and Mrs Kesting said they were "totally shocked" when they learned what had happened.
"Our first reaction was we couldn't accept this. Then we discussed it with other people and learned more and more about how the situation really has been for Janice," Mr Kesting said.
He said the judge had made a "very good" decision to acquit Mr Hunter of murder, and that he is now an active supporter of legalised euthanasia because of this case.
"Of course we hope that they will just let him go, but we've no idea how realistic this is.
"It's very difficult for me to tell you what I would think is the correct sentence.
"What he did is not acceptable in my view, for me it's a tragedy, it's an overreaction in a very bad situation, I would not recommend this to anyone. I can understand he has to get a penalty."