The radio DJ said specialists refer to it as 'stage zero' or 'pre-cancer'.
Chris Evans has spoken of how "extraordinarily lucky" he has been to get the "second best diagnosis" of skin cancer.
The radio DJ, 57, revealed on his Virgin Radio Breakfast Show on Monday that he was in the early stages of the condition following his masseuse spotting an unusual freckle on his lower leg.
On Tuesday, Evans told Mike Graham's programme on TalkTV that he was "not worried" about his diagnosis as it is "not cancerous" and specialists refer to it as "stage zero" or "pre-cancer".
He said: "I wouldn't be worried about it if I didn't know about it but basically what's happened is the way I frame it … is that I got the second best possible diagnosis."
Evans will now have the pre-cancerous patch removed next month and then a skin graft on his leg, he also said.
Evans said he chose to speak about the condition as if people in the public eye "can be useful ever in this job of ours or in life in general then we should be".
The former BBC Radio 1 and 2 presenter also said: "There are people with a thousands of times worse diagnosis, and they don't even know about it. The thing about all cancers is that in the early stages of them they don't affect you.
"You just have it, there's nothing wrong with you, zero, as other people who have had similar experiences will testify.
"The biggest weapon you have against this, this and other conditions, is time. And the biggest weapon they have against you is also time.
"So their biggest weapon against you is your lack of time or the lateness of your detection and your biggest weapon against them is how early your detection is."
Following a prostate cancer scare, Evans was given the all-clear in 2015.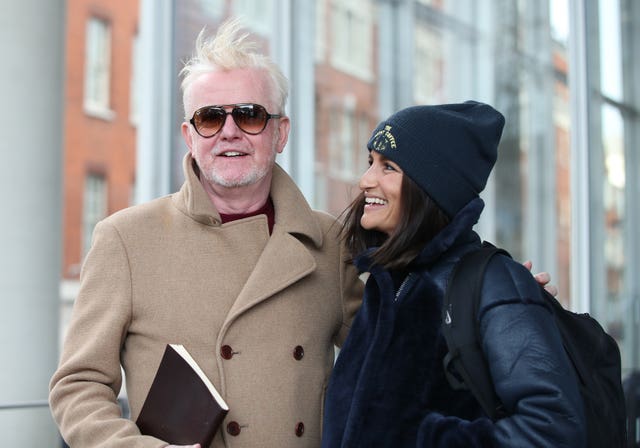 He said: "The thing about skin cancer is it can go up, down, north, south, east, west and you can go down into (the body) as well so I'm more grateful today than I've ever been for anything.
"I feel extraordinarily lucky, genuinely. I'm not saying this because it's a cool thing to say but I'm very blessed and very happy to talk to you about it."
Evans urged men to "check" themselves and outlines the common places "missed" include the middle of the back, which he said is usually not spotted by those who are single, as "nobody sees it".
He added: "The only thing to fear is inaction. I know that's a big deal for some people, but if you're not going to do it for yourself, do it for those who love you."
In January 2019, Evans moved to Virgin Radio after leaving his long-running breakfast programme on BBC Radio 2 the previous year.
Aside from his radio work, Evans was also a presenter on Channel 4 morning show The Big Breakfast and comedy and music programme TFI Friday.